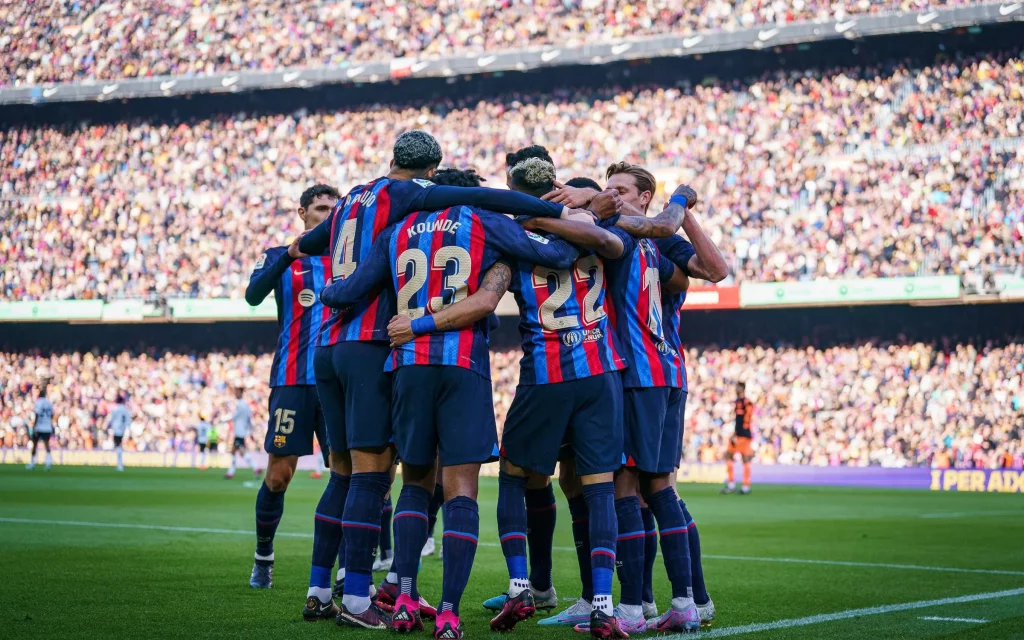 Raphinha scored the only goal of the game as Barcelona went back in the win-column after last week's shock defeat to Almería.
Barcelona missed a penalty and got a player sent off, but three vital points stayed in Catalunya.
Barcelona go ten points clear on top of La Liga, prior to Real Madrid's clash with Real Betis later tonight.
"This could have been a comfortable victory but we made it difficult for ourselves with our lack of efficiency", Xavi said. "We had loads of chances to score the second. We're too inefficient in front of goal, and that's something we have to improve on. We have to learn how to finish the game".
Penalty taker dispute
In the 59th minute, Valencia's Hugo Guillamon blocked a Christensen strike with his hand and Barcelona were awarded a penalty. With top scorer and usual penalty Robert Lewandowski out with injury, what followed was a tense dispute regarding who would take the penalty. Both Ansu Fati anf Ferran Torres appeared keen on taking it but Ferran Torres was eventually given responsibility but ended up hitting the outside of the left post.
Xavi explained that they have a set order on who takes penalties. "The players know that", Xavi said. "Then we make changes, we bought Franck Kessie on who's also a good penalty taker. But Ferran (Torres) was supposed to take the penalty, yes.
The only goal scorer of the game, Raphinha affirmed that everyone knew that Ferran Torres was on penalty duties. Before the game we all know who takes the penalties. Sometimes the shooter takes it himself, sometimes he leaves it to somebody else."
Only minutes later, Valencia's Hugo Duro was sent clean through on goal with Ronald Araujo deciding the best course of action was to drag down the Spanish striker. Araujo was subsequently sent off and Barcelona had to play the remaining 30 minutes with ten men. That also means the Uruguayan defender will miss next week's fixture against Athletic Club, but will be back for the Clasico the following week.
"It's a clear red, he's the last man", Xavi said after the game. "It's a clear red, we have to be honest. But it's a shame because we had control, but we didn't clear it well enough and that happened".