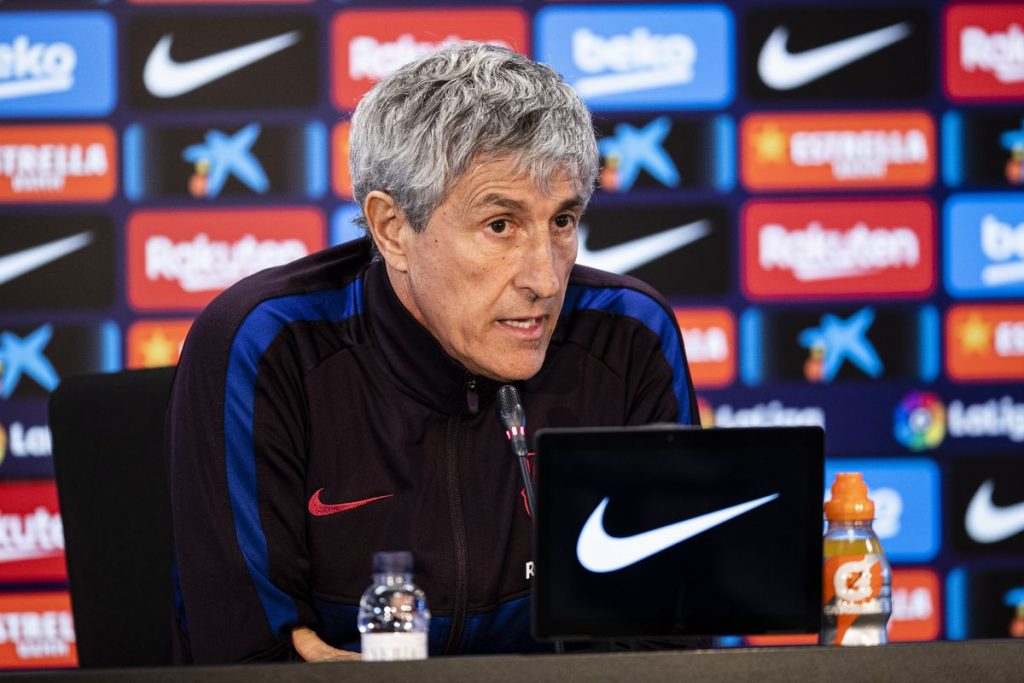 FC Barcelona head coach gives press conference before the game against Osasuna on Thursday in which he talks about La Liga, Luis Suárez's comments in his interview and much more.
FC Barcelona's arch rival Real Madrid won their match against Granada, earlier this week and only need one more win to take the title away from FC Barcelona. They sit at the top of the table with 4 points lead and hence, the upcoming matches will be crucial for both the clubs.
On Osasuna: "We will face them with same energy as always. We will try to win the match independently, without relying on the results of other matches. It will be a complicated match.
Luis Suárez's interview with MD, where he says that La Liga is lost and does some self-criticism: "That is his opinion, it has not happened yet. This is football, anything can happen, it is true that the 3 draws have left us in this situation. It is true that they (Real Madrid) are ahead, they have been the better side , but But in football anything can happen, they could loose the next two games, with this hope, we will fight until the end."
If Messi needs rest: "Many players need to rest, as they lose that spark after playing back to back games"
Whether he will hold himself responsible if Madrid wins the title, as when Setién arrived, the team was in first place: "I would be one more part, I don't feel that I have done things so badly for having tied three games, Madrid are the leaders because they have earned it"
If he would have done a better job if he had more players at his disposal: "I said that they arrived tired in the last game, but that does not mean that the team is exhausted. We have lost a player with more energy in seven games in a midfield that should have been rotated more. Against Valladolid we didn't even have a 72 hour break and we faced a team that has rotated a lot "
De Jong's return: "We will see tomorrow if he will start the match or will come as a substitute but now, he is available for selection"
Barcelona's difference between home and away form: "Match against Atlético Madrid was the only one where I saw that both the teams were equal and there was no superior side."
About next season and whether he has any say in the decisions of the club: " I express my opinions, just like how others do but I suppose there is sports commission who also have to give approval for economic side."
If he sees himself at Barcelona next season: "Of course, I do. I hope they see and appreciate the work done and not only the results."
If he could have given more minutes to the players like Braithwaite, Collado, Mochu etc.: "Probably, but when I take decisions, it is because I have considered it."
How he sees Messi: "I see him well, perhaps he is not presenting the records of other years, but he is Leo Messi, what can we say about him, all we that can be said, we have already said it"
Vidal's goal contribution: "He has played more than 50% of the games with us. He gives us work, freshness, he is an important player"
On Arthur: "He has been called up and will have a chance if it is essential"