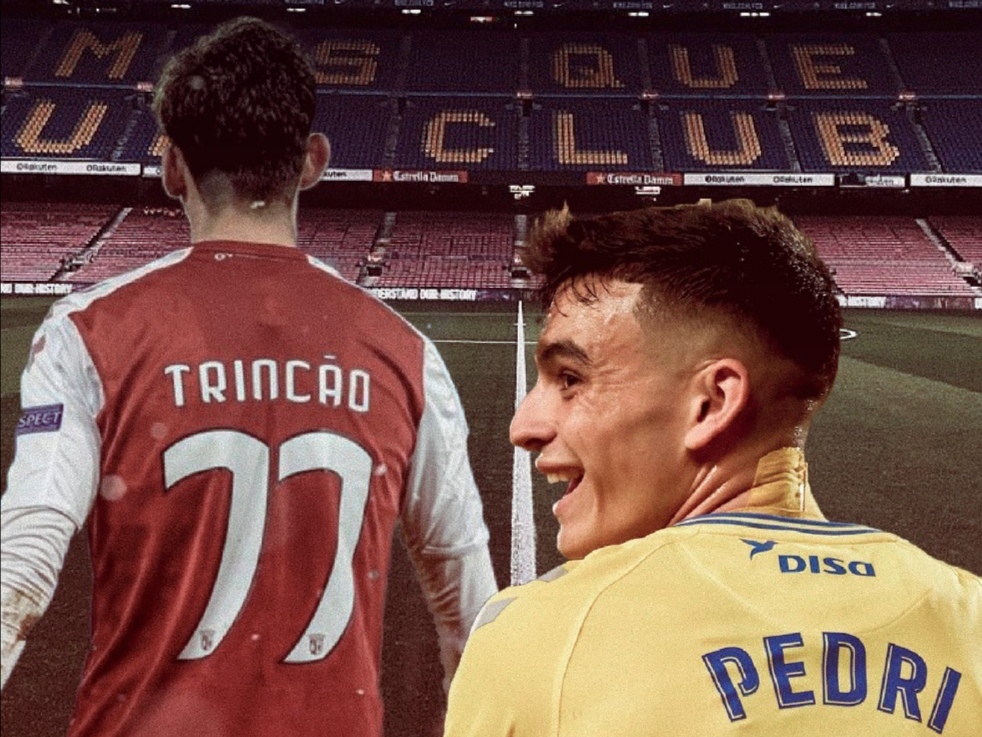 The arrival of Francisco Trincão from Portuguese side Braga and Pedro Gonzalez from Las Palmas mark the start of a new era for the Blaugranas.
A few months ago, Barcelona managed to close two signings for the future in two very promising young players: the Portuguese Francisco Trincão and the Spanish Pedro González. Both are highly rated in the Barça camp and have generated enthusiasm among the fans.
Before the transfer market was altered and the Catalan club's budget were affected by the coronavirus pandemic, the two deals to bring these players were closed and the signing of both will take effect from July 1.
Francisco Trincão was born in Viana de Castelo, Portugal. The Portuguese player started in the lower categories of Porto until he signed for Sporting de Braga and became a professional footballer. This season, Barcelona noticed the young player and bet on him, paying Sporting de Braga a figure of 31 million euros, agreeing on a transfer that will take effect on July 1 of this year.
One of the most outstanding moments of Francisco Trincão has been with the Portuguese national team, where he has gone through all the categories from U17 to U21. However, his best moments with Portugal was with the U19 team, as he managed to find the net 11 times in just 16 matches.
During this season he has stood out, and especially after knowing that he would soon be at Barça, his streak of excellent games began. Trincão can play in different positions as a winger on both sides, or function as a playmaker. His numbers in the Liga NOS, Portuguese first division, reflect this.
Trncão has scored six goals and given four assists in 17 games, of which he has only started in seven. In addition, he has created 11 big chances and averages 1.3 key passes per game, making him a potential difference maker for his new club, too.
While in confinement, Francisco Trincão was in a live interview through a video call on Barcelona's social media. Amongst other things, the forward spoke about what the move means to him.
"Barça calling me made me proud. I really want to wear the shirt of the best club in the world. I really want to meet my teammates, train with them and share the dressing room [with them]," said the young player.
He also mentioned his desire to meet Lionel Messi saying that the Argentine always has been one of his reference points.
He called the attention when he answered in Spanish, a language he is already learning to facilitate his adaptation in the new club. (huh?)
At Sporting Braga they acknowledge that they lose a great player, but are sure that he will succeed in Barcelona. The president of the Portuguese club, António Salvador, even said that Trincão 'is going to leave a mark this decade', following the player's move.
On the other hand, Pedro González is also a very exciting player for the Barça fans. The Spanish player, best known as Pedri, excels on both the left and the right wing, and even as an attacking midfielder. He is considered as a player having a very high ceiling in terms of his growth, and is widely considered one of the most promising players of Spain.
Barcelona signed him last summer from Las Palmas, but the transfer will take effect on July 1, 2020. The team from the Canary Islands will receive 5 million euros for his transfer, and would receive 15% in case Pedri is sold on by Barça in the future. His release clause with Barcelona has two sides: as long as he is with Barca B, it is set at 100 million euros. If he, eventually, gets promoted to the first team, his release clause will rise to 400 million euros.
Barcelona made the decision that Pedri would continue on loan in the Canary Islands, and this has resulted in what has been a very successful loan spell thus far.
Pedro Gonzalez has had a spectacular season in the second division: in 26 games he has scored 3 goals and given 2 assists. However, his best attribute is his playmaking, and the numbers back this up: he has 6 big chances created and averages 2 key passes per game.
At just 17 years old, Pedri signed a contract with Barcelona until 2024 and has been very happy and excited about joining his new club and teammates.
In an interview with Tiempo de Canarias, he expressed that it is a dream come true to complete the move to Barça and share a team with Lionel Messi, another dream that could be fulfilled soon.
"I have dreamed many times of being with Messi in a locker room or on a pitch. Hopefully it will happen," Pedri told Tiempo de Canarias.
In another interview with Mundo Deportivo he also expressed how happy he is for being part of Barcelona and made it clear that his idol is Andrés Iniesta, legend of the Catalan club. He also identified a coming teammate of his in Frenkie de Jong as a reference point.
"When I saw Barça's offer, I did not hesitate. I have always wanted it [a move to Barcelona]. When others call you, you are proud, but Barça is the team of my dreams and I would sign again with my eyes closed. It is the club I have always wanted to sign for. It has been the club of my dreams since my childhood. "
Pedri has also been international with the Spanish national team U 17 and U 19.
The two promising young players, now Barcelona players, ​​are a strong bet for the future, and are looking forward to wearing the Barça colors just as much as the Blaugrana faithful are to see them doing so.