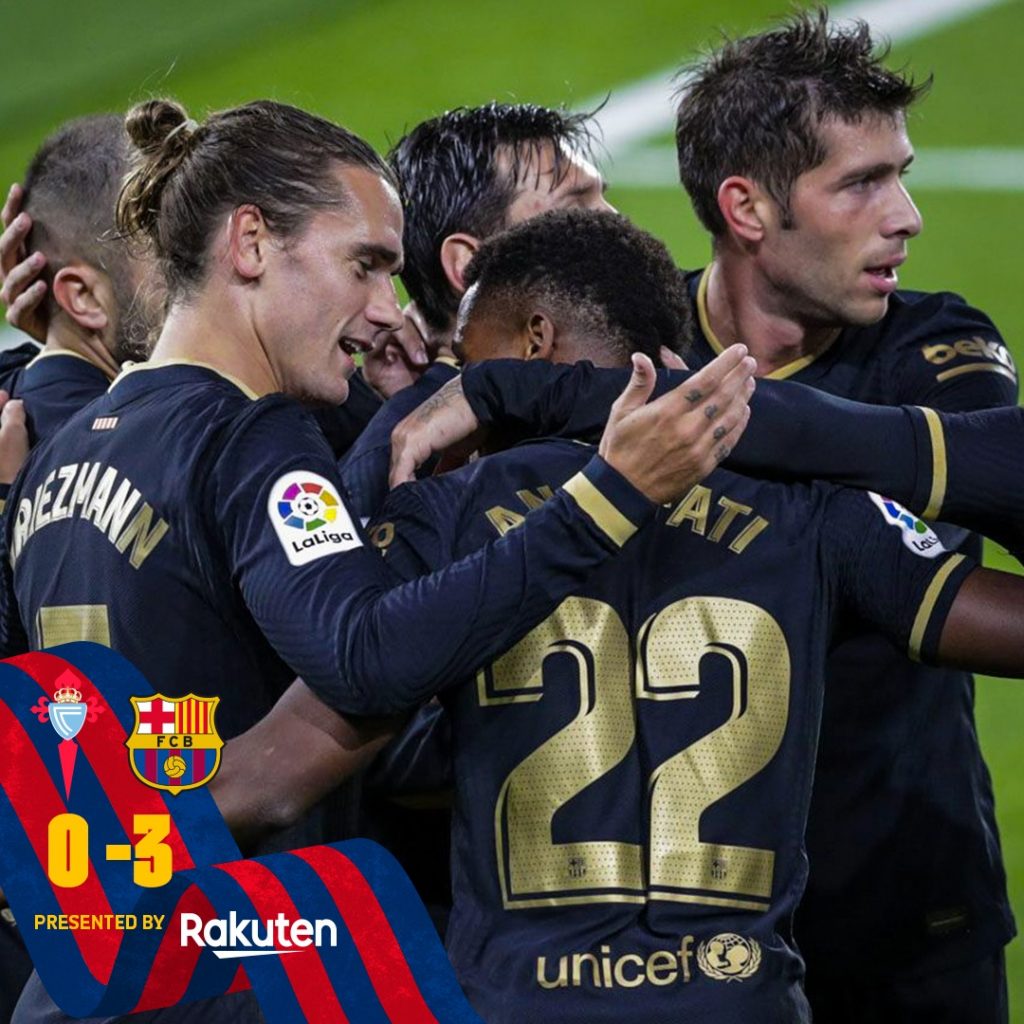 Introduction
When the fixture list was revealed in the off season, there was worry amongst fans about the games that would start Barça's season, they were some of the more difficult games to tackle in the new regime. But Ronald Koeman and his team have gone to work dousing those worries, and their display against Celta Vigo was another indication that this is a team moving in the right direction. Here are four things we considered to be of note in Barça's first win at the Balaídos in years.
Aesthetic and effective football
It was always going to be tough coming here, no league wins in six years could be unnerving, but the Blaugrana started the game well, moving the ball around quickly, and moving in tandem at great pace. It was really enjoyable to see. The passes were reaching their targets and sticking, runs were being picked out. Magnificent passes, like the sequence of play that led to the De Jong outside of the boot cross-field pass that Griezmann was unable to bring under control, truly pleasing on the eye. And this was better because the football was effective cutting through Celta at will. Chances and spaces opened up as a result of the exquisite football on display. Neto, whose performances have been understated since he replaced Ter Stegen in goal, was great with his passing. There was space in behind the Celta press to be exploited immediately the initial waves were bypassed, passes into the feet of the forward players proved effective and was a theme of the early parts of the game. One such pass to Messi was delightfully controlled by the Culès captain and left his marker on his arse. It was truly delightful to watch, as it was effective in securing the necessary points.
Tenacity
In the more adverse of conditions to play a football match, Barça stepped onto the battle arena at Balaídos ready for the battle that was to follow. Strong wind, and subsequent heavy rain; heavy seems an understatement now. Every factor pointed to this being a difficult game for Barça. And it was. After a strong start, Clement Lenglet was sent off for a second yellow card; a jab in the face of former Barça man Denis Suarez. This made an already difficult task quite arduous. And this team didn't run from that. They stood up and responded amazingly well. Their pressing didn't drop off, in spite of the numerical disadvantage. They controlled the game in spite of the odds being against them. This is made all the more awesome because it is away from home, at a stadium that Barça have historically struggled in.
Defensive Solidity
In the preview of this game, we mentioned that we would love to see defensive solidity. And this was an exceptional defensive display. With 10 men nonetheless. The multi layered pressing was amazing to watch, the hunger and ferocity with which these players hassled their opponents was refreshing to watch. This team has been suspect defensively for a few years now, and this display along with the one against Villareal bode well for the future and give supporters confidence for the rest of the season. Gerard Pique was really great, on his toes all game long, Sergi Roberto was great too, effective all round, even ending the game with a goal. Sergiŋõ Dest is in in town, and Roberto responded with a performance that was subtly effective.
Messidependence fairly absent; Coutinho amazing once again along with Fati
Again, it was pleasing to see that the team's system was of more importance than any individual player. When the game was still 11v11, a recurring theme was the Barça attacks being funneled down the left, Ansu Fati and Philipe Coutinho continued their on-field partnership, with the plan to create 2v2s and sometimes 2v1s, exchanging passes and making seemingly telepathic runs, it was delightful. There was a clear plan to which the players played. Barça only began to rely on Messi once they were down to 10 men. And he came through for his team, that second goal effectively killed the game. And his influence on the game grew as time passed. The third goal was also as a result of good work from Leo Messi as he forced a spill with a thumping shot. Messi looked motivated through out the game, and a motivated Messi along with a clear plan puts Barcelona on a different level altogether. Long may this continue.