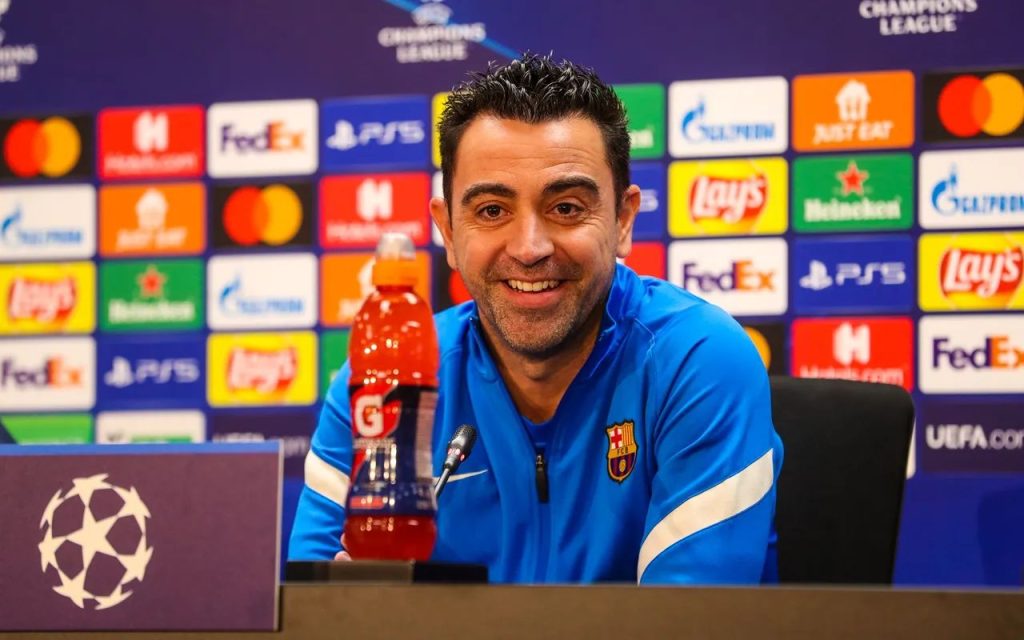 Xavi Hernández and Jordi Alba spoke to the press ahead of Tuesday's important Champions League clash against Benfica.
Tomorrow at 21:00 local time, FC Barcelona will face Benfica at the Camp Nou for the fifth game of the Champions League group stage. A win would mean Barça automatically qualifies for the first knock-out round, no matter what happens in the last game against Bayern Munich. However, a draw or a loss would complicate things because Benfica currently sits in third place with only two points less than the Catalan side.
It will be Xavi's second game in charge as the club's head coach. Last weekend, he beat Espanyol 1-0 in the Catalan Derby thanks to a Memphis Depay penalty. Today, Xavi and Jordi Alba appeared at the press conference to answer questions, with Xavi being the first person behind the microphones.
About the game against Benfica:
"We were the better team against Espanyol until the 82nd minute. After that, the last ten minutes were theirs. It will be different tomorrow. Benfica is a team with experience and they can be physical. It will be difficult, this is the Champions League so the rhythm of the game will be different. We're ready to compete, we have to take advantage of this opportunity and win to make sure we make it to the next round."
"We'll see tomorrow if we're the better team. We were the better team against Espanyol, we deserved to win by a bigger margin, but we have to show it on the field. We have to be optimistic and positive. We have to be brave, to go on the attack and qualify for the second round. But we lost 3-0 in the away game, that's our reality."
"Benfica is a great team, I have a lot of admiration and respect for Jorge Jesús. He has a great team, very strong centre-backs, very important players in all lines of play. We're going to try to take control, but it'll be difficult. We're going to compete."
About not many attackers being available:
"Neither Ilias nor Abde nor Jutglà can play. We have to wait and see how Dest is, how Ousmane (Dembélé) is, how Sergi Roberto is, the players who are about to recover from their injuries. We almost ran out of pure attackers, perhaps Coutinho and Demir can play there too. We will play with whoever it is, but we will play to win the game."
"What we want is to open the field up to create space. If you analyze Saturday's game, we had one pure winger and Gavi playing on the other side, to have both amplitude and attacking power from the outside. If you generate this on the outside, you have more space on the inside. We want to occupy those spaces, that position game is key for me."
About Pedri being injured and winning the Golden Boy award:
"It's a matter of the evolution of his injury. I'm very happy he won the Golden Boy, he deserves it. With only 17 or 18 years he has made a difference, it's a prestigious award. He is going through a difficult time with his injury, it's not an easy injury to recover from, he has had a small complication. I hope he can return as soon as possible, there's no scheduled date, but the important thing is that he returns well after this second relapse."
About the availability and importance of some (injured) players:
"Everyone that didn't finish the game on Saturday is fine, that includes Busi, Nico and Mingueza."
"For Dembéle, it depends on how he feels tomorrow, what we don't want is for them to get injured again. It will depend on his feelings. Especially with players that are about to return, I'm guided a lot by the feelings of the players. We'll see if he could help us, he would be important for us."
"Araújo will be very important, even if he didn't play on Saturday. Just like Umtiti or Lenglet, I count on all of them and we'll need them all, they're training like animals."
"Ter Stegen is essential, just like Neto, Iñaki or Tenas. He is a high-level goalkeeper, one of the top three in the world, both in goal and with his feet. He has character, he is not a captain, but he can be. He's a guarantee to me."
"We already have physical midfielders. De Jong and Nico, or Busi himself, without being very strong, is one of the midfielders who recovers the most balls in the world. To play as we do, you don't have to be two meters tall and weigh 85 kilos. Look at how many balls Pedri recovers, just like Iniesta did. But we have that profile in Nico and De Jong."
About the fans:
"Thank you first for the atmosphere on Saturday, I have never seen such an atmosphere in my life. It almost seems like we have a new stadium. Tomorrow we need them, we're proud of the fans. I was impressed by their behaviour, it was fantastic."
About signing Bounedjah, his striker at Al Sadd:
"He's an extraordinary player, but there's no interest, I don't know where that news came from. I won't touch Al Sadd's players… in principle (laughs)."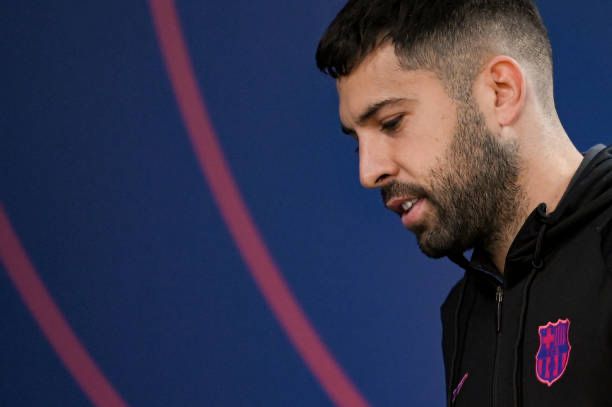 When Xavi was done answering questions, it was Jordi Alba's turn to shortly appear at the press conference.
About the game against Espanyol:
"The derby gave us a lot of confidence. We deserved to win the game. It's true that in the last fifteen to twenty minutes we suffered more than necessary, but the team handled it. Our confidence is high and tomorrow is a final."
About the game against Benfica:
"If we're the better team, we have to prove it tomorrow. I think we didn't deserve to lose 3-0 in the away game."
"Tomorrow is a final. We have to be positive. The atmosphere is good and the attitude is good. We have to think positive and not contemplate other scenarios. A final with our own fans. This year things haven't always gone the way we wanted. When the fans show us their support, it's an extra motivation. I'm sure that tomorrow the fans will be very connected to the players."
"I'm hoping for a Benfica like the one in the first game. It's a team that's dangerous on the counters, but also has high-quality players like Joao Mario, Darwin and Grimaldo. It'll be a very difficult match."
About Xavi's arrival and his rules:
"I don't think that the change of coach should have been done earlier. We won the Copa del Rey when nobody was expecting it. Now we have a new coach because the president decided that way. He was the man who had to come because he knows the club."
"The rules don't have to change anything. Everyone is responsible for what they do. It'll help us to be more united. We're very happy with Xavi's arrival. We know what he would give for the club and for young players he has been a point of reference."
"It's important to disconnect from football and the little games we play before training help us to form a group. The training has been fun and demanding."