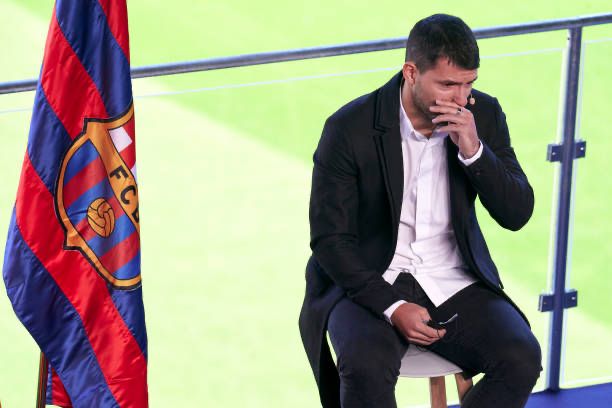 Sergio Agüero announced his retirement from football due to heart problems at a press conference at the Camp Nou today.
Sergio 'Kun' Agüero (33) has announced his retirement from football. The Argentine from Buenos Aires had a spectacular career and is seen as one of the best strikers in the world.
Agüero made his debut for Independiente in 2004. He was only 15 at the time, making him the youngest ever debutant in the Copa Libertadores. He took this record from Diego Maradona, whose daughter he would later marry. His performances for Independiente earned him a European transfer move to Atlético Madrid. During his first season in Spain, he was still young and often came in as a substitute. When Fernando Torres left Atléti for the Premier League, Sergio became the starting striker and scored every other game. He became both Argentinian footballer of the year and best player in Europe under 21 in 2009.
Kun followed Torres' footsteps and left for the big Premier League in 2011. He started his first season in England by scoring twice on his debut and ended up becoming a Manchester City club legend in the last game of that same season. Manchester City was on top of the league going into the last matchday of the season. Manchester United won its last game, meaning City had to win against QPR at home. However, the score was 2-2 after 90 minutes, and United fans carefully started celebrating. Then came Agüero. After 93 minutes and 20 seconds, he scored the goal that won City its first league title in 44 years.
Agüero never stopped scoring. Some of his records include Man City's top scorer of all time, most Premier League goals scored by a foreigner, most Premier League hattricks and scoring five goals in 20 minutes. Apart from an impressive club career, Kun was also successful with his Argentina. He won the under 20 World Cup (twice), the 2008 Olympic Games in Beijing and the 2021 Copa America.
From a young age, Sergio has been one of Leo Messi's best friends. The two would always share a room on international duty. This friendship was one of the reasons for Agüero's arrival at FC Barcelona last summer, even though Messi eventually ended up leaving for PSG. Agüero's first months were spent getting fit, and he only ended up playing a few games for Barça. He scored his first and only goal in El Clásico against Real Madrid. He scored over 400 goals and won 21 titles.
Apart from president Joan Laporta and other board members, Pep Guardiola, Txiki Begiristain and the whole first squad were present at the Camp Nou. Kun couldn't hold back his tears, even before he started speaking. His first words: "This press conference is to inform you that I have decided to stop playing professional football. It's a very hard moment but well, I'm very happy with my decision. My health comes first because of the problems I suffered a month ago."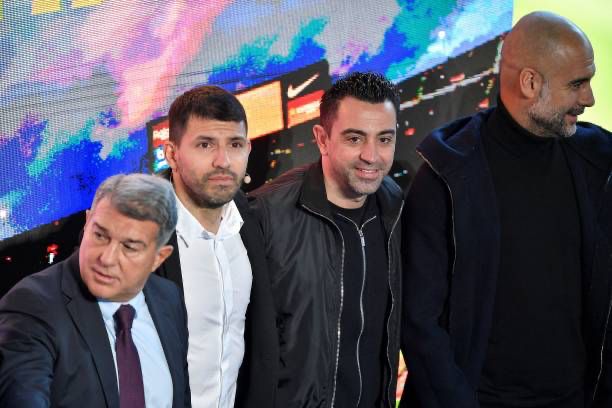 "I was in the hands of the doctors and they told me that it was best to stop playing. I made the decision 10 days ago. I tried my best to see if there was any hope left, but there wasn't much. I'm very proud of my career, I'm very happy. I always dreamed of playing football since I was 5 years old and I first touched a ball. My dream was to play in the first division in Argentina, I never thought I would make it in Europe. Thanks to Independiente, I was educated there, to Atlético, who bet on me when I was only 18 years old, to the people of City, who know how I feel about them. I did my best there and they treated me very well. And to the people of Barça, to Joan who contacted me. I knew I was coming to one of the best clubs in the world and they treated me very well. And to the Argentine team, which is what I love the most."
"I think I did my best to help my teams to win. I leave with my head held high and very happy, I don't know what's waiting for me but I have people who love me and wish me the best. And thanks to the journalists, those who treated me well and those who didn't, that's not a problem. Thanks to all the fans of the clubs where I've played and I cherish the beautiful things that I've experienced."
About hearing the doctor's advice:
"I'm feeling good right now. Obviously, the first two weeks were very hard. When I did the first physical test at the clinic, the doctors told me that there was a big chance I would have to retire and it became more difficult mentally. When they told me their advice was final, it took me a few more days to process it. Now I'm fine but yeah, it was hard."
About being proud of his career:
"You always want to keep winning, but I'm very happy with the titles I've won. You can always want more but I think I did my best for myself and my clubs because I always say that in the end the player is part of a team and everything I did was to help the team and the club."
"This happened to me when I was 33 years old and not earlier. On the one hand, I'm proud of my career and thank goodness it happened to me now and not earlier. But I'm very happy with the career I had."
About some of the highlights of his career:
"I scored a very nice goal at Independiente, it was a very nice moment in my career, against Racing. I have nothing against Racing but aged 17 it was the most beautiful first goal I had ever scored. And then with Atlético, I scored in the Europa League, which was also a very happy moment. And at City, as everyone knows, that goal against QPR, my first Premier League title and the first one for City in years. And the last moment in the Copa América, I didn't play much but I accompanied the boys and it was exactly what we were looking for years ago. I was very happy. And then my last goal against Real Madrid. Not a bad last goal, right?"
About his time in Barcelona:
"I'll remember, and I didn't experience it anywhere else, the fact that the fans are very fanatical, you see young, old fans on the street… I was very surprised by that and also by their affection. I would've liked to be here and help the club but things happen for a reason and I wish Barça the best. They're very good teammates and young players who want to learn. I leave very happily."
About his future:
"This happened to me now, because things happen for a reason and it's positive that I'm here and able to talk about it. Yes, it's a positive thing that detected this problem for me now. I'll try to be happy outside of football and to be able to enjoy all the moments that footballers know that they'll miss when they retire. It's not easy being a football player. You have to train every day, play games, travel. Players should be respected. I'll continue to be linked to football and I'll be able to enjoy life more."
"I'll be calm for now, I'm not going to do anything for a while. I can't say how people have to remember me, I prefer to leave it up to the people to decide."
We wish Sergio a lot of health and happiness for the rest of his life.