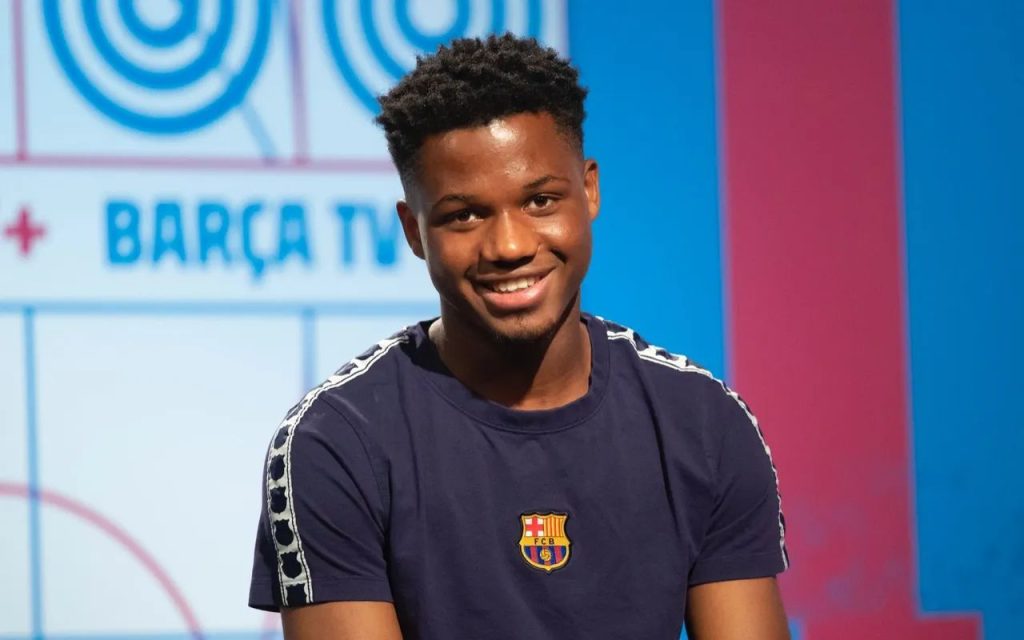 Ansu Fati recently did an interview with Barça TV+, where he talked about his injury, the fans and the pressure of wearing the number 10.
Fati (18) received the medical green light for the first time since returning from his knee injury, which happened ten months ago. He last played a game 322 days ago. The young FC Barcelona star has been included in the official squad list for this Sunday's game against Levante, and it looks like he'll be able to play about 15 minutes. Before making his return on the field, he answered some questions from Barça's social media platform.
About his recovery:
"The first days were difficult, I didn't want to accept it, but there was nothing I could do. I had to accept it, it already happened. Everything happens for a reason and I'm now more eager than ever to enjoy it again."
About his first time touching a ball after the injury:
"The day I put on my boots for the first training session I asked the club if my father and my little brother could be there. When they saw me jump, run and touch the ball, they cried. I cried too. It was a very exciting day for my family."
About his family:
"My parents and siblings have been key. They've been at my side the entire time. It would've been much tougher without them. It was hard to see my family suffer more than myself. My brother asked me "when are you going back?" every day and not knowing what to tell him was really difficult. However, this helps you mature and makes you want to get back even more."
About the first training with his teammates:
"As all of this happens, you start to appreciate every little detail much more. Injuries help you grow and mature. Being able to return to my teammates was a special day. I'm very happy to be able to participate again, to be able to help the team and to be available when they need me."
About the support of the fans:
"I really appreciate the culers, because they have made me feel like I'm not alone in this process. I have always received affectionate messages from them saying they can't wait to see me back. It's a real positive thing during recovery, which gives you a boost to work hard to get back."
"I'm very grateful to all the fans. I feel very loved and this helps me with everything. It helped me with the recovery. Now I really want to give back to everyone to repay the confidence they have given me, I really want to return to the Camp Nou. It will almost be like a debut because it has been almost two years that I haven't been able to play with fans in the stadium. Coming back now will be very special for me and I hope I can give the fans a good performance and a lot of commitment."
About the responsibility of wearing the number 10 shirt:
"It's an honour for me. I want to thank the club for giving me the opportunity to wear it, along with the captains and also the fans. It is a challenge because of everything that the number 10 entails. Leo had it, Ronaldinho and other great players had it. For me, if you're at Barça you have to be prepared for anything. It's the best club in the world and the number 10 is another thing that comes with pressure, but being at Barça already comes with a lot of pressure. If you're in the first team you have to deal with it."
About being motivated to play:
"For an attacker, scoring a goal gives you confidence, even in training. That's why people say you have to train the way you play. I'm confident and very eager to play again, to see my family in the stands, to see the fans and all the people who have helped me in this process. It has been hard, but I've always been positive. This is life and I really want to return, especially to see the fans in the stadium."
Coach Ronald Koeman has said that Ansu will play a maximum of 15 minutes. FC Barcelona will face Levante in La Liga on Sunday at 16:15 local time at the Camp Nou.