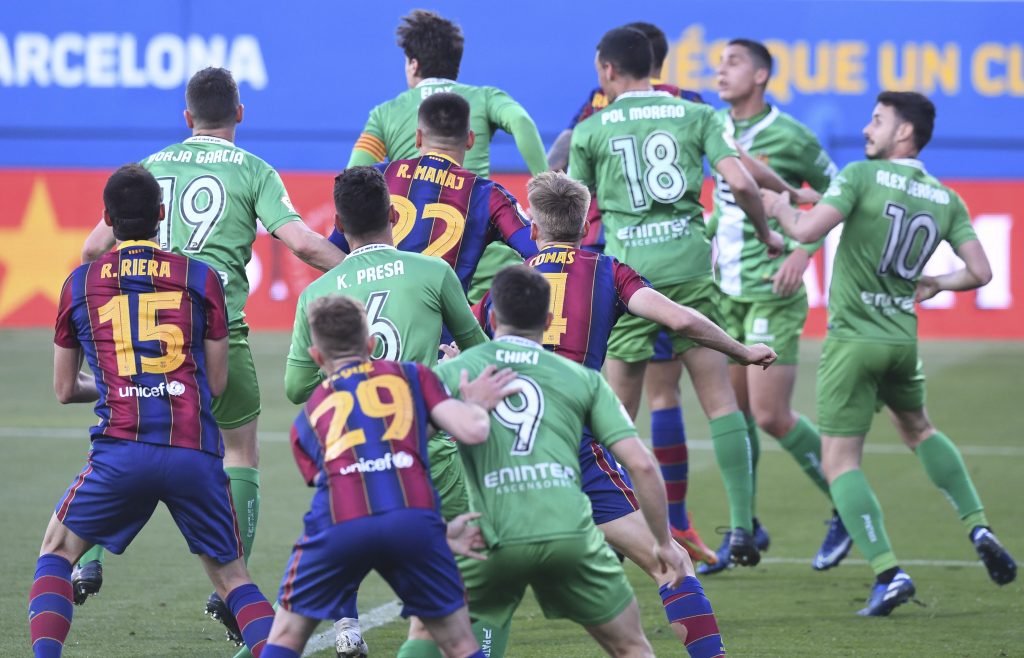 Barça B absolutely dominated the fixture. They had the best chances and put Cornellà in trouble, but eventually failed to prevail on the scoreboard despite the support of 1,000 fans who filled the Johan Cruyff's stands. The fans will be next to the team in the key stretch of the season.
Joy came to Johan hours before the start of the match. Previous to the initial whistle there had already been a victory: the presence of an audience in the stadium. Finally, the blaugrana football came back to life beyond the pitch.
Inside the field, Garcia Pimienta's team didn't change the playing pattern we're used to. From the beginning they had the ball, controlled the match and generated the most dangerous occasions. 15 minutes into the match and the away goalkeeper had already made two remarkable stops to avoid the first blaugrana goal. There would be many more throughout the match.
While Cornellà was looking forward to his opportunity to do damage with direct football and set pieces, Barça was trying to craft from Collado's talent and Konrad's pace. Nonetheless, Peque had the best occasion of the first half in a hand-to-hand that Ramon deflected brilliantly. The U-19 player had his second consecutive starting match and has shown that he has much to offer Barça.
As it could not be otherwise, the good news about the game confronted again with bad news in the medical area. Oriol Busquets, who had managed to recover a second time from an injury and enter the starting XI, had to be replaced at halftime with some discomfort. Matheus Pereira would take his place.
The second half was more of the same. Local dominance without a reward. Both footballers and fans pushed, but no one managed to break the visiting wall. Ramos Mingo did so after a Roger Riera's touch from a set piece, and so did Angel Alarcón, who had minutes again, after a great run, but both plays were overturned due to offside. The much-awaited opportunity for Cornellà arrived in the 93rd minute, but Iñaki Peña saved it magnificently.
In the end, draw without goals that doesn't feel enough for Barça B. The "Pimi" guys still have the first place in range if Nàstic lose their last match and the subsidiary gets the win against Badalona. Either way, the promotion phase is more than assured, and everyone is optimistic about playing the final Playoff for promotion to Second Division. The team's great performance and competitive spirit invite the fans to think they can fight for everything.