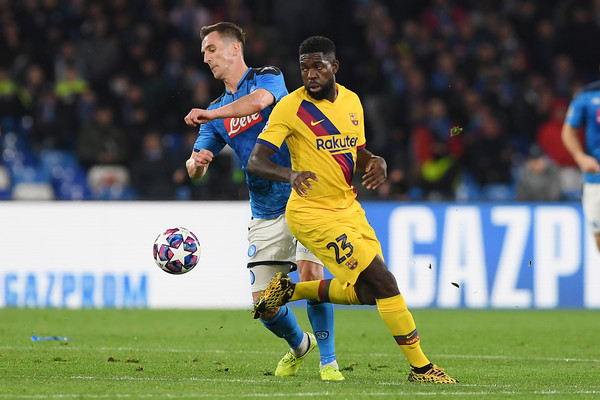 Barcelona's French defender, Samuel Umtiti, could be leaving the club in the off-season, and has attracted interest from the Serie A side Napoli.
Samuel Umtiti has not been much on the pitch for Barcelona this season, with his injuries and relapses of those playing a big part in that. Having only featured in 11 fixtures for Barça in the league this season, the player, who Barcelona signed in 2016 from Olympique Lyon, could be on his way out of Barcelona in the off-season.
According to the Spanish news outlet, SPORT, the Yaoundé-born defender is comfortable with Barcelona, and wants to stay with the Catalans, but has attracted interest from Italian side Napoli.
The Italians have contacted Barcelona's board with regards to a move for the Frenchman, as the Serie A side is close to selling Kalidou Koulibaly. Moreover, Napoli are aware of Barcelona's need to sell players, in order to afford their summer targets which can be accompanied hefty price tags.
Barça's defender is, according to the same report, one of the names on Napoli's shortlist for the off-season, alongside Sevilla's Diego Carlos, and although Umtiti's salary could prove to be an issue, the coronavirus pandemic will undoubtedly affect the prices on the transfer market.
Umtiti's contract with Barcelona runs out in 2023, with its latest extension having taken place in 2018. He has scored twice and assisted one goal in 114 appearances for the Blaugranas, while racking up 24 bookings in the process, and only being sent off once.