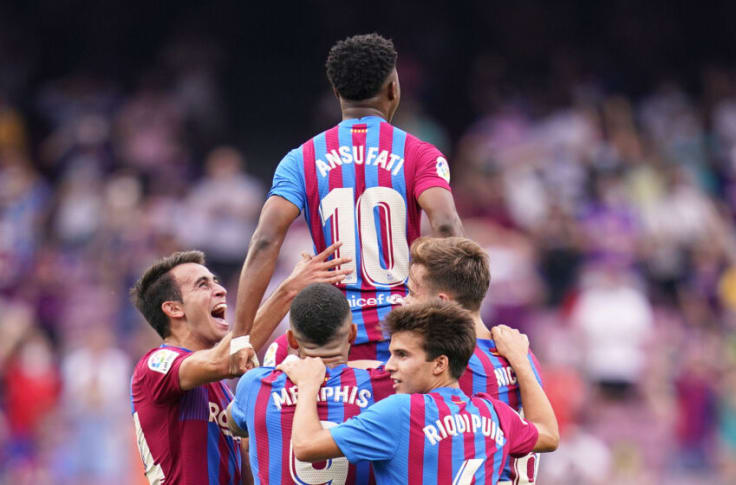 In an extensive, emotional interview with Spanish news outlet COPE, Ansu Fati's father, Bori Fati calls for support and care from Barcelona.
Bori Fati, Ansu's father, has had an interview with Spanish news outlet COPE, in which he speaks about the Barcelona forward's situation at the club, breaking the silence.
One of the bombshells of the interview was when he spoke about Ansu's future, and what he would do if Real Madrid were to come knocking.
"I think a lot about going back home to Seville. Right now, I wouldn't entertain an offer from Madrid, because Ansu wouldn't accept it. I can't send Ansu somewhere he doesn't want to be. But I will never speak ill of Madrid, because they are two very big clubs, and you never know what the world has in store for you. You never know where you'll end up," Bori Fati tells COPE.
In the extensive interview, he also delved into Ansu's physical and mental situation, the club's talks, as well as his conversations with Jorge Mendes, Ansu Fati's agent.
On Ansu's mentality and form:
"He's doing really well mentally and overall. He doesn't have any issues. How would he be depressed, with his family and people around him to talk to," Bori Fati tells COPE.
"Ansu has spent 4 years with the elite, looks incredible, and he's doing really well physically. Now, he's faster and more explosive [on the ball] than he used to be. Because, when he has confidence, he [grows] faster. Ansu is like a bull," the player's father explains.
On Xavi:
Bori Fati is not unhappy with the competition nor with Xavi as a manager. But he wants to see more.
"A part of justice is that each player fights for his spot on the pitch. [I can understand that] Xavi has his reasons. The team wins, they're twelve points ahead of Madrid and untouchable," he continues.
"I'm not disgusted with Xavi, he has been one of Ansu's idols for years."
"Xavi is a coach and a good man. He has Ansu focusing on specific training and is helping him," Bori tells COPE.
While he does understand Xavi's sentiment and the general situation at the club, Bori explains he cannot help but feel upset for his son.
"As a father, I'm upset, yes. Only being able to see Ansu [on the pitch] for a short time does upset you a little bit."
On his conversations with Barcelona:
"I tell them [Mateu Alemany and Jordi Cruyff] that we deserve much better. Ansu, when he was playing before his injury, [he played with] Messi, Suárez, Dembélé, Griezmann…"
"Mateu [Alemany] always tells me the truth, and has told me that he has always loved Ansu. It annoys me that they then give him a minute, two or three [on the pitch]."
"The forwards at the club are phenomenal, but we're talking about Ansu Fati from the Spanish national team – not just any kid. He graduated from La Masía. If we can't give him this, what do we give him? Ansu deserves much more, we're talking about Barcelona's number 10 here," Bori explains, before touching upon his conversations with Jorge Mendes.
On talks with Jorge Mendes, Ansu's representative:
"Barça tell me very clearly that they count a lot on Ansu. When I sat down with Jorge Mendes, the first thing he told me was that Ansu wants to stay and continue playing with Barcelona."
"But, as a father, I think differently, and Ansu doesn't agree with that. Ansu had offers and [former president Josep Maria] Bartomeu didn't want to listen to them. If he [Ansu] stays here, I'm going to Seville," Bori tells COPE, referring to the fact that Ansu spent his youth years and most of his life in Seville.
On Ansu's own decision:
"For Ansu himself, yes, I think he'll stay. He has a contract, but that [his future] also depends on what Barça think. But, if it's up to me, I want to see him succeed because he's a guy who's in it to succeed."
"Ansu has always stood up for Barça, and when he was out, everyone wanted him to play. His recovery was even sped up. And now that Ansu is here, what happens? Do we just forget about him," Bori asks.
Much like a lot of other enjoyers of the sport, Bori decides to draw a comparison to Real Madrid's Vinicius Jr., who also had a tough start to life in Madrid.
"Do you remember how you 'killed' Vinicius two years ago? And now what? All we ask is to have consistency and support: all I'm asking is that they [Barcelona] take care of him, I'm not asking for anything else," he explains.
The Guinea-Bissau born Spain forward graduated La Masía back in 2020, when he officially got promoted to the first team. His current contract runs out in 2027, with an option to extend for a further two years.
In 24 games this season, he has registered three goals and three assists. He has played 96 games for the Blaugrana's first team, scoring 25 times and setting up another 9 goals.