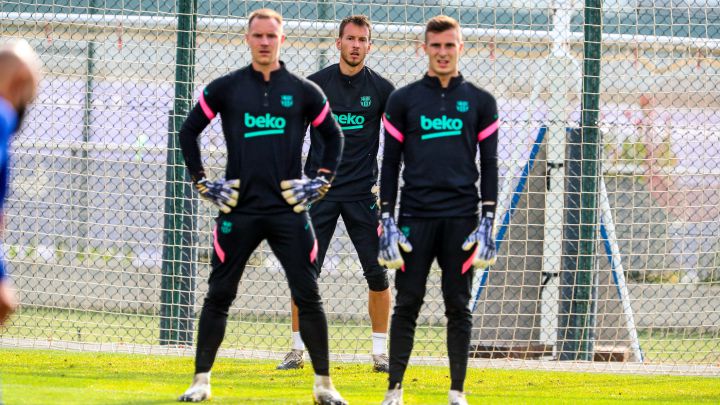 The doubts surrounding FC Barcelona's goalkeeper situation seem to have been resolved, as both Neto and Peña look set to stay at the club.
This means that the goalkeeping trio will remain the same as it was last season. Barça had some concerns regarding the situation because Marc-André Ter Stegen, the first choice between the sticks, will start the season with an injury. It was reported that the club wasn't sure whether Neto and Peña would be good enough to replace him for the time being, and Barça was even briefly linked to Gianluigi Donnarumma, but it looks like the two goalies have done well enough during preseason to convince the staff.
Spanish newspaper Sport has reported that although both Norberto Neto (32) and Iñaki Peña (22) had offers to leave, they will be part of the squad until at least January. When the winter transfer window starts and Ter Stegen is back, the situation might be reevaluated.
Earlier this summer, Sport came out with the news that Neto was not particularly happy with his playing time and would've liked to make a move. Also, Peña would've preferred to be the second choice behind Ter Stegen instead of the third choice. However, the German's injury means Neto gets his playing time and Peña gets to be the second choice, which makes the club able to have both of them as a part of the squad until the winter.
Although he was impressed with Peña during the preseason, Ronald Koeman is said to prefer the more experienced Neto. The Brazilian previously played as a first-choice goalkeeper in La Liga for Valencia. He also won the Estrella trophy last week, the reward for the man of the match of the Joan Gamper game against Juventus.