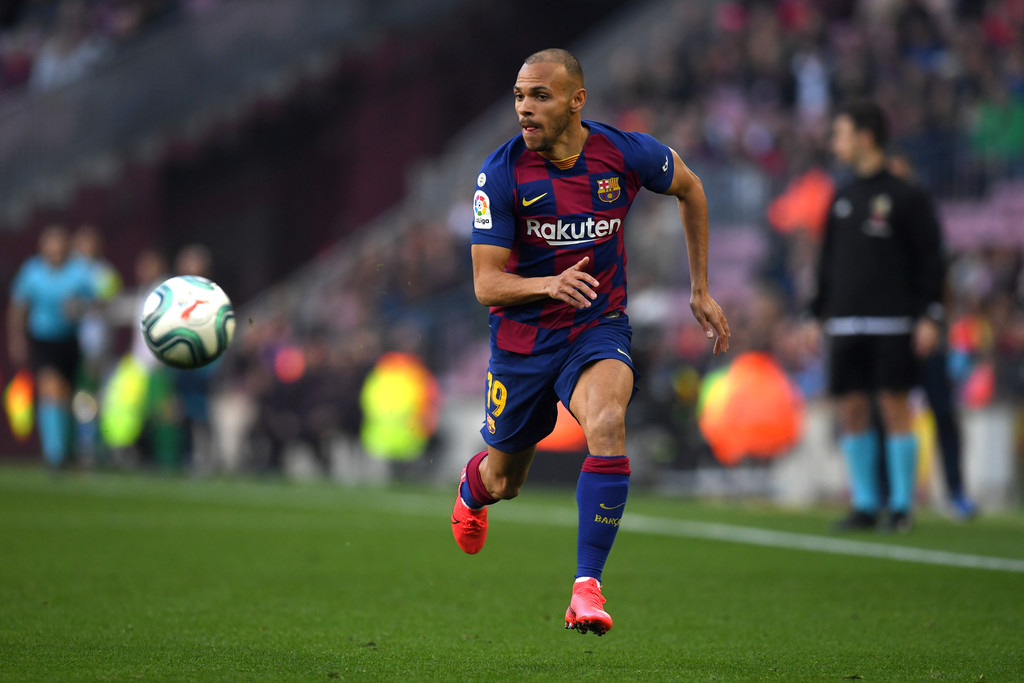 Barcelona's new signing, Martin Braithwaite, has high ambitions for the new chapter of his career, and is excited for the team's return to action.
Following an injury that resulted in over five months on the sidelines for Ousmane Dembélé, despite it seeming like an injury scare initially, Barcelona signed Martin Braithwaite from Leganés, as an emergency signing.
The Catalans used a clause that allowed them to sign a player that was either unattached or playing in Spain, but the clause did not allo Leganés to sign a replacement for the player that was among their top scorers at the time.
Less than two months after his arrival, the Spanish league was suspended, and most of the world now finds itself in confinement. The Danish forward assures that all is well in the Braithwaite household, where a fourth child now has been added to the family tree.
"I am with my family and those I love. They are well, and all is as it is supposed to be," Braithwaite explains, in an interview with the Danish government-owned news outlet, DR Sporten, before reflecting on several topics.
On being sent home from the hotel, shortly after his signing
"They told us to go home. We saw that it was a serious matter because of how it [the pandemic] had been treated in Italy."
"It felt surreal, and it still is special. But, at the same time, I thought that it could mean that I would be able to be there for the birth of my son [Valentino]. And, fortunately, I was [there]."
On taking advantage of the break
"Now, we are on an [enforced] break, and I see that as an advantage. I know that no one is training and working like I do. When I come back, I will be physically and mentally prepared."
On competition in the squad
"That there are players who are returning from injury or that new players join the club is simply fantastic. My ambition is to play with some of the best [in the world], and if I am playing with one of the best teams in the world with some of the best players, it helps me do well, too. I want all the competition I can get."
"It [my journey with Barcelona] has not even started yet, and I am yet to prove what I am capable of. I think I have had a good start, but I also know I can do even better."
"I am looking forward to us playing again, and I know I will be back with a bang. I am very calm, and I believe in my own abilities."
On Barcelona's training regimes while the players are in confinement
"It only adds up to a third of my training sessions, because I myself have added so much more."
"I train my pace and my stamina. And now I can have sessions that are much more detailed than they would be in my day-to-day life, so I will return in a much better physical state."
"I have a gym in the basement, and I have a good lawn, on which I can run and do exercises with the ball."
On his mentality
"I also spend a lot of time visualizing how I want things to go. When it comes down to it, I have seen that things go as I envision they will in my head."
"So, I am extremely excited and am looking forward to getting back [to the pitch], because great things will happen."
"Sometimes, you want to say it, other times you just want to show it. I just want to work hard, and show it [my improvements] when I am back [on the pitch]."
"I have to be a regular starter and a goalscorer [in Barcelona]. When you play with Barcelona, you get so many chances. There is no doubt that I see myself scoring many goals, and being one of the top scorers in the team and in the league. That is what I am here for."
"I have to work hard and believe in myself. In my career so far, I have seen that you always get rewarded for putting a lot of work in. Now, I am working harder than ever, and my reward will be huge."
On the family
"I do not spend a lot of time on the negative things and all the bad things that follow as a result of it [the pandemic]. I just focus a lot of my energy on the positives."
"As a parent, you are responsible for your children experiencing the situation as something great, and not as something that negatively blocks off your body.
"So, when my kids go back to school again, they will maybe just be left with the feeling that they have had a long vacation, instead of having had parents that spoke about how terrible everything was. It is my responsibility to take care of them mentally and physically."