After his transfer from Manchester City, Ferran Torres was presented to the fans at the Camp Nou for the first time today. Barça's newest attacker also answered questions at the press conference.
Ferran Torres (21) is the latest youngster to be added to FC Barcelona's Dream Teen collection. The Spanish attacker, who made his debut at Valencia, was bought from Manchester City for around 55 million euros. Today, he was presented to the fans and signed a contract that will keep him at the club up until 2027.
When the stands were filled with fans, Ferran entered the pitch of the Camp Nou alongside president Joan Laporta. After saying hello to the fans present at the presentation, the youngster spoke his first words at his new home: "I would like to thank the president and the club for their trust in me, and all the Catalans for this welcome. It's a dream, everyone already knows about the kind of club Barça is, the greatness it has, and I'll give everything I have to take Barça to where it deserves to be."
President Laporta also had some words for the fans about the club's latest signing: "Today is a great day. Ferran Torres has shown his desire to join our club, for which I want to thank him. And I want to thank everyone who has worked at the club to make his arrival possible. Especially to Mateu Alemany, Rafa Yuste, Jordi Cruyff, and his representatives. He has been persistent to come to Barça. We'll surely enjoy it. Visca Barça!"
An excited Ferran joined the president in saying "Visca el Barça" and then took his first few touches with the ball. After signing some shirts for good causes, Ferran waved goodbye to the fans and went inside for the press conference, where he, Laporta, Yuste and Alemany answered questions.
About the transfer:
Ferran: "These are very special days. I'm very grateful to the president, Rafa and Mateu and to the Culers for the welcome. I'm looking forward to playing at the Camp Nou."
Laporta: "It's a very special day. We're introducing a special player. When Mateu told us that this possibility existed, we were very happy. You know we have a good relationship with Manchester City and Ferran was a very clear objective for us. I really liked his desire to come and play for Barça. We want players like that. We always ask players for something more. He's very young but he's already a point of reference and he'll surely bring a lot of success. Mateu has also been key. They have all worked hard, Masip as well. We're building a team with very young players and we want them to have a bright future. A new stage begins at Barça and we hope this comes as soon as possible. Ferran is a great player and an even better person."
"We also like that Ferran is a Valencian, Catalan and Valencian people are like family, we like to speak in the same language."
About Ferran's registration as a La Liga player:
Alemany: "The reality is that when we signed Ferran, we knew that we had no salary limit. We already assumed this and we've been working in various ways to fix it. We're convinced that we'll achieve it before Sunday. That's our goal."
Ferran: "I'm completely calm, I know they're working on it. I know that in the end, it will be possible."
Alemany: "When it comes to Dani Alves, we have room to register him and it will be done either today or tomorrow. And more signings will depend on outgoing transfers. We made an exception for Ferran because it was worth it. If we make more outgoing transfers happen, we'll decide about possible signings. That's our plan."
Laporta: "What I'd like to say is that we're working on building a competitive team and we started with Ferran, who's fundamental for us and for Xavi who supported the operation from the first moment. Ferran was very important to the project and we're very satisfied. The other operations we have planned will be announced when they happen."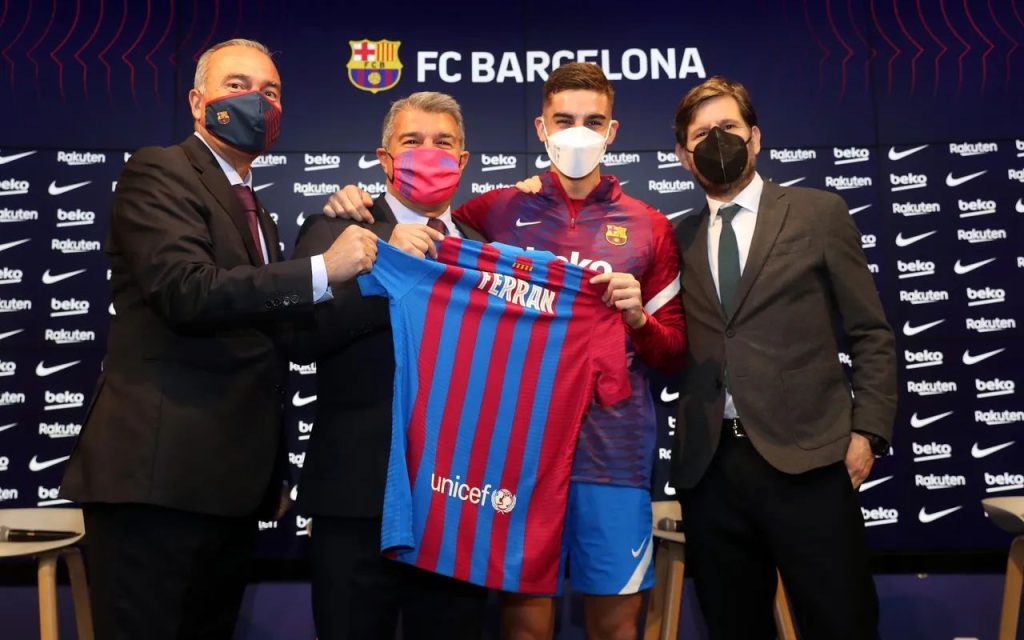 About why he decided to sign for Barça:
Ferran: "I have always said it, I went to City to one day return to one of the great clubs in Spain and I didn't hesitate to come to Barça and hopefully get them back to where they belong."
About his injury:
"I'm ready, my injury has almost healed and I'll be trying to give joy to the Catalans very soon."
"The injury is fine, we're finishing the recovery but I feel good. I hope to be ready for the Super Copa or even earlier. I like big challenges, and I considered that Barça was a good option."
About the coaches he's already played for:
"Having already had two coaches like Pep Guardiola and Luis Enrique helps me understand the Barça DNA and I'm looking forward to now being under Xavi's orders."
"They're some of the best coaches in the world, with a similar style. I've learned a lot from Pep and Luis Enrique, taking advantage of their versatility. Already knowing about the Barça DNA will help me adapt easier."
"I've learned a lot from Pep, he's one of the best coaches in the world. I have a lot of very beautiful memories."
About his preferred position:
"I've been playing as a striker but I always say that my position is on the right-wing. But being more versatile can be of help to the coach, as long as I play I don't really care where."
"Barça is one of the best teams in the world, there will always be competition and I hope to be important. I hope to win a lot and give a lot of joy and continue growing as a player."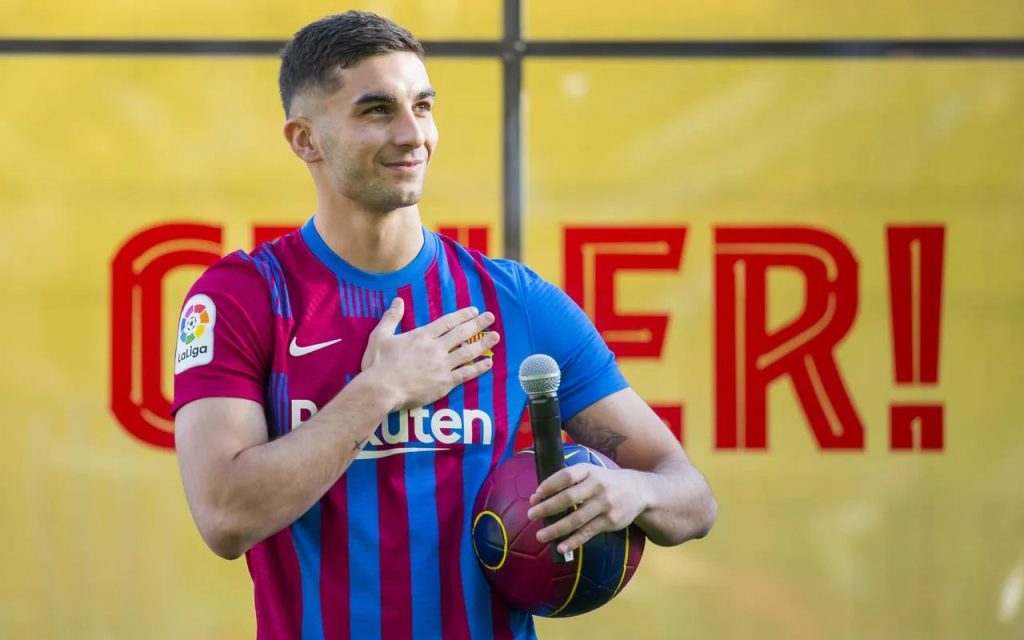 Before his presentation, Ferran also answered some questions on Barça TV.
About the first contact:
"My agent called me after a good game with Spain against Italy and that's when everything started moving."
"Xavi's confidence is very important to me."
About rather playing for Barça than Manchester City:
"Manchester City is one of the best clubs but I'm very ambitious and it's a challenge to help Barça return to where it deserves to be in a team full of young players."
About his first few days with the team:
"I've seen a team that's very united and very happy and I'm looking forward to working with them."
"The youngsters are very excited, they're eager to learn and that infects you."
About his personal life:
"I really like being at home. I'm a family person. I've always been very close with my sister. We have similar hobbies and she'll be the first to put my feet back on the ground down if necessary. We also got three tattoos together. One is from a long time ago, another is for our dog, named Rex, and another one that says "no matter what, no matter where", which I got in Manchester."