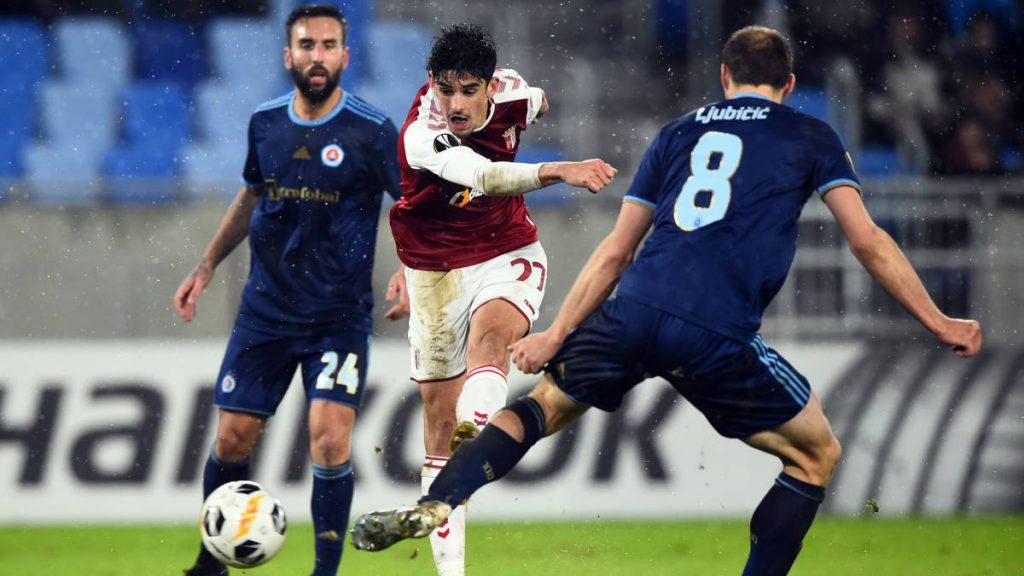 As the transfer window edges closer, Trincão's arrival to Barcelona does the same, with the young Portuguese, his story and talent being unknown to many.
Francisco Trincão or just Trincão to some, is a name that entered the Culé consciousness on January 31st 2019. Many Barça fans and football fans in general had been previously unaware as to the existence of the Braga wizard, that was until Barcelona confirmed they triggered Trincão's EURO 31 million buy-out clause. Barça opted to leave the 20-year-old at SC Braga for the remainder of the season before joining up with FCB in the summer. He joins on a five-year-deal keeping him at the Nou Camp until 2025 and he has a 500 million buy-out clause. So, who is he and what type of player is he?
Trincão is a technically excellent attacker who predominantly plays on the right-hand side. For Braga he usually takes up a RW position as part of an attacking trio behind a number 9. He is naturally left-footed, therefore being on the right-hand side enables him to cut-in on his favoured foot in order to either release a pass or attempt to engineer a shooting opportunity. When in a 1 on 1 situation Trincão is especially dangerous because he does not solely rely on pace, he has craft, guile and intelligent footwork which he can call on to beat his opponent, similar to Bernardo Silva when he operates on the right-hand side.
He has shown promise for the last few years and those in the know in Portuguese football knows he has been tipped for the top for quite some time. His performances in particular for the Seleção youth sides set tongues wagging in Portugal. He is part of the 'new Golden Generation' of Portuguese football, the crop of young players that won the 2018 UEFA U19 European Championships and features the likes of Benfica's Florentino Luis and Jota, Wolves' Rúben Vinagre and Watford's Domingos Quina. During this tournament, Trincão was crowned joint-top scorer with team-mate Jota after scoring 5 goals in 5 games, beating off competition from the likes of Moise Kean and Amine Gouiri.
Trincão in action for the junior national side, demonstrating his wonderful shooting technique from distance.
It would be fair to say that this season has been Trincão's breakthrough campaign. Last season he took part in just 6 Liga NOS games, starting 0 matches. This season he has had to bide his time again (he didn't start a match until the 4th of January) but the chances eventually came and when they did, he delivered and proved himself to be un-droppable. The season turned around for Trincão when Rúben Amorim was promoted to manager, following Sá Pinto's departure. Amorim saw Trincão's talent and clearly deemed him ready and during Amorim's 9 league matches in charge, Trincão took part in every game, starting all but 2, scoring 5 goals and getting 2 assists in the process. Amorim may have departed for Sporting but Trincão remains one of the first names on the team sheet. His first match under new manager Cústodio on Friday brought about an entirely dominant display, he scored and provided an assist and led his team to an inspired 3-1 victory.
His performances during Amorim's tenure led to him being awarded both the Young Player of the Month and Player of the Month award for January in Liga NOS!
As the season has went on, we have witnessed Trincão go from strength to strength and go from a boy to a man, he is now capable of leading his team to victory and is showing remarkable maturity and responsibility for someone who is just 20 years of age.
FC Barcelona will of course be a step-up and he will, like at Braga, have to bide his time. This is something both he and the club will understand, when given a chance whether it be in the cups or league, he will have to take it with both hands. He certainly has the tools to succeed and I am looking forward to seeing how he does from now until the end of the season and also at Barcelona the following year.