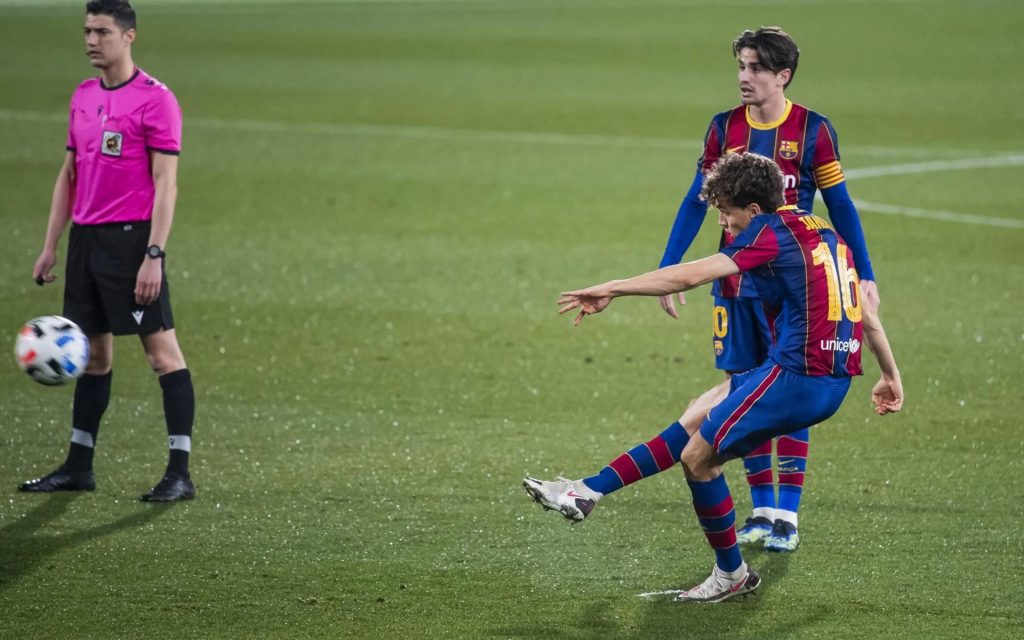 Barça B did a great teamwork to beat Olot, who put them in trouble by pressing high and making a strong physical effort. Despite that, the young talents Jandro and Collado led the team to victory, as they remain unbeaten at the Johan Cruyff stadium.
The game started in a really painful way for Barça B and particularly for Sergi Rosanas. The right back, who recently recovered from an injury and got his playing license less than a week ago, fell awkwardly and got hurt again when no more than 5 minutes had been played. Rosanas left the pitch crying, but the team managed to overcome the bad luck and focus on the match.
The first half, with Nico (midfielder) playing in Rosanas' spot, was chaotic. Olot's high pressure gave Barça lots of space to run if they got past it, and the visitor's transitions were also frenetic, so players like Ilaix and Balde felt comfortable but the match was out of control for Garcia Pimienta's boys. In one of those quick actions, Barça B gained a free kick, which Jandro Orellana gorgeously put past the keeper in minute 26.
A few minutes later, a cross from the visitors surprised Barça B's defence, and the joy of the opener disappeared. Luckily for the B team, Olot couldn't score another one, even though they hit the post once and made Iñaki Peña work hard. When it seemed clear it would be an even battle at half time, Alex Collado once again took an amazing corner kick that an Olot defender headed into his own net. 2-1 for the locals and the feeling of a rewarded effort.
Both teams lowered the pace in the second half, as the first 45 minutes were played at a high intensity. With a calmer game, Jandro, Oriol Busquets, Nico and Collado took control, and the few visitor approaches were effectively disabled by Balde and Comas. Olot tried to recover the high pressure on the last minutes, but Barça B showed great concentration and denied the equaliser.
Previously, Orellana had hit the crossbar, and two penalties could have been awarded to the local team, but the referee didn't see enough contact to do so. In the end, a very professional match from Pimienta's guys, who earned three more points to stay in the promotion spots at the table and keep themselves unbeaten at home, with 16 points out of 18 (5W, 1D).