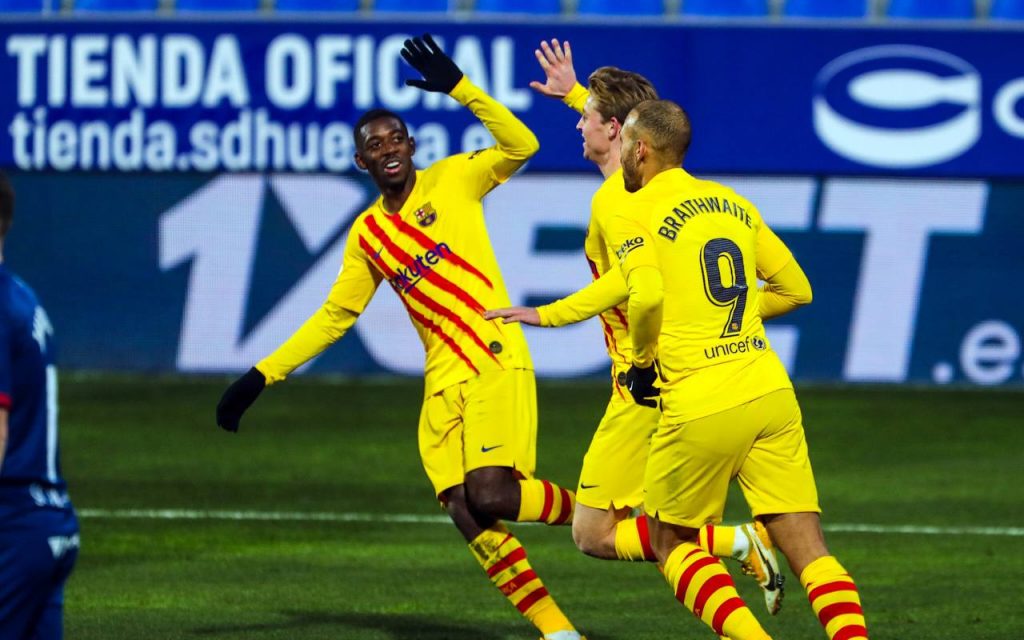 Despite dominating for 90 minutes, Barcelona's poor finishing made the game interesting right until the final whistle, once again.
De Jong's goal in the 27th minute, assisted by Leo Messi, ended up being the winning goal.
The midfielder said: "When they defend well, it's important for midfielders to make runs into the box. Leo gave me a great pass and i was able to score."
"Especially in the first half we were good, there was very little space because they closed (down the space) a lot, but we are happy with the victory."
Koeman:
Koeman will be happy with the amount of chances created, but Barcelona continues to struggle to put the ball in the net. Barca ended the game with an expected goals tally of 3.52, but only managed to put the ball in the yarn once.
Koeman admitted: "We had tons of opportunities to put the game to bed, but that didn't happen. The second half wasn't too great. We had a lot of the ball but didn't create enough problems for the opponent. When you don't put the game to bed, you're gonna struggle."
"We came out focused, and that's the foundation we need. If we play the way we want, we can do harm."
"We can improve when it comes to the killer pass, and in finding good positions in the oppositions box. We want our midfielders to be in the opponents box, and that's why I'm very happy with De Jong's goal.
Koeman concluded: "I expect a more clinical edge, because it will make things easier for us."
On Griezmann not being in the 11, Koeman answered:
"If we play with three midfielders, we have three forwards. With Leo in there, we opted for a player who offers more depth, like Dembélé. We then have to choose between Antoine (Griezmann) and Martin (Braithwaite). Martin is doing very well, but that doesn't mean we don't trust Griezmann, everyone will get their chance".
Ousmane Dembele recently returned from injury, and after coming on and scoring last week against Eibar, the Frenchman went straight into the starting 11 this week. Koeman emphasised the importance of the rapid winger:
"He is a player that we lack. We are missing Ansu Fati. It is important to have players like him in order to take advantage of the qualities of Leo (Messi) and our midfielders."
Ter Stegen still aiming for the title
Ter Stegen echoed Koeman and De Jong, and also indicated that he's still aiming for the La Liga title.
"These are three very important points, we had to suffer for them and games like this are very important when you want to win the title.
"It's evident that we need to kill off our opponents in games like these. We suffered too much in the end," Ter Stegen said.