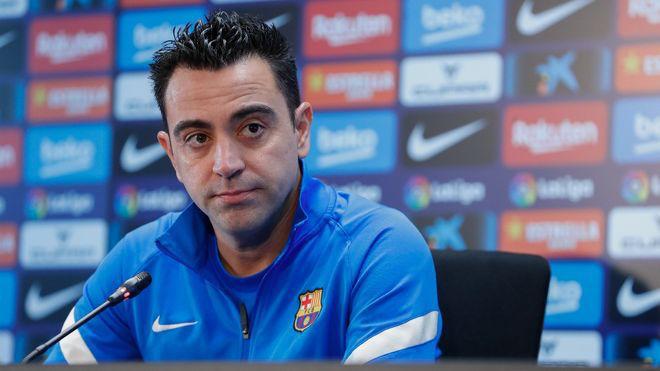 Xavi spoke to the press a day before the match against Getafe in Madrid. He adressed the issues such as the Frenkie de Jong situation, recent results and transfer rumours among others.
About the opponent:
"I think they are having a great season with Quique, they are competitive and are showing a lot of character and agression. They are very direct with their 3-5-2 system and they need a point to be safe from relegation. It will be a difficult match. We must be better than we were against Celta. We also need a point to take the second place, but we will go all out to get all three."
About Araujo:
"He wants to play. He did not lose his consciousness at any point after the impact, so this is a good sign if he wishes to be with the team tomorrow. I highly appreciate his commitment."
About the upcoming transfer decisions:
"The situation that the club is in is of primary concern. I have an important part in the decision-making process. But we depend on the economic situation. In the next few days we will evaluate where we are, so we are able to start planning for the next season."
About the future of Frenkie de Jong amid rumours:
"He is a very important player for me and he has been a regular starter here, apart from when we rotated him in order to give him sufficient rest. But then there is the economic situation of the club, which does not affect just Frenkie, but everyone. I like him as a player a lot, but we will have to act in demands of the economic situation."
About the possible transfer targets:
"We are talking about a lot of possibilities, but we still have not met our goal of finishing second first. There are two games left to be played, which we have to finish on a high. After that there will be time for planning and decisions."
About "untouchable" players:
"Yes, there are some that are untouchable. Then there are also some that are transferable and others that are non-transferable. They serve as guidelines on how to act in the given economic situation."
About whether the market expectations should be lowered:
"I prefer to be an optimist and we need a competitive team next season. In February or March it seemed as if we will be able to fight for the title, but it was not so. We need to fight for every title next season. We can be glad to qualify for the Champions League this term, but the expectations will be higher next season."
About whether there will be a draw tomorrow:
"There is a 33% chance of that happening, so there are more chances that it will not."
About Morata:
"Talking about players I do not have at my disposal does not help me. We have what we have. If your question is about Frenkie, then I can speak about him. But talking about players who are not here is not important."
About Lewandowski and signing veterans:
"I approved the signing of Dani Alves, who is at 38. It is not about age, it is about performance. Players know how to take care of their bodies and keep them operating on a high level. There are many in the world. Ibrahimović, Modrić, Dani, etc. They are still performing on a high level in big clubs. Messi and Cristiano too. Age is not the most important thing. Whether someone improves our team, that is."
About the base of the team and whether it will remain the same:
"Barça needs two players on a high level in each position. We currently do not have that luxury, as some of the positions are not well covered. Therefore we need to experiment in case of injuries. There definitely are things that need to be changed, which is normal."
About the performance of the team:
"We can improve. Back in February and March we were very competitive and played good football. The team enjoyed itself, but the form has gotten a bit worse lately. We have to be more responsible in possession and press high out of it. To get closer to our objectives, we need to be performing better."
About the transfer exits:
"The players have not been communicated any decision yet, as the season is not over yet. We need everyone at one hundred percent. When the objectives have been met, we can talk about the next season."
About failing to win any titles:
"We did not come close enough to be competitive. There is a sense of frustration due to being so close in Europa League and La Liga. But in the end we did not come close to competing with Madrid. We did not manage to close the gap and that helped them to clinch the title. We need to evaluate ourselves, be self-critical and improve. The important thing is to finish the season with good feelings."
About signing a goal-scoring striker:
"Again, this is not the time to talk about it. When the objectives are met, we will talk. The club is aware of the expectations. The board will demand titles and we need to improve in order to reach that."
About Nico:
"Nico is important. He scored goals and made a difference on the pitch. I am happy with him. He is a player for the future, who currently gives us many options in the middle."
About the left-back situation and Balde:
"We value him a lot. He will definitely be of help tomorrow. We believe that he has the potential to improve and that he can offer some rest to Jordi Alba. But we need competition for every position. Two players per position is basis for me."
About the losses:
"We talked about the matches and analyzed them a lot. We need more responsibility on the ball. Playing good football means not losing the ball. Not enough of our decisions on the pitch happen quick enough."
About Adama:
"We will decide what to do once the economic situation is known. He has been an important part of the team, but had to compete with Ferran and Ousmane. He played when he was performing better than Dembele. It is about performance and momentum."
About the balance between the youngsters and the veterans:
"It is not that important. We sign players to improve us. Of course age brings you maturity, but then you can get guys like Gavi, Nico, Eric or Ferran. They performed on the biggest stages. The veterans are also still performing up to standards. As I said, age is not the most important, but we do look at it when planning for the future.