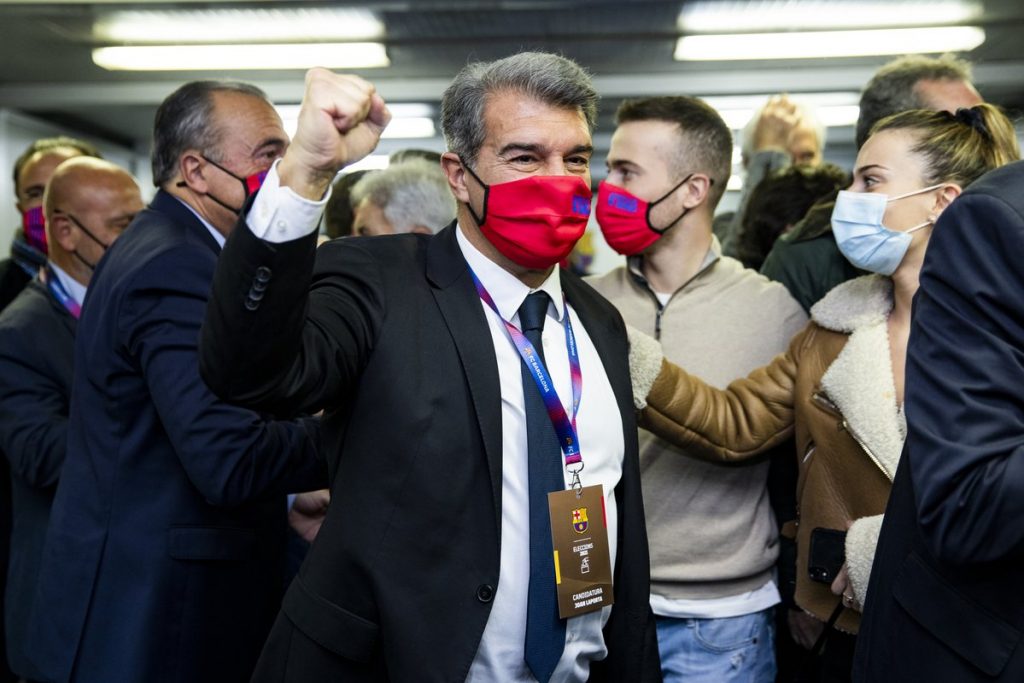 Joan Laporta was elected president of FC Barcelona on Sunday night and will return to the same position he held from 2003 to 2010.
Laporta received 54,28% of the votes, defeating his closest rival Victor Font on 29,99%, with Toni Freixa finishing third on 8,58%.
Font and Freixa accepted defeat at the exit polls. On the official live stream, the two congratulated Laporta on his victory.
55,611 Barcelona members took part in the elections, including Sergio Busquets, Sergi Roberto, Jordi Alba, Riqui Puig, Luis Enrique, and Leo Messi. It was reported that this was the only election Leo Messi has ever part-taken in, highlighting just how important of an election it was.
The election was rescheduled several times due to the pandemic. Restrictions also saw the club using mail-in ballots for the first time. Before election day, 20,663 had already opted to vote by mail. The rest turned up at 6 polling stations across Catalunya and Andorra on Sunday to vote in person,
Laporta has gained the trust of the majority of Barcelona members, but the job at hand will not be easy. His biggest challenge will be to manage the biggest debt crisis in all of European football. A total debt of 1,3 billion euros means Laporta and his team need to find a way to cut costs and increase revenue.
Joan Laporta, a lawyer, was the Barcelona president from 2003 to 2010. When he first was elected president, Barcelona hadn't won a trophy for four years. At the end of his mandate, Barcelona had won a total of 12 trophies, including two Champions Leagues titles and four La Liga titles. The team also set a new record for number of titles won in a calendar year, when Barcelona won six trophies in 2009.
Laporta was the mind behind the appointment of an at the time, untested Pep Guardiola as manager. With Guardiola, the club built a team around mostly academy players, including Messi, Xavi, and Iniesta, that entertained football fans around the world. His first stint in charge is also remembered for signings like Ronaldinho, Deco and Samuel Eto'o. He was also the president who put UNICEF on the player shirts.
With current team has suffered multiple humiliations on the biggest stage, Barcelona fans will hope Laporta can deliver once again. However this time he won't have the help of the greatest academy generation in all of sports.
One of Laporta's tasks will also be to restore Barcelona's reputation, which has taken multiple hits under former president Josep Maria Bartomeu. Under his mandate, the club has ended up with debt equating to over 1 billion euros, with nothing to show for it sporting wise. "Barçagate": It involved a social media campaign financed who's aim was to target anyone opposing the board, including club legends. The club also suffered a humiliating 8-2 Champions League loss against Bayern Munich in the summer. A public dispute also took place between Leo Messi and Bartomeu, in which Messi publicly expressed that he wanted to leave the club. To top it off, last week four members of Bartomeu's board were arrested in connection with the "Barçagate" scandal.
Long term, it will also be a challenge to keep Barcelona, a member-owned club, competitive against state-owned and billionaire owned clubs like Paris Saint-Germain and Manchester City, Chelsea and Manchester United.
Campaign
Throughout his campaign, Laporta took distance from naming specific big player signings. He stated that he doesn't want to "destabilise" the team by throwing out names. Laporta has stated that he would be the only president capable of keeping Messi at Camp Nou. He's also emphasised that coach Ronald Koeman has his full support, and has hinted that his connections with agents like Mino Raiola can help bring signings to the Camp Nou.
What differentiated Laporta from his two rivals was his charisma. Laporta oozes charisma. During the presidential debates, he continually half-mock especially Victor Font. But he wouldn't do it in a toxic way, but rather in a witty way that probably forced Font himself to hide a little grin.
On the official debate hosted by the club last week, Laporta particularly made fun of Victor Font's heavy use of Xavi name when campaigning. All the way through his campaign, Font emphasises how his project will be based around Xavi being the head coach. As you can see in the video below, Laporta said: "At the end of my term, we had a team of Victor (Valdes), Alves, Pique, Puyol, Abidal, Xavi…and as Victor Font tried to intervene, Laporta repeated "Xavi" five times with a huge smile on his face.
On Friday night, TV3 hosted the last debate before election night and Laporta was once again on form. Victor Font had a segment where he said "I want to send a thank you to…" And as Font had a little pause, Laporta spotted the opportunity to say "To Xavi"