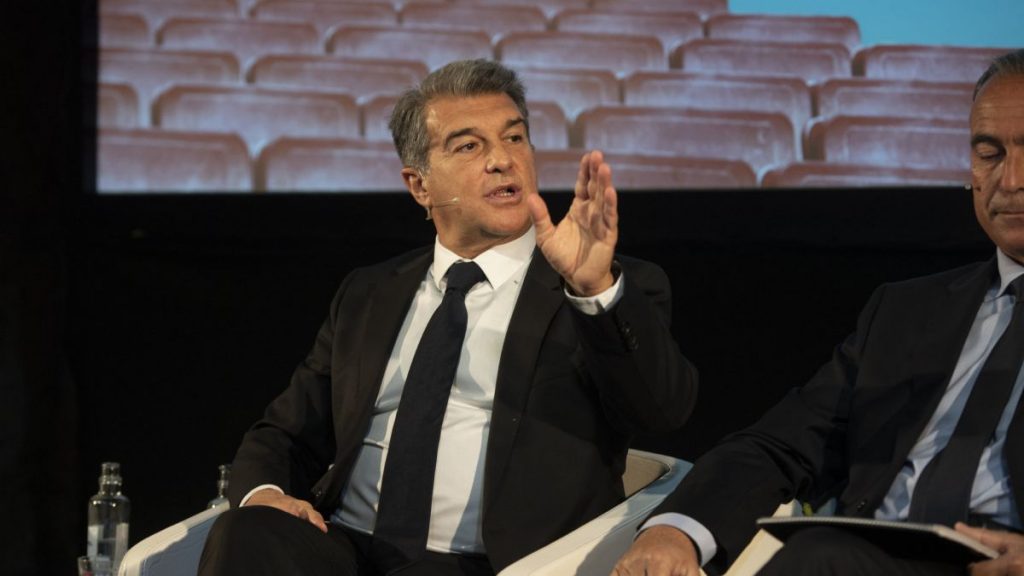 Today, February 25th, Presidential candidate, Joan Laporta held an event in which he presented key figures and points for his project in case he were to be elected, as the elections loom closer and closer. Laporta also showcased the support he has from former players and officials.
We are ten days away from one of the biggest presidential elections in Barcelona's recent history and Joan Laporta, candidate that in the eyes of many seems to be the favorite to win, has began to reveal what exactly his plan and allies will be if he is elected. A few names that have been confirmed to be part of his team are: Mateo Alemany, former managing director of Valencia and Mallorca; José Ramón Alexanco, who was director of football during his last period; Albert Benaiges, former youth football coach and Víctor Valdés, legendary goalkeeper and former coach of the Juvenil A. Nevertheless, Laporta did not mention names of possible signings and also held back from saying exactly what position each of the figures would hold.
This what he had to say to the questions the press had regarding his project:
On his campaign:
"I will keep the campaign consistent. Out of respect, I will first speak with the professionals who are already there and then contribute to people who contribute with us. We have Benaiges, Alexanko, Víctor – we will agree – as with Sergi … we want people with experience and new wisdom. We will not hesitate to advance what is coming. We have to be a reference in the application of artificial intelligence, Big Data and technologies."
Regarding the possibility of having Mateu Alemany onboard:
"We have had conversations with Mateu, but there is nothing concrete. I am sure that we will be able to find a way to collaborate on this project."
On the option of bringing in Xavi, Iniesta and Puyol:
"They are all assets of Barça and we don't want them to feel used, we have a good relationship with all of them and when we win, we will evaluate everything."
On Messi:
"In order for him to stay, he has to be convinced that at Barça he will continue to win. We culés have to be on the team's side again. I think one of the keys for him to stay is for him to feel loved again. We want him to smile again. If that happens, we can aspire to win everything again."
Regarding Koeman's message to the veteran players:
"A coach sometimes has to challenge players to give their best. At a time when we were coming from a game like Cádiz, he used this resource. I think yesterday we saw a good game from Barça. I want us to stay alive in all competitions when I become president. I think Koeman was trying to motivate the players."
On the Barça Femení:
"We must give the players more visibility, there are many of us culés who still do not know enough about them and that is why we want to give more visibility to the Paños, the Leila, the Jenni Hermoso."
Regarding the importance of Artificial Intelligence:
"It is not about replacing scouting, but about providing better information to scouters. All the clubs in the world will end up doing this.
Jordi Mompart, professor of quantum physics at the UAB also added his input on this topic:
"The objective with artificial intelligence is to give Barça a competitive advantage and help those who must make decisions, in a first phase to the men's and women's teams. And that Barça becomes a world reference in the use of artificial intelligence in the world of sports."
Finally, Rafa Yuste, the person responsable of the sports part of the candidacy also answered a few questions:
On what Víctor Valdés could do as part of the project:
"I would like it to be linked to a technical department of goalkeepers, from the youth football all the way up to the first team."
Regarding the possibility of having Puyol by his side:
"It's not that I would like, I will like it. We have a very good relationship. If we win, I would like him to be with us."