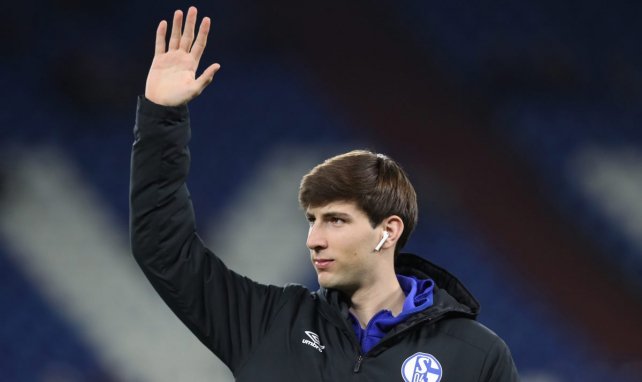 Former La Masía left-back Juan Miranda, along with the Catalan club, has decided to end their loan spell at Schalke 04 after one year.
Juan Miranda has spent a season in the Bundesliga, after leaving Barcelona for lack of minutes and opportunities with the first team. The young Spaniard decided to leave on loan to Schalke 04, prioritizing his development as a professional footballer.
The Catalan club agreed with the Germans in a loan period for two seasons but with a condition that depended on the matches that the youngster played.
The future of the 20-year-old is up in the air and he even considers, as Mundo Deportivo reported, returning to Barcelona B but only in the case of achieving promotion to the Second Division of Spanish football. Juan Miranda agrees to return to Barcelona with a B place if he is guaranteed to enter the first team dynamic and play in LaLigaSmart Bank.
Miranda had a difficult start with the Gelsenkirchen team, and so far has only played six games of which three was part of the starting lineup. Despite what the numbers may say, Juan Miranda has been the light of the "miners" in this resumption of competition that has not gone well for those of the Veltins-Arena.
However, Juan Miranda together with the Catalan club have made a decision, according to Mundo Deportivo, the Olivares-born has chosen to end his time at Schalke 04 and not extend his loan spell for one more season.
According to the same report, the renewal for another year was done automatically if the Andalusian played 20 matches with Schalke, but after not reaching that figure, Juan Miranda and Barça had the final decision whether to continue another season or not, and at the end, both the player and the Catalan club decided not to execute the extension option.
Miranda's decision to renew had a deadline of May 31, as reported by Mundo Deportivo, and with the definitive 'no' the future of Juan Miranda is in the air, so he should consider his options and make a decision on the upcoming season.
The German club wanted Miranda to continue in his team and even try to convince him but now the Andalusian has more offers both in his native country and outside of Spain, according to the same report, which includes the Bundesliga with Borussia Monchengladbach or the Liga NOS with Porto.