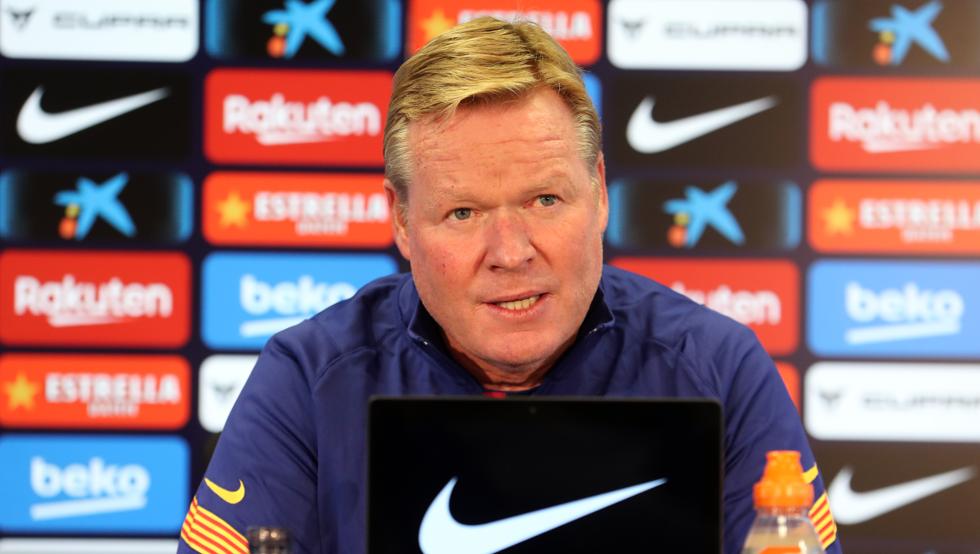 Ronald Koeman talked to the press prior to Barça's first game after the international break on Monday against Valladolid. He talked about Messi, possible transfers, his meetings with Laporta and more.
On Valladolid's losses before coming into this game
"We know that they have had their problems due to injuries and Covid and we expect a difficult game. We must be at our own pace and continue with what we have done lately. The players have returned with great encouragement."
On this being a tricky match before El Clásico
"We must not think about their casualties and we must enter with energy and rhythm of the ball. We have improved when we lose the ball and we must be at this level. If we do, we will not have any problems.
On Messi and De Jong being one card away from suspension
"We know that they are one card away from suspension but it is not a time to rest, either for cards or for the freshness of a player. There is always risk but there are 10 games left. The best thing is to go game by game and put out the best team to win."
On the meeting with Mino Raiola and Haaland's father
"As I said a couple of weeks ago, we have taken advantage of the break to hold meetings with the president and his staff to talk quietly about this season and the next one. It happens at all the clubs in the world. They talk to improve our squad but I'm not going to talk about players who are not ours."
On Messi staying at Barça
"Of course it is a very important matter because we try to do our best so that he stays at this club for more years, but the important thing right now is that we have to play a game tomorrow and put our thoughts there. Of things for the future, they belong to the president and his people and it is normal for us to talk about that, but as a coach, I have to be aware of the games."
On Sergi Roberto and Pique's fitness
"They are training with the team. They have improved a lot and these are decisions that we must make tomorrow morning. We are not going to take a risk. Not for next week but because there are more games."
On his meetings with Laporta
"They have given me a lot of confidence and they are very happy. It is very normal after the changes we have made. We are one game away from winning the Copa del Rey and we have improved but we have to keep winning the games. As the president said on the day that his position was official, the confidence is there. And we have to show this confidence that he has."
On Alex Collado and Barça B
"It's more of a theme for next season. Barça B plays a playoff to go up. We want to help Barça B and their coach to win and be able to go up. That is why we leave Ilaix. It is important for the projection of the players, Collado is one of them."
On the fans in the stadium in the Barça B – Alcoyano game
"I loved being there. There were only 1,000 people but it was a great sight. It was weird but they applauded a corner kick and hopefully soon we will have people in the stands."
On Valladolid's change in system
"They play with a 4-4-2 and that is why we seek to have more possession of the ball and the free man between the lines with the full-backs that we have. It has worked out well for us lately with this system."
On the highlights of his meetings with Laporta
"We all work to improve the team knowing the economic situation of the club due to the Covid issue like the other clubs. They have shown from the first day that they want to improve the situation and in terms of transfers, it depends on the situation that we have. But I'm not going to answer about the names that appear in the press because what matters most are the next 10 days and the Cup final."
On the talk about transfers
"We try to have peace of mind until the end of the season. We must avoid things that can negatively affect it. It is better to do it at the end of the season.
On players carrying fatigue from the international break
"The players have returned with great joy and interest in what we are doing lately. They have played many minutes and it shows that they are important in their national teams. But we have the physical numbers to know if they have recovered and that is the most important thing for what remains."
On the possibility of a big transfer
"I do not know if it is possible. The final decision will be of the president and not mine. I am not involved in the financial situation of the club. I must focus on the team."