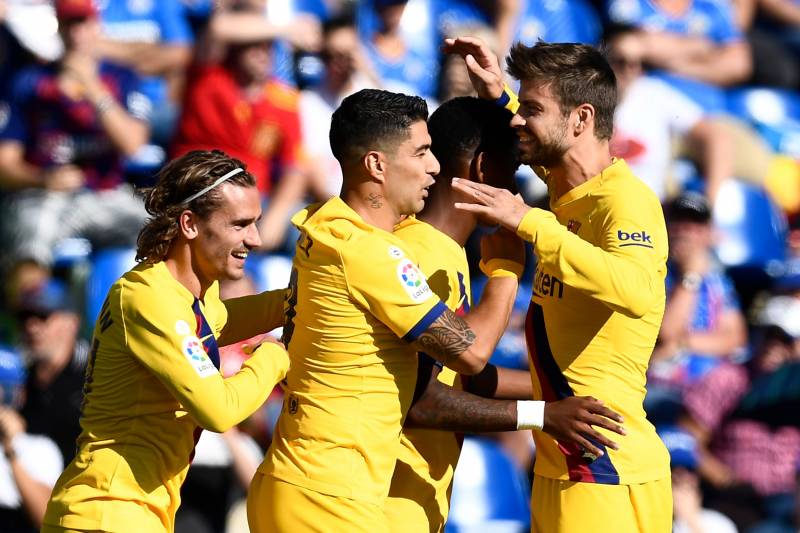 As the season is well underway, and transfer speculations have come to a hold, Clément Lenglet and Firpo are the latest players interviewed.
Junior Firpo and Clément Lenglet are the latest players interviewed by media outlets, and while Firpo talks about adapting to the team and competing with Jordi Alba, Lenglet talks about his teammates, and the futures of Ousmane Dembélé, Jean-Clair Todibo, and Ansu Fati.
As the season is well underway, and transfer speculations have come to a hold, several players have been interviewed by various outlets, with Junior Firpo and Clément Lenglet being the latest ones.
Clément Lenglet
Having gotten a slender 2-1 win against Villarreal midweek, Barça wanted to keep a winning streak going against Getafe, away, at the Coliseum Alfonso Pérez. Having a 2-0 lead, Lenglet went into a rash challenge, stepped on Jorge Molina's foot, and got his second yellow card of the game resulting in a one-game suspension for the Frenchman. While the red card bothers him, he does think it was justified, as he tells RAC1 in an interview on air Monday night.
"The [second] yellow card [I got] at Getafe was fair. When you're on the pitch, you see things differently. And secondly, I never intend to hurt anyone [through e.g. tackles]. I'm angry with myself, but I'm especially happy about the win – it was an important one," Lenglet asserted.
No spot is 'occupied'
"I never feel indispensable. Almost no one is guaranteed his spot, and we have to work to earn our place on the pitch."
Griezmann's 'incredible talent' will help him adapt
"Yes, Griezmann will adapt to Barça, for his talent and his personal qualities. It's been a month and a half since the league started, and he's scored three goals. Well, he can do better, because he has incredible talent, but the level he's shown so far has been good."
"Griezmann was wrong in making 'La Decision', but things happened, and we have to look at the present and the future. Things are looking bright for now and for the future."
Dembélé and Fati look promising
"Dembélé has had a very good preseason with lots of work, before and after training sessions. He was ready to show another version of himself. Now, he's become better, and I would like for him to showcase his quality. He deserves to play regularly with Barça."
"If Ansu Fati can stay with the first team? Yes, with his quality, yes of course. But, then, you have to choose the right moments to do things, and live your life well [and in a healthy manner]. I think he's well surrounded and has a family that cares for him, and that's important."
"He doesn't need pressure. From scoring in the Camp Nou to competing for the Champions League t**le – it's very difficult to take [things like these] on. He does it well, but we [the club] have to take care of him."
Todibo now has a chance to prove himself
"Todibo? He's been with us for a long time now – almost a year. He's got quality and strength, and I think he's ready. He's had a very good preseason. I've been waiting for his moment to come, and now he has a game to prove himself and what he can do."
Junior Firpo
The Dominican's signing is one that excited many, which also is the reason for the happiness that came with him scoring his first goal; the happiness was seen by him, his teammates, and fans in and outside the Camp Nou. Tuesday afternoon, his interview with L'Esportiu was released. In the interview, he talks about adapting to the team, what his first goal and its celebration meant to him, how playing under Valverde is for a new player coming to compete for a position with an undisputed starter in Jordi Alba, and much more.
The first goal for Firpo
"Happy with scoring my first Barça goal? Yes. It's not my purpose on the pitch, but it's something that always adds to your performance. I'm very happy to have scored, because my start with Barça hasn't been easy. But I'm especially happy [to have scored] because it was an important goal for the team, and for the moment we were in, in the game. It gave us peace of mind when facing the remaining minutes of the game."
"I thought the goal would make us play more calmly, knowing that Getafe was a tough team that in recent years had become even stronger at home. If the game had stayed 1-0 at the time, I think we'd have suffered more than we did [suffer] out there."
A celebration dedicated to friendship
"It's a gesture that I did with my childhood friends. When we were 13 years old, one day the gesture came out, and since then we've had many photos with that pose. If you look at my Instagram posts of 2013 or 2014, you'll see that many photos are with that pose. It [the celebration] was to dedicate the goal to my friends. They've always been to cheer me on and support me."
Adapting to Barça
"I feel better than I did when I joined. The longer I'm here, the better and more integrated I'll be in the team. I have to learn my teammates movements and they have to learn mine. Although the idea is the same as [Quique] Setién's Real Betis, the system and movements differ."
"Of course it is [difficult to adapt]. Much is demanded of you. I don't know how much time I'll need [to fully adapt]. Alba's injury has caused me to play ahead of what was expected. I've been able to play in games more often [than initially thought]. The more you play, the better you fit in. It's different from staying months on the sidelines without playing regularly. Adapting to the club, the team, and your teammates is easier [when you play regularly]."
Jordi Alba helps out
"The truth is that he's helping me a lot. Not that I didn't expect him to, but I didn't know him personally, had never spoken with him and didn't know how he was [as a person]. When I arrived here, I found a wonderful person [Alba] who's [unselfishly] putting everything aside [to help me] because I joined the team. I was very surprised."
Learning from his mistakes
"You have to learn [from mistakes like mine in Granada]. Everything, both good things and bad things, is learned. In my life, good and bad things have happened to me, but as always, my mother says: 'If something bad happens to you, it's because one of the better things for you is about to arrive'.
"Taken off at half time? Yes, it was hard, because when you're alone, the mind begins to think that you're the one the fingers would be pointed at. You're new to the team, and the coach takes you off in the 45th minute. It's hard for any player, but I've always considered myself a strong player, mentally. It's also true that the coach played me in the next game, which shows that he has confidence in me. Moreover, in that next game, things went better, and we won. I learned from that, and wanted to keep playing."
"I think that I wouldn't be here if he didn't trust me. He played me when Alba was fit, to push us both into competition, and especially for me to be Barça's left-back in the future, which is what I want, and what I hope the club wants, too."
What has Valverde asked of you?
"He asks me to try and play the same way I did when I was with Betis. I liked [my way of] playing there a lot, and I don't think the Betis-version of Junior has been shown at Barça yet. I still have some barriers: You play with more fear [here[ than in a club where you've played your whole life and where you have your full confidence. I have to let myself go and show all my footballing abilities. That's what he asks of me."
"Yes, this is different from playing with Betis [who played with a five-man backline]. There, you always knew that you had three powerhouses covering you if you lost possession. Here, if you lose [or when tackling, miss] the ball, you only have one or two teammates behind you. That's because we play very far up the pitch and our line of pressure is very high. We [the defenders] are always the last men, and a mistake from us can cost us a goal."
How do you imagine the Inter match being?
"I imagine the stadium being full, with people who are eager for their team to win. Inter arrives with incredible form to back them up and they seem different from how they were some years ago. They've won all six games in their league so far, and will be a tough opponent.
Is the Inter game key after having drawn against Dortmund away?
"I think here, in Barça, all games are key. Here, we have an obligation to win all our games, because we have an obligation to win all the t**les. If we win tomorrow, it'll be an important step."
The rest of the interview had Firpo reminscing on his youth, how he fell in love with football, and how his father fell in love with Real Betis despite having been a Real Madrid fan for years.
While Clément Lenglet is suspended for one Liga game, it of course doesn't apply to his Champions League duties. He is part of the 20-man squad that will be at the Camp Nou tomorrow to face Inter Milan — a game where Inter will be missing their #9 due to injury.