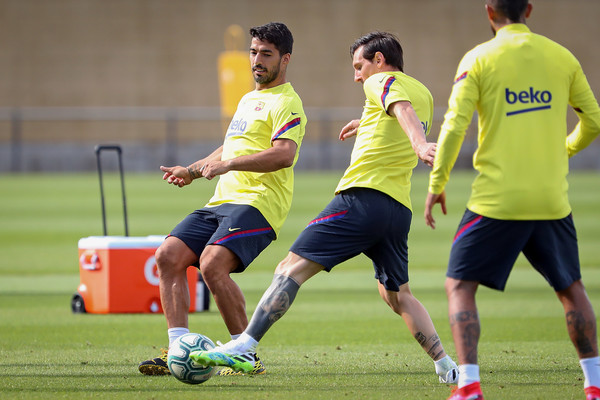 The countdown to the Uruguayan's eventual return has begun as Luis Suárez edges ever closer to full fitness.
It seems that the wait could finally be over in a couple of days' time as Barcelona's Uruguayan Pistolero is waiting for the medical green light to continue training with his teammates.
And according to a new report by Mundo Deportivo, Luis Suárez edges ever closer to full fitness and Monday could finally be the day we see him back in the squad for good.
The centre-forward underwent a knee surgery back in January that was predicted to keep him on the sidelines for a total of four months. And now, precisely four months into the future, the medical team might finally discharge him and send him out into the fray.
Of course, even though the coaching staff didn't want to take any risks with his recovery, Suárez himself had given it his all in order to return as quickly as possible and get back into shape for the grand finale of the season.
And seeing how the whole campaign was put on hold due to the recent outbreak, it turns out Suárez didn't miss nearly as much as it was originally predicted. LaLiga is set to return in early June, as was already officially confirmed, and from the looks of it, the Uruguayan just might be Barça's biggest reinforcement yet.
Mundo Deportivo also reminded us of Éder Sarabia's words when the assistant coach declared Suárez will indeed be Barcelona's signing during the quarantine. He is, the report continues, the key piece of the jigsaw that the Catalans will need to fight both in the domestic competition and in the Champions League.
His return is, therefore, bound to shift the tides into Barcelona's favour.