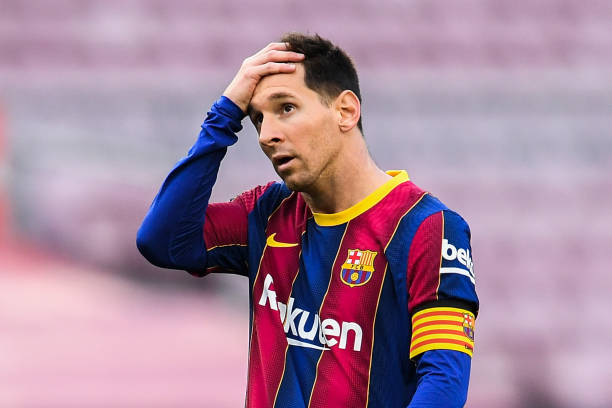 This article was written in collaboration with Yousef Salama.
It is finally official: Lionel Messi will not be an FC Barcelona player this upcoming season due to the club's financial issues. The most stressful saga for Barça fans in recent times continues, as the captain is forced to choose the next chapter of his career.
"Despite FC Barcelona and Lionel Messi having reached an agreement and the clear intention of both parties to sign a new contract today, this cannot happen because of Spanish LaLiga regulations on player registration," the club announced in a statement on Thursday. "As a result of this situation, Messi shall not be staying on at FC Barcelona."
It was an exhaustingly long saga, with an ending that looked likely to happen 12 months ago. After the debacle in Lisbon following an 8-2 loss to Bayern Munich in the 2019-20 UEFA Champions League quarterfinal and the interview with GOAL, everything seemed to point to the inevitable: Messi's exit. Even after former club president Josep Maria Bartomeu and his board resigned, Messi was not comfortable with Carles Tusquets, and the leak of his contract only seemed to fan the flames.
The English newspapers insisted Leo was close to joining Manchester City, the French ones were adamant that Messi had an agreement with Paris Saint-German, and there were even murmurs of La Pulga joining David Beckham's Inter Miami FC. Nothing was indicating that Messi would stay until March 8, when Joan Laporta—Messi's personal friend—was elected as club president.
Something started to change, and Messi appeared more inclined to stay. Slowly, but surely, the pieces fell into place, with Barça becoming the only club Leo was linked to. The only issues that arose were formalities, financial issues and the sort.
Messi had reportedly accepted to reduce his salary by almost half to stay at the club, but Barça ultimately decided it could not afford to keep him, as it would not be able to stay within LaLiga's new salary cap for this season. Despite wanting to stay at the Catalan club, he is forced to leave against his will.
"Leo wanted to stay, so he's not happy," Laporta said in a press conference Friday. "We all wanted him to stay, but now, like us, he is facing the reality of what's happened. A reality that can't be changed."
The hero for Barça fans around the world and the player many consider to be the greatest of all time is leaving the club he joined as a 13-year-old boy after 21 unforgettable years. 778 games, 672 goals, 305 assists, and 35 trophies later, his name is etched in history and will forever be synonymous with FC Barcelona. A relationship characterized by love, respect, pride, and loyalty between FC Barcelona and Lionel Messi will at last come to an end.
After Pep Guardiola shot down any chance of Messi joining him at City this season in a press conference on Friday, various media outlets reported that Messi is close to joining former Barça teammate Neymar at PSG on a two-year deal, with an option to stay for a third year.
The Argentinian's departure from Camp Nou has a significant toll on the club, and it will need to begin planning for the post-Messi era years earlier than expected. On the field, Barça will need someone to take responsibly as the main attacking threat and goalscorer, such as Antoine Griezmann or newcomer Memphis Depay. It will also need to find someone to wear the armband and lead in Messi's footsteps, such as Gerard Piqué. Nevertheless, it will be difficult to replace the presence Messi had on the field, with or without the ball at his feet.
Messi's departure has repercussions on the club off the field as well. Messi helped bring millions of fans to the club who may not have been Barcelona supporters prior to his arrival, and many spectators bought game tickets just to see him play. He has also been the player with the highest number of jerseys sold in the world in a calendar year on multiple occasions, so the club will lose out on his jersey sales, too.
This Sunday, Messi will address the media in a press conference at Camp Nou at 12.00 p.m. CEST.