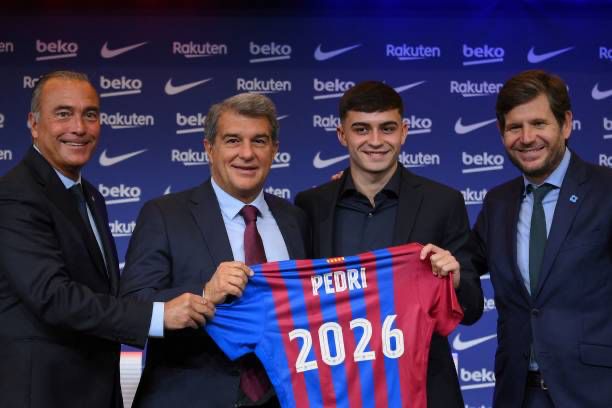 Pedri, Joan Laporta, Rafael Yuste and Mateu Alemany all answered questions during the press conference announcing Pedri's contract renewal.
After posing for pictures with the Barça shirt, President Laporta opened the press conference: "Today is a historic day, a great day. We're here to see a boy, who was a Barça fan as a child, making his dream come true. Thanks to his effort and talent, and thanks to being a great person because he followed the advice he was given and he learned the values that his parents and his older brother taught him, which has helped him a lot. For Barça, it's a proud day, very exciting because we're aware that we're experiencing a historical moment."
Laporta also mentioned that the effort that has been made by both parties should be highlighted, and some people like Ramon Planes and Mateu Alemany deserve recognition for this. He also said the following about Pedri: "This guy just keeps going. Barça, Spain's national team, Golden Boy, Ballon d'Or… He is very well advised by his representative Héctor and his parents. Thank you very much, Pedri, for your love of Barça and what you're giving us. At Barça, we're willing to do whatever you need to keep this dream going."
After Laporta's opening of the press conference, it was Pedri's turn to speak a few words: "First of all, I want to send a message of support to the people of La Palma, who are in a difficult situation and we'll try to help them get better soon. Thanks to the president and the club and I hope to be here for many more years."
Laporta then spoke to Pedri: "I remember that when I was president, I visited Tegueste (Pedri's hometown), where we met and I signed a shirt for you. How things change. Now the one who has to sign shirts is you, and a lot." After this, there was time for the press to ask questions.
About being nominated for the Golden Boy award:
Pedri: "The Golden Boy nomination is an award for the work I've done during the season. The fact that Gavi is also nominated is an honour for Barça, which has many talented young players and I hope we can do great things."
Pedri: "I don't have to decide who wins the Ballon d'Or but I would give it to Leo for everything he has helped me with, he's the best in the world."
About the next few years at FC Barcelona:
Pedri: "My hope is to be here for many years, it's a difficult time but it's still the best club in the world and it's going to get back and achieve great things."
Laporta: "My wish is that Pedri will retire at Barça. He has to follow in the footsteps of some great players and he's already on the way. He has a magic touch and I think he could have a professional career like Xavi, Iniesta or Messi have had. Xavi and Andrés would say that they finished their professional careers at Barça, and Messi has enjoyed it for many years and he had the best moments of his sports career at Barça."
Laporta: "Pedri never ceases to amaze me with his maturity. When answering questions, assessing the situation… It's a fundamental factor that there are top-level players in the first team. I insist on thanking Mateu Alemany and the technical secretary. Let's be patient, keep working well and we hope everything goes well."
About former Barça President Josep Bartomeu's recent statements:
Laporta: "I'm excited about what we're celebrating now, I won't get distracted by answering a question that I've already been asked so many times. What I see is a desperate person who now realises the magnitude of the disaster that he caused and for which he is responsible. In the end, the President is ultimately responsible for everything. I'm sorry that I don't go into detail."
About the new contract:
Pedri: "It's true that everything has happened very quickly but I have to thank these three people, my mother, my father and my brother, they help me to keep my feet on the ground and give me advice. I'm very grateful for everything."
Pedri: "The clause (one billion euro release clause) is an image of what the club is counting on from me. I really want to add great things to this club and I value the number of years and the project more than the clause, that's what really matters to me."
Laporta: "The message we want to send is that we want him to be at Barça all his life."
Alemany: "In the end, the clauses have several components. The main one is the value that the club places on a contract renovation and how the club wants to protect the asset. This is the message that we want to give, that he's not on the market because we want him to be with us for many years."
Laporta: "The clause is just what it says in the contract but Pedri is worth much more."
Yuste: "It's a message for the kids at La Masía."
About Sergi Roberto's renewal:
Alemany: "I'm not a fan of counting things day by day. I understand that it's your job to know how everything is going, but our job is to take it with discretion and talk. Every player knows what the club wants and the situation we're in. We have been talking to some players for a long time. The situation isn't easy. It's very complicated, situations that in other times would've been resolved easily are not so easy now and the players have to understand it. The balance is very tricky now. We have the feeling that all the players want to continue at Barça, but now we have to adjust salaries and situations due to the state of the club. It must be understood that the processes take a bit longer and are more difficult than during other times."
About his injury:
Pedri: "It has nothing to do with last season, it's true that I played a lot of games but an injury can happen at any time. I had a bit of bad luck and I don't set a deadline on when I'll return, you have to recover well to get back to the fullest."
About his favourite moment:
Pedri: "I don't have a favourite moment, they all made me grow and improve and I hope to have many more great moments."
Laporta: "I think this is the happiest day since I became President. I was also very happy when we won the Copa del Rey. It's one of the happiest days and this is what makes it worth being President of Barça."
Pedri: "As a Barça player you can dream of winning titles, this club is the biggest in the world and when we won the Copa del Rey I felt a lot of happiness, I can't express it in words."
About playing for this Barça team:
Pedri: "We have players with different qualities. Playing with players like Busquets, Frenkie or Gavi makes it very easy and we have a lot of potential to do great things."
Pedri: "I put feelings of responsibility aside when I enter the field. I really want to return and show the trust they have given me."
About Real Madrid approaching him when he was younger:
Pedri: "I don't have to focus on what Madrid said back in the day. They're our eternal rival and I always want to win at Barça."