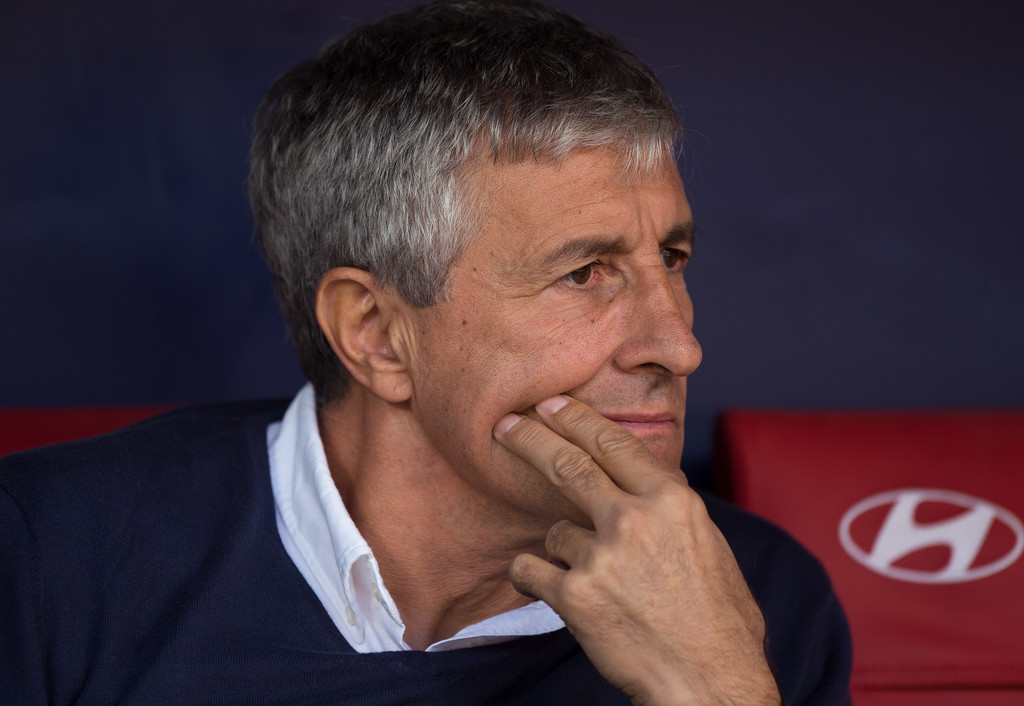 This article was written in collaboration with Aina Canales.
Quique Setién has broken the silence on Coutinho's situation, and has spoken out about his own time in Barcelona until now, as well as the club's situation.
In an interview with the Catalan news outlet, RAC1, published Thursday, Quique Setién has spoken out about several things surrounding Barcelona, as a club and city. He reflected on his time with the club so far, his philosophy as a manager and his lack of usage of La Masia players compared to the experienced players.
The Cantabrian manager also spoke about Philippe Coutinho's situation, with the player currently being on loan with German side Bayern Munich, and both looked at the winter transfer window that recently passed, as well as the upcoming one.
"I have never been had issues interviews, as long as they are conducted in good faith. Sometimes, the problem is that the less serious media [outlets] post certain comments out of context. But they have never disgraced me, it is a way to communicate with the fans," Setien told RAC1, before continuing.
On keeping in touch with the players while in confinement
"We have had video conferences in small groups, and the whole team was fine with it, because we saw each other and talked about [different] things. I also wanted to see them face-to-face [virtually], to see if anyone had gained weight," a laughing Setién said.
"The application [used for the video conference calls] lets you choose a wallpaper, and I chose a palm tree, dreaming about the holidays. You should not be less happy [during quarantine]. It [the wallpaper] was a small joke," he added.
On the players in confinement
"The players are doing their homework [exercises]. Every day, they get [information about] the work they have to do and [the regimes] they have to follow. There is a deep knowledge about everything they do. When we return, the team will be in a position to be able to proceed training without issues," the Cantabrian manager analyzed.
On the LaLiga protocol
"I do not know if the LaLiga protocol can be implemented. I do not know if all the rules can be met. We would try to do it [the implementation], but I find that impossible. And with what I have been reading, I do not see it being possible to train again soon."
On the league potentially not being resumed
"I would like to play [the remaining games]. It is true that we have [a lead of] two points more than when I arrived, but I would rather play against everyone [in the remaining fixtures of the season]."
On the pay cut taken by the club's players
"We, the coaching staff, also participated in the pay cut. From the get-go, the players and the coaching staff were in agreement, but the situation was prolonged because we wanted to see whether other clubs or the AFE [the Spanish Footballers' Association] wanted to do something in unison."
On the club's current situation
"Barça is a club with such a great dimension [of greatness], and because you have to make decisions every day, there being different points of views is a normal thing. The problem is that everything is relayed to the press; this is something that should be monitored. It also happens in other clubs."
On using experienced players over academy players
"The need to win always determines [the lineup]. I get asked a lot about the academy. A team like Barcelona, who wants to win everything, sometimes makes you set the plan for the long run, or think more short term. It makes you determine the lineups."
On La Masia's players
"The players from La Masia have a lot of potential, but they also have things they should improve on. When they play, they have to give more than the players that already are on the pitch — and that is not easy. You have to give them play time, but if it turns out badly, it can cost you the game."
On taking over the reigns at Barcelona mid-season
"We have had to work on several things while we were competing [in all three tournaments], and that is not easy, and determines a lot of outcomes [due to lack of time]. I would like to have the process of a regular coach, with a preseason involved."
On his philosophy as a manager
"Sometimes you have to be more practical than idealistic. You have to play with both [ideologies in mind]. The most important thing is to not lose the essence of what you are — this is what I do not want to lose, and what I will not lose. I would not know how to do it any other way."
On the upcoming transfer window
"We have no idea about the transfer window, and the situation we are living and the immediate future are uncertain. All of the previous measures have to be considered quarantined. Nobody knows if we will continue playing nor [does anybody know] the consequences of it."
On the winter transfer window, and letting go of Carles Pérez
"The previous measures and luck did not accompany us during the winter transfer window. When we lost Dembélé, it was a big problem, as we had put so much faith in him. Then, [Luis] Suárez also got injured. Perhaps, we should not have let go of Carles Pérez."
On the Champions League
"After everything I've seen over the years, we can perfectly win the Champions League. I don't agree with Messi's words. I think it is much more difficult to win La Liga than the Champions League. We have the same possibilities, and also we have Messi."
On his choice of players for the starting lineup
"When I make the decision of choosing one player or another, it is because I think that is the best option to win, no matter what people think. It is part of the responsibility."
On Philippe Coutinho
"I like him. He is a Barcelona player, and for him to not be that anymore, the transfer fee or his release clause will have to be paid. I count on him to be here at the beginning of next season. I do not know if he wants to come [to Barcelona and stay], or leave. When it is time to talk to him, I will do so," Quique Setién explained.