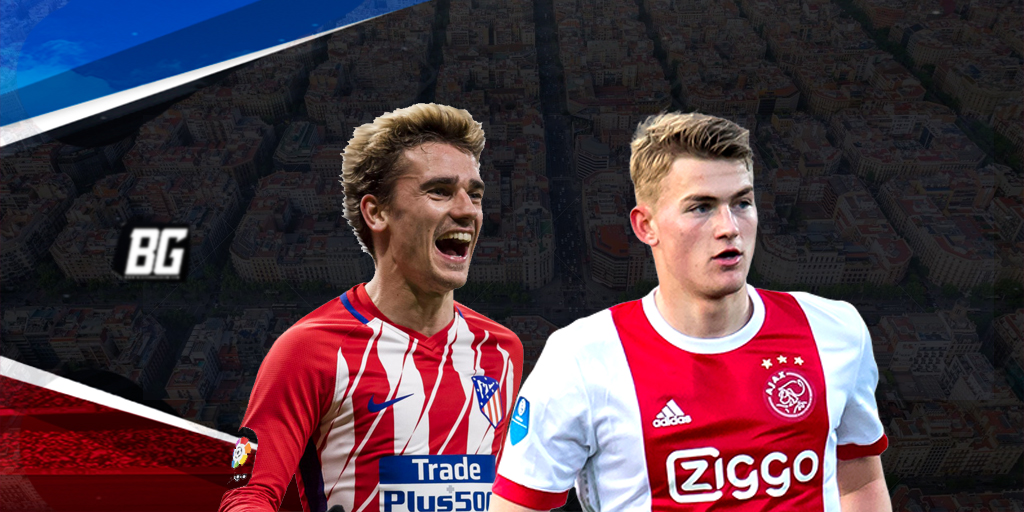 The past few days have been really hectic when it comes to Barcelona, and as Matthijs de Ligt and Antoine Griezmann edge closer to Barcelona, Ivan Rakitic and Ernesto Valverde could be on their way out. Read it all – and more – in this edition of Round-Up!
The defeat at Anfield against Liverpool was truly a hard pill to swallow for many. Having been up 3-0 in the first leg, and playing the second leg away from home, many got shades of that night in Rome, and for good reason. Barcelona looked down and out, and looked like a team that simply didn't know what to do, and where to go.
After the defeat, many reports were published regarding Ernesto Valverde potentially leaving the club, Ivan Rakitic was seen at a party the following day in Seville, and the team spirit just seemed off.
Now, let's get into the more interesting stuff. News regarding Matthijs de Ligt and Antoine Griezmann have emerged, as have offers for André Gomes and Ivan Rakitic. Ernesto Valverde also seems to be on his way out, despite him wanting to stay with the club. All of that, will be talked about below.
Ernesto Valverde
The manager turned from protagonist to antagonist, and everything points towards him leaving come the end of the season. Many reliable outlets have said the club will very likely look for replacements, and that his future, alongside Philippe Coutinho, Ivan Rakitic and even Pep Segura's, is in doubt.
The manager himself is in good spirits, and does not want to leave the team, but he's agreed to hold a meeting with the club come the end of the season to determine his future.
Bartomeu was also hit by the shock of the Anfield defeat, and it does seem like the club will be on the lookout for potential managers for the upcoming season, although sources have told Mundo Deportivo that Bartomeu would like to 'protect' Valverde.
As for Ivan Rakitic, he's a key player for Valverde, who also was the reason Rakitic stayed this season, despite receiving a big offer from Paris Saint-Germain this summer.
However, the Croatian has, per SPORT and Mundo Deportivo, attracted great interest from Inter Milan, who are willing to offer between 50 and 60 million euros, to secure the midfielder's services. According to club sources, Inter Milan is close to reaching an agreement with Barcelona for the economical aspect of Ivan Rakitic' transfer to Italy.
Currently, the player realistically has two options if he wants to remain happy: either, he'll get his contract renewed, which is what he prefers as he'd like to stay with Barça, or he'll find a club with the conditions that he's looking for. And that club might just be Inter.
Also, due to the high wage bill the club already has, and the fact that the club clearly needs younger players, the club sees this as one of their last chances to cash in on the Croatian.
André Gomes is also very likely to leave. Despite him being on loan at Everton, and the Toffees being happy with him, Tottenham Hotspur have, according to SPORT's Albert Rogé, reached an agreement with the player's entourage for a 30 million euro transfer this summer, and Barça await their offer so it can be accepted, and the player can move on.
Matthijs de Ligt has edged even closer to Barcelona. The agreement was almost there prior to Ajax' Champions League quarter-final performances, but since then, Barcelona saw his value rise, and as a result, the player's agent, Mino Raiola, felt that the deal was no longer fair to his client, hence asking for 'better' conditions.
However, things have taken a turn for the better now. Mino Raiola got a ban handed by the FIGC, which although only affected his clients in Italy, seemed to keep him on his toes, as he earlier today was spotted in Barcelona with one of his collaborators, according to L'Equipe journalist, Florent Tochaut. It's worth noting that Raiola also is an agent of Xavi Simons', with whom Barcelona are discussing a contract renewal.
However, the negotiations were stalled until next week as the teams had Champions League duty, although it's definitely not impossible that Barcelona now would focus on negotations to avoid similar encounters to the one at Anfield in the future.
According to many outlets recently, the player wants Barcelona and has his heart set on the Camp Nou, and while Barcelona, as a club source told ESPN, don't want "to go crazy" for the de Ligt transfer as they want to retain their own conditions too, the signing really only seems a matter of time.
Seeing as Raiola got handed the ban, he could also very much be looking to cleanse his name, as he called the ban 'unjust', and what better way to do that than to seal a deal with your clients thus showing that you're a fair negotiator who still can deal with big players and clubs, while still having a ban over your head?
Antoine Griezmann, the talk of the town. Despite what happened last summer with La Decisión, the infamous documentary in which he announced he was staying with the Rojiblancos, the player wants a move to Barcelona, and the club is ready to make amends, according to many reliable outlets.
This time however, it's not just the word of him and his entourage, but Éric Abidal has personally travelled to Madrid to visit him and talk to him, as well as the fact that Josép Bartomeu has been responsible for talking to Atlético's CEO, Miguel Ángel Gil, to try and reach an agreement for the French forward.
The player's current release clause is 200 million euros, but will be dropped to 120 million euros after June, and the price that Barça intend to pay including variables would be around the 120 million euros. A sale of big names, such as Ivan Rakitic or maybe even Philippe Coutinho, could definitely help fund the move which with a player of Griezmann's quality undoubtedly would be a huge boost for the team, not to mention that he was welcomed by many in Barcelona's dressing room last summer.
I think, after all of this, it's needless to say that this transfer window will be very eventful.