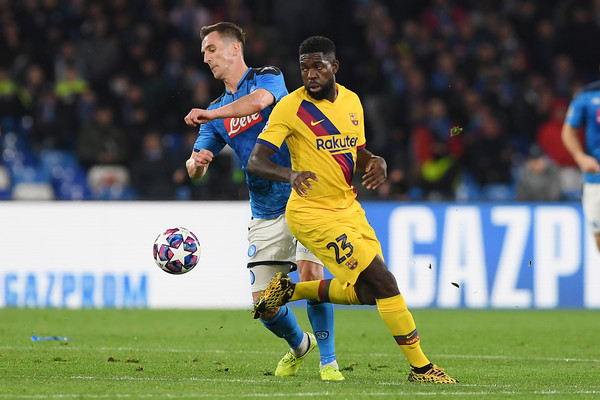 As Barcelona begins to prepare for what will be a hectic summer transfer window, French defender Samuel Umtiti has been shown the door.
The squad in Barcelona has seen departures and arrivals recently, with more moves to be made by Barcelona now that the managerial change has happened as Quique Setién took over from Ernesto Valverde earlier this year.
In January, Barcelona let go of Jean-Clair Todibo, in a move to Schalke, which left the Catalan side with Clémént Lenglet, Gerard Piqué, Samuel Umtiti and Ronald Araújo as the four chosen centre-backs for the first team.
It is worth noting that Todibo's move to Germany was a loan move with an option to buy, and that should the option not be triggered, the Frenchman would return to Barcelona this coming July.
That being said, Barcelona opening the door for Umtiti would not necessarily guarantee shortage in defense, at least in terms of the numbers. And that's exactly what the Catalan club has done.
According to Spanish news outlet, SPORT, Umtiti, whom Barcelona bought froḿ Olympique Lyon back in 2016, has been told he is free to leave the club, having had a turbulent time since his last knee injury prior to the 2018 World Cup in Russia.
The Frenchman later publicly admitted to having had discomforts prior to the international tournament, but having opted for conservative treatment instead of a surgery suggested by the club, his recovery time ultimately was much longer than initially expected — both physically and rhythmically.
Since then, he has spent time at the Aspetar rehabilitation center in Qatar, and has had a good return to form. In the latest edition of El Clásico, Setién even opted for him over a very much in-form Clémént Lenglet. The manager likes the French defender, but also is aware of the club's interests and intentions in letting him go, and Setién has decided not to stand in the way of Umtiti's departure, reports SPORT.
Umtiti being short of suiters is a scenario very unlikely to occur, and per the same report, the player already has an offer from one unknown club, as Barcelona look towards hitting their target of receiving 130 million euros in player sales this summer, with a sale of Umtiti bringing them a big step closer to that target.
Samuel Umtiti's current contract runs out in 2023, with his latest renewal having taken place in June of 2018, shortly before the latest edition of the World Cup, which he ultimately won with his French compatriots.