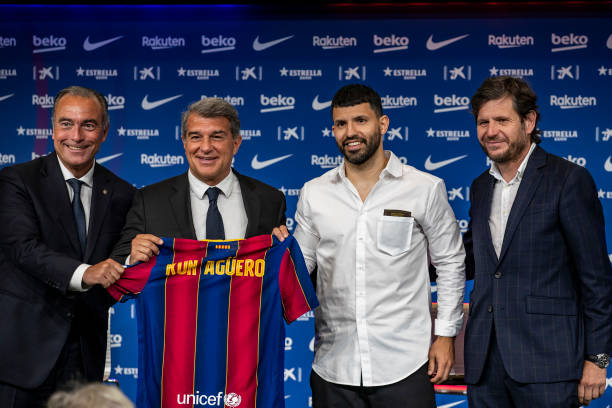 After weeks of speculation, Sergio Agüero was announced and officially presented as an FC Barcelona player today. Joan Laporta, Mateu Alemany, Rafael Yuste and Sergio Agüero all spoke at the held press conference, where they talked about Messi, Koeman, the contract negotiations and much more.
Days after announcing his decision to leave Manchester City, Argentine forward Sergio Agüero was officially presented today as an FC Barcelona player. He signed a contract till 2023 and with a release clause of 100 million Euros.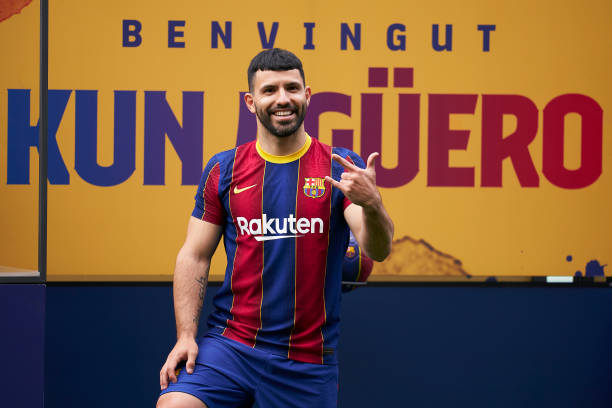 Initially, it was reported that he was in Barcelona for personal matters and to carry out a medical visit that had nothing to do with Barça. But as it turned out, the visit had to do with Barça. In the afternoon, Agüero went to the Barcelona Hospital to undergo the mandatory medical examination. He then went to the Barça offices, where he signed the contract for two seasons before dressing in the Blaugrana kit and giving his first touches of the ball with the Barça shirt.
It was club president Joan Laporta who spoke first at the press conference.
On the signing and welcome note for Agüero
"Sergio, welcome to FC Barcelona. It is a pride for us to have you as a Barça player. I want to thank your mother, your partner and your son Benjamin, who are all here. You have always been a very admired and loved player at this club."
"This time we have been able to surprise everyone. They knew that something would happen, but we have surprised them. I appreciate that a player of his quality, his performance, a much desired player, has wanted to come to Barça. For the Catalans, when we see a player who makes so many efforts to come to Barça, we appreciate it."
"You are the first player to arrive this summer, and it is already a sign for the fans that joy will return to the club. I want to thank Mateu Alemany, Hernán, and all those who have worked, because a good contract has been achieved with discretion."
On if this signing is to please Messi
"The signing of Agüero is because he is a desired player and an exceptional player. Because of his quality and the way he plays in our system, he will go well. We want a very competitive team. It is the first of a series of signings that you will get to know soon. Naturally, we want Messi to continue."
On if Koeman knew about the negotiations
"We have told Koeman that we would sign Agüero. This signing has been in the making for a long time."
"What we wanted was to close the deal before the Copa América, because he is such a good player, we didn't want him to run away from us."
On Koeman and his continuity
"I already said that we have started a period of reflection, for the reasons I said. As he was a coach that we did not appoint, we needed that period of thinking. There are contacts, I have already said that he is a coach with a current contract and our will is to respect it as long as this period of reflection lasts."
Here's what Sergio Agüero had to say:
On his arrival at Barça
"I have already told president Laporta that as a boy I used to say: 'one day Barça will notice me'. The truth is that if you tell any player that Barça have come knocking, they will come running."
On if his signing implies that Messi will stay
"Obviously it is a pride that we get to play together, but what Messi decides about his future is his decision. If he continues here, which I think he will, we will try to do our best, as we have always done, in the national team."
On getting his fitness back
"Except for this past season at City, I have had nine very good years. This year, due to a knee issue, it prevented me from playing for a few months, I recovered, then I got Covid, and I was sidelined again. But the last few months I have been able to perfectly maintain my fitness. My knee is perfectly fine and I just need to show that I can do what I did at City."
On if he knows who the coach is going to be next season
"It is not my business to know about the coach, the club will make the best decision. I don't have the right to have an opinion. No, I haven't talked to Koeman yet."
On Pep Guardiola
"I remember, after we won the Premier League, he told me that you're going to the best team in the world. We all know that Pep, not only me, since he arrived at City has proposed a different style of football. He proposes to keep the ball all the time and to keep that is important. He made me and the whole team better."
On Lionel Messi
"I talk to Messi every day, I can't tell you what we talk about. The last message, he congratulated me.
We know each other a lot and for me, who knew him as a boy, because we have trained with the national team, training with him every day will be much easier."
On his role at the club
"My first objective would be to have a good preseason; then the decision of whether I play or not will be taken by the coach. I always say that if you're good in training you have more chances, but by no means do I consider that I should be a permanent starter. I respect my teammates and you have to earn being a starter, that will be my role."
On his motivation to come to Barça
"The best motivation to come to Barça? Barça. To be at Barça, the best team in the world, where the best players in the world play."
On whether Pep will return to Barça
"As I said, I don't have the right to talk about it. He has a two-year contract with City, you have to respect it and I'm not the one who should talk about the coach."
On his message to the fans
"We know that Barcelona fights for titles every year and I come here to achieve that, what they have achieved for so many years. I hope the fans are happy at the end of the season."
On the suspension of the Copa América in Argentina
"I found out about it earlier, South America is having a bad time with Covid. If they have made that decision it is because Argentina is going through tough times. I think it was a good decision and now, let's see where it will be."
Here's what Mateu Alemany had to say: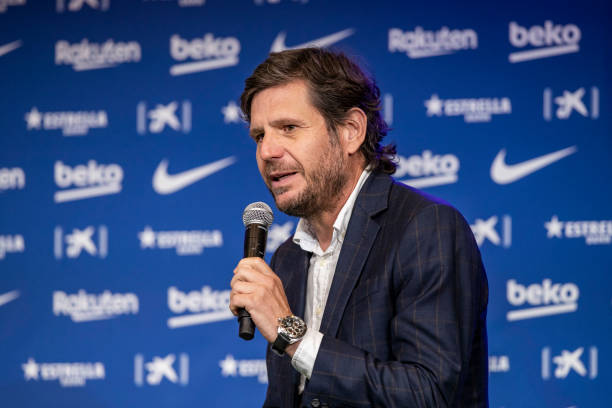 On Agüero's signing
"We contacted Hernán a month and a half ago, discreetly, and we were approaching positions. One can already perceive in minute one the predisposition and enthusiasm of the other party. They agreed to different variables, because there is trust, and that gave us the assurance that he wanted to come."
Here's what Rafael Yuste had to say:
On whether Koeman knew about the negotiations
"From the first moment we have been in contact with the coach. He is very happy with the signing, because Sergio is an exceptional player."