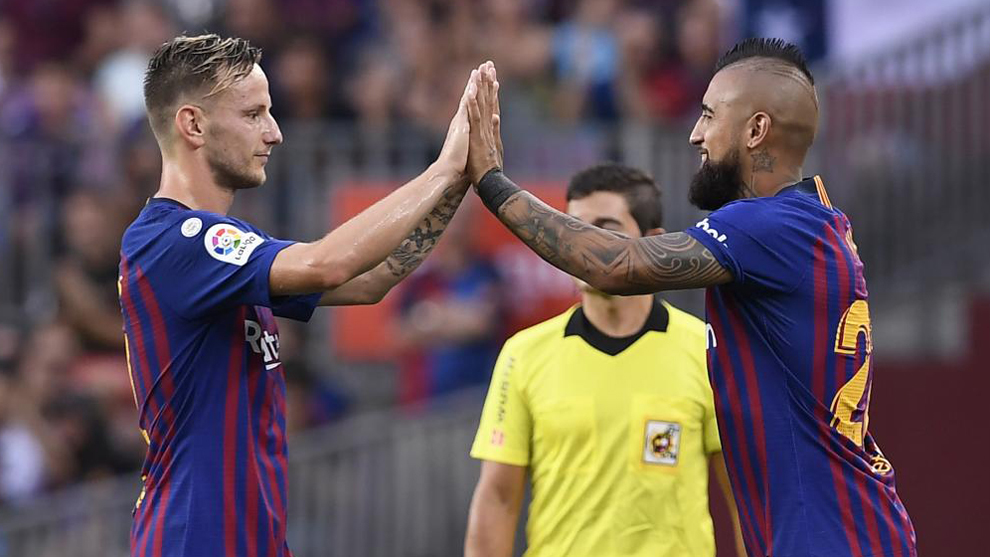 With Luis Suárez and Arturo Vidal seeming ever closer to leaving Barcelona, Georginio Wijnaldum and Thiago Alcântara pose a dilemma for the Catalans.
As previously reported, both Barcelona stars Luis Suárez and Arturo Vidal are closing in on their moves to Juventus and Inter Milan, respectively. Juventus are moving for the Uruguayan forward after several reports suggested they have already started to work on Gonzalo Higuaín's contract termination. Inter's manager, Antonio Conte, seems keen to add the Chilean to his side as they aim to do better this season in the UEFA Champions League, and Vidal has the necessary experience playing for some of the top clubs in Europe.
Both Suarez and Vidal's transfer are complicated though. Suarez, reportedly, is not happy with the way he is being treated. He believes he is being pushed out after he gave everything for the club, and is claiming Barcelona must pay his remaining salary on his contract. He also has to go through an Italian language test to obtain Italian citizenship, in order for him to have the passport, but Juventus believe that's not a hurdle.
Once Suarez decides the terms of his exit with Barcelona, Juventus are confident they can sign him, with personal terms already agreed on. Vidal, on the other hand, is willing to let go of his remaining salary on his contract, if Barcelona let him move to Inter without any transfer fee in the deal.
With the transfer of both Suárez and Vidal looking imminent, Barca reportedly look to replace them with two new signings. The names which have popped up are Georginio Wijnaldum of Liverpool, and Olympique Lyon's Memphis Depay. Both of these Dutchmen, as reported by La Vanguardia, are Ronald Koeman's choice, given that the manager has worked with them in the Dutch national team. Both players reportedly seem keen to join Koeman's new side, and Barcelona would be expecting a good deal since both of these players' contracts are going into their last season.
Another dilemma Barça currently faces, in the transfer market, is whether to go for Wijnaldum,or their former La Masía starlet, Thiago. Bayern have reportedly put Thiago on the transfer market after Thiago refused to sign a contract extension, and are reportedly ready to accept an offer of around 30 million euros. Reports in Catalunya suggest some members of the Barcelona board actually prefer Thiago over Wijnaldum, but it seems the manager, Ronald Koeman, wants Wijnaldum in his squad.
Since the all important Lionel Messi transfer saga is over, Barcelona can fully shift their focus to other transfers now as they look to reinforce their current squad and build a winning project. Club president Bartomeu confirmed there will be big changes, after the heavy defeat to Bayern in the UEFA Champions League, and up until now, Eric Abidal, the technical secretary, and Ivan Rakitic have departed the club, likely to be followed by Luis Suarez and Arturo Vidal, who are not part of Ronald Koeman's plans for next season.