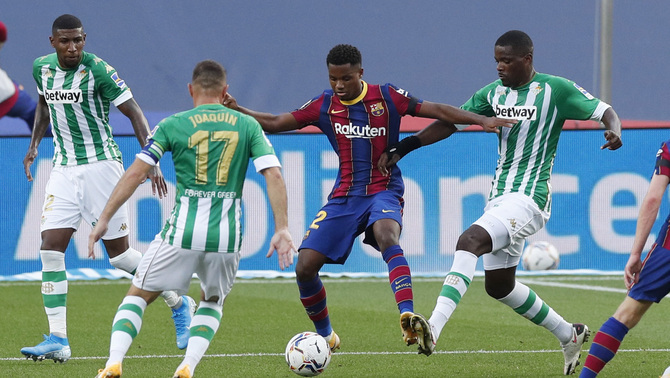 The recovery of Ansu Fati's left knee has reportedly stagnated, according to TV3. There is news surfacing that he had already gone through his second surgery in early January, even though Dr. Cugat denies such rumors, as per Cadena SER and Deportes Cope.
Not many Barça fans were left indifferent on the 7th of November in 2020. As if the year 2020 had not been inexorably awful enough up until that day, one of the club's best players this season, Ansu Fati, got sidelined by a knee injury during the match against Real Betis. It was hard not to worry, as the knee injuries have always been balefully damning for footballers. Not having to look too far, Samuel Umtiti has been beset by constant knee problems during the last seasons and has never returned to his level from 2017.
Having been diagnosed with a ruptured internal meniscus in his left knee, Ansu had his first surgery on the 9th of November, two days after the unlucky occurrence. Not much about his progress has seen the light of day since then. Barça fans could witness him smiling from the stands of Camp Nou from time to time and all seemed to be going well. That is until now.
Today's reports suggest that his recovery has not been going according to plan. Due to his knee not responding well to treatment and increasing workloads, Dr. Ramon Cugat, who had performed the first surgery and is one of the best surgeons specializing in orthopedic sports medicine in Europe, reportedly suggested and performed Fati's second surgery in early January. The surgeon's team has since negated the rumors, which were confirmed by Cope and Cadena SER. The treatment they provided Ansu with is apparently purely biological and his knee is supposedly "very well".
The 18-year-old is understandably hapless and worried, which led the club into not revealing the details of his recurring problems. As of now, his recovery could take much more than the initially anticipated 4 months, meaning he is practically ruled out for the second clash with PSG in the UEFA Champions League. He could be back in April, even though the club is worried he could be out for the remainder of the season. That is if another surgery would have to take place, which would set his recovery even further back.
Moises Llorens also reported that Ansu is very angry with the person responsible for the leak of the news about his injury's development. It is already known who is behind it and it does not come from the inside of the club. It is unsure whether there will be consequences to this person's actions, but the anger is monumental.