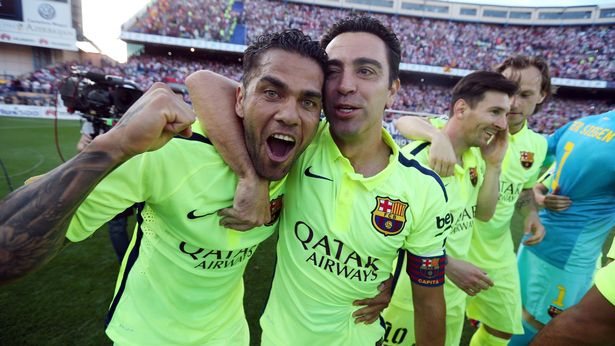 The legendary full-back Dani Alves is on the verge of returning to the club which he kept in his heart for all these years. The new coach Xavi has reportedly given the green light for the club to bring back his former teammate.
Sport's Albert Roge reported today that the deal between FC Barcelona and Dani Alves is just a matter of time and finalizing details. Xavi wants the Brazilian to be a part of his project and offer valuable advice and guidance to the young guns. It seems that just one final meeting is missing to seal the deal.
The right-back is currently a free agent, as he left Sao Paulo earlier this year and has not decided on where he wants to continue his career yet. He openly talked about being keen on re-joining the Catalan club, of which he only had warm things to say.
"I have always said that if Barça ever needed me, I would be at their disposal regardless of where I was. The love and respect I have for this club are too big. All they need to do is call," (Albert Roge, Sport) the Brazilian said.
There were some obvious doubts about bringing him back to the southeast of Spain among the club executives due to his age. Nonetheless, he seems to be in great physical condition, which he also showed in the Olympic Games this summer.
Xavi was the man to make the final decision though, according to multiple reports. Due to the player having no contractual obligations to any of the other clubs, Blaugrana thinks they should be able to register him as soon as they sort out the details. If everything goes according to plan, Xavi will possibly be able to use him against Espanyol on his managerial debut already. But the road past the regulations to put this in order is winding. There is a big possibility that Dani Alves will not be able to make his debut before the 1st of January. Regardless of that, Xavi wants him integrated into the team as quickly as possible, even if he will not be up for selection right away.
Fabrizio Romano also confirmed that the board already scheduled a meeting with the Brazilian veteran. Additionally he quotes Laporta saying: "Alves also offered us his help on a sporting perspective" (Fabrizio Romano).
Barça had some issues at the right-back this season, with Dest and Sergi Roberto getting injured. Consequently, Mingueza started the last couple of matches in this role. Dani Alves is one of the best, if not the best, full-back in the club's history. As of now, Dest seems to be the one who could profit the most from his presence. Keeping most of the minutes under his belt, but getting enough rest to stay sharp and valuable advice from an experienced colleague seems like good news for the young American. It will be up to Xavi now to use both of them to their current best.