A man of the club is coming home. After winning everything with Barça as a player, Xavi now returns to the club where he grew up to try and do it all again as a coach. After being presented on the field, he answered questions from the press.
Xavi Hernández returned to the Camp Nou for the first time since the 2015 Champions League celebrations. He did already visit the Estadi Johan Cruijff a few days ago to watch Barça B. This morning, the former club captain arrived at the stadium with his wife Nuria Cunillera, who turned 40 today.
It took a bit longer than expected for Barça's new coach to come outside, but after the speaker warmed the fans up for a while, Xavi entered the field alongside president Joan Laporta when the Cant del Barça started playing
Surprisingly, Xavi and Laporta signed the contract, which runs until 2024, on the field. The present fans showed their excitement by singing one song after another, and Xavi and Laporta even joined them for a bit. After that, they posed for pictures with the Barça shirt and Xavi's family. The Cant del Barça was played again, Xavi thanked all the fans for coming and he went back inside for the press conference, where he answered questions from different journalists.
Xavi's first words:
"I'm very excited, thank you all very much, I don't want to get emotional but I'm very excited. Thank you very much, to the club, to the fans. As I told you when I left, we're the best team in the world and Barça needs to be demanding, you can't draw or lose, you have to win here. Thank you very much with all my heart, Visca el Barça i visca Catalunya."
"I'm very excited about how the reception of the fans. I'm very excited and eager to start talking to the players. I know it's a difficult time, both economically and sportingly, but I have the desire and to make the excitement return. I'll demand a lot from the players because we're Barça, the best club in the world. We need maximum demands at work and from there on, effort, respect… Thank you very much to all. The fans gave me goosebumps, we can't let them down."
Laporta's first words:
"I just want to tell you that this day will mark the history of the club. Welcome home to Xavi and his family. It's a very exciting day. Visca el Barça i visca Catalunya."
"This was a great presentation for a new coach. I saw that people were as excited as ever and this is because of Xavi, because he's a man that grew up here, a man of the club. Today is a day of joy, it's a day that will mark the club's history."
"We have full confidence in Xavi. He has to be commanding, it's difficult for him, he's in a complicated situation because it's a team that is yet to be formed. He convinced me because he told me we can get a lot out of this team. Rijkaard also had a difficult time because the team was yet to be formed, while Pep had it easier because the team was already there. He doesn't have an easy task, but with his knowledge and his desire, he'll succeed."
About the negotiations:
Laporta: "We've reached an agreement on the clause he had with Al-Sadd."
"The contract has been terminated, both Xavi and the club have done everything possible to reach an agreement, and between Xavi and us we have made an effort to resolve the issue of the clause."
"Xavi had a very good experience in Al Sadd, the doors between the two clubs are open and we'll see how it evolves. There is a World Cup in Qatar, so we'll see how it evolves."
Xavi: "The president called me and told me they chose me. I see a lot of excitement, the expectations are high, it's all about performing well immediately."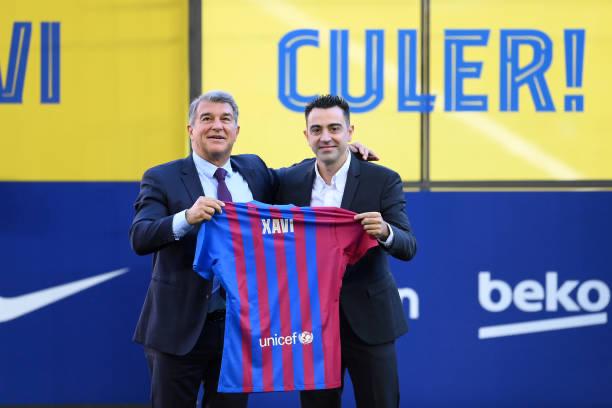 About being compared to Pep Guardiola:
"Being compared to Guardiola is already a success for everything he has given to football and to Barça. For me, he's the best coach in the world and any comparison makes me look bad. The results will tell if we're doing well or not, but for me, it's a compliment that they compare me with him."
"The advice I received from people like Frank (Rijkaard), Van Gaal, Vilà, my father, Cruyff, Guardiola, Luis Enrique comes to my mind often."
About the team he will take over:
"There's a team and there's talent, I'll try to transmit my experience onto the players in order to win titles."
"The first message to the players is that I'm here to help you. It's an advantage for me that I already know Busquets, Piqué, Alba, Sergi Roberto and Ter Stegen, who were all my teammates. I see that as an advantage. It's the same as usual, the ones I know are the ones I'm going to push the most. I know them, I know which foot they prefer, I see all this as an advantage, I know Gerard, Busi, Jordi, Ter Stegen and Sergi have to be an important part of the team. But they're just like the other players and they start from scratch."
"I have a friendly relationship with all the captains and I have a very good relationship with Ter Stegen as well. I have already spoken with several of them and they're the ones who have to help us and help the young players. There will be hard times and they need to have that spiritual leadership. We'll give them a lot of power in the dressing room."
"I have a lot of advantages, I know the club, the players, Barça is the most difficult club in the world because you have to play well and win, it's not worth winning 1-0. I hope to be in the group of Pep, Zidane, and more, not the others."
"We have a spectacular generation of players, but they're very young. Each game is a final and we have to help them. They have to feel happy, Riqui, Ansu, Nico, Gavi, Mingueza… We have to enjoy training and perform."
About the many injuries at Barça lately:
"Obviously, we're worried. We have to talk about many things with the president, we're being guided well. We have to solve this problem, there is work to do and part of that is recovering many players who are important."
"We will recover two attackers in one or two weeks and I want to play with the wingers on the sidelines. We have to make different variants to be able to use different systems."
About Ousmane Dembélé's situation:
"Yes, for me Dembélé can be the best player in the world in his position. But we have to work with him and demand it from him. It all depends on him, his mentality, that he is injured less often, that he performs well. For me, he should get a renewal."
"There are going to be injuries, as usual, but you have to train well to prevent injuries, train better. That's what's going to be required of us and what we have to demand of the players."
About Lenglet and Umtiti:
"I don't know because I haven't seen them yet, but this is our job. They all start from scratch, I count on everyone and then we'll see, it's about training and being demanding. I've seen them at times, so they start all from zero."
About whether he wants the club to make signings:
"We're going to discuss it with the club and make a decision. It's happening soon, but we're going to work hard to strengthen the team, there's always an opportunity."
About some of the things he wants to change:
"My idea as a coach is to help the players, playing at Barça is difficult, I can notice from the outside that some of them feel that pressure. We're going to work with them to help them on a personal and professional level. It's about helping them and making a team."
"We need a bit of order, we have to be more professional than ever, we have to improve these things. It doesn't have to be tough, we have to set rules and comply with them. When I've had rules in the dressing room, we've done well."
"I can't speak of what happened when I wasn't here, but when we had standards and demands, we always did well. What's clear is that you have to set some rules."
"We want to be intense, aggressive, to recover the ball in the opposite half. We want to be a team that leaves its soul on the field. We believe that the best way of winning is to play well. We have to help the players, but everything with Barça DNA. I have won everything with Barça and the national team with this DNA and we can do it again."
"Everyone needs to be comfortable and know what to do in both defence and attack. At Al-Sadd we played with a 3-4- 3 system because we were very dominant, here we can start with 4-3-3, then go to 3-4-3 or even 3-5-2."
About former teammate and friend Leo Messi:
"Yes, he sent me a message and wished me luck, we made some jokes. I wish him the best, he's the best player in the history of the club but he's gone, we have the players we have and we have to work with them. Leo is gone."
About the return of some club legends:
Laporta: "They already help, each one in their own way. Andrés (Iniesta) has given me his support in these difficult moments and I know he welcomes Xavi's arrival; (Rafa) Márquez, because of a personal problem, couldn't enter grassroots football; Dani (Alves) is very actively trying to help the club. Now Xavi has to decide with his staff which actions will follow and he knows that he has a very wide range of people available to him if he needs them."
Xavi will be in charge of his first training session tomorrow, although he will only have a limited squad due to the ten injured players and eleven players who are currently on international duty. His first game as the FC Barcelona coach will be a special one, the Catalan derby against Espanyol on the 20th of November. Three days later, Barça will welcome Benfica at the Camp Nou for a very important Champions League game.