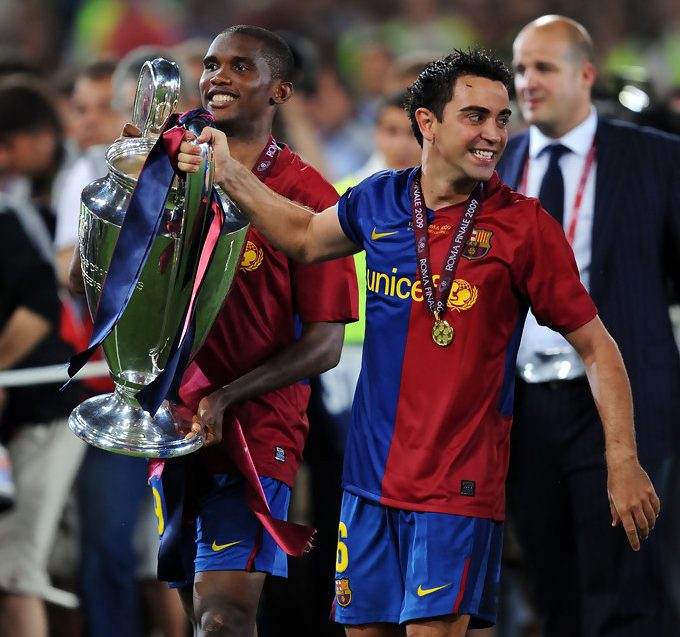 The former Barça midfielder, Xavi Hernández, believes Neymar would be an extraordinary signing, and believes Lionel Messi has five or six years left in him.
Through an Instagram Live stream, on the official account dedicated to the next World Cup in Qatar 'roadto2022es', two former Barcelona players in Xavi Hernández and Samuel Eto'o met to do a short interview and talk about football. During the interview, Xavi expressed his desire to train Barcelona and Messi one day.
"He has five or six years left in him yet. He looks after himself. I see Leo [Messi] playing in another World Cup. I am sure of it. Training Messi would be huge, we are talking about the best player of all time," said Xavi about his former Barcelona teammate.
Xavi also spoke of another former teammate in Neymar and whether he would sign him again, but added how the forwards have to be in order to succeed in Barcelona.
"From a footballing perspective, he [Neymar] is among the three or five best in the world. I hope he returns to Barcelona. He was my teammate. He would add a lot, [and has] a positive character. He would be an extraordinary signing and would be a difference-maker. "
"Mané and Aubemayang can kill you in open space. But Barcelona need players who know how to move in small spaces. I am thinking about player who would adapt to Barcelona and it is not easy to find one. Samuel Eto'o was perfect as is Luis Suárez right now."
Then he spoke of his philosophy, which, as expected, is very similar to what they do at Barça, especially knowing that Xavi grew up with the same philosophy that La Masía taught him.
"I like the teams who don't sit back, [teams] who dominate games. I understand football as a spectacle. My way is to play on the attack. I want possession, to have the ball, to be the protagonist of the game."
He also spoke about the styles of play that other teams have, such as the case of Barcelona's biggest rival, Real Madrid.
"Real Madrid apply a mixed style. They can defend in low blocks and press high. They are always a very competitive side. It was weird to see what happened to them last year."
Finally, Xavi spoke about the subject that excited many of the Blaugrana faithful. In January, when talking about the dismissal of Ernesto Valverde, it was the former Barça player who was tipped to be the next manager. There was even a moment where it all seemed to fall into place.
However, Éric Abidal, Barça's technical secretary, denied that there was an offer, and Xavi has now opened up about the situation.
"In January, it wasn't the right moment. We had conversations with Abidal and Òscar Grau. I had a very important proposal but I needed a little bit more time. Coaching Barça is my dream. I would like to do so one day, I have said that many times. "
Xavi Hernández is currently the coach of Al-Sadd, a team from the Qatari top flight, but has made it clear that he will join Barça's technical staff when he feels ready to do so.