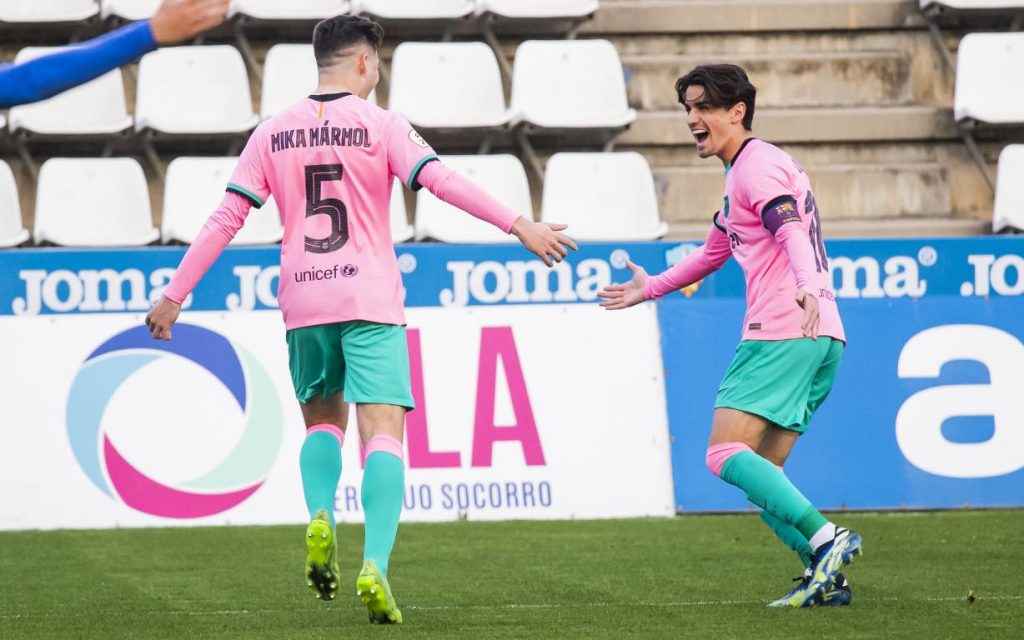 Barça B achieves a key away victory over Lleida and reaffirm themselves on the third position with four games remaining until the end of the regular season. García Pimienta's boys suffered the siege of Lleida, but eventually resisted with great concentration and solvency.
The match started as everyone expected, with a very serious Lleida pressing Barça B way up the pitch. Meanwhile, the B team tried to overcome the pressure through Nico González, today as a pivot in the absence of Jandro Orellana and Ilaix Moriba, and through the speed of Alex Balde, who played a magnificent match.
From Alex Balde's boots, precisely, came the occasion that, after a corner, was rejected by the defense and fell clear to Mika Mármol. The defender only had to put his foot in, as the local goalkeeper was out of position in the previous action, to put the "B" ahead on the scoreboard.
From that moment on, the match became a battle between Barça, who wanted to dominate the match and Lleida trying to approach the area. The pressure intensified at times, but on several occasions Collado, Alex Balde and Konrad counterattacked with danger to remind the opponent that they had to watch their back.
The tone of the match was the same for many minutes, with Barça trying to maintain possession of the ball and put the opponent on his own field. Gradually, Collado met his teammates and unseeded his magic, something that created greater control while threatening the rival goal. In fact, in a recovery near the opponent's area, the boy from Sabadell ended up hitting the woodwork in a gorgeous shot.
As the match progressed, Lleida players began to find frustration with Barça's playing style, and one of those tackles was suffered by Alvaro Sanz, who had to retire on a stretcher after a heavy blow to the knee that may have caused him a serious injury. Instead, good news came, as Roger Riera entered the pitch after recovering from his fractured cheekbone with a mask on.
Riera ended up completing a great defensive match, where he was imperial to reject all the crosses to the area proposed by Lleida. Ramos Mingo also returned, as he had been off the pitch for 10 weeks for another injury.
Garcia Pimienta's boys held the final stretch of the match very well with superb seriousness and concentration, and Lucas de Vega had a 1-on-1 finish to end the match at the injury time, but his chipped shot went above the goal. Anyway, the team narrowed the lines well and achieved a suffering victory that reaffirms them as third qualifiers, even being able to draw points with Andorra, second, which has one more match.