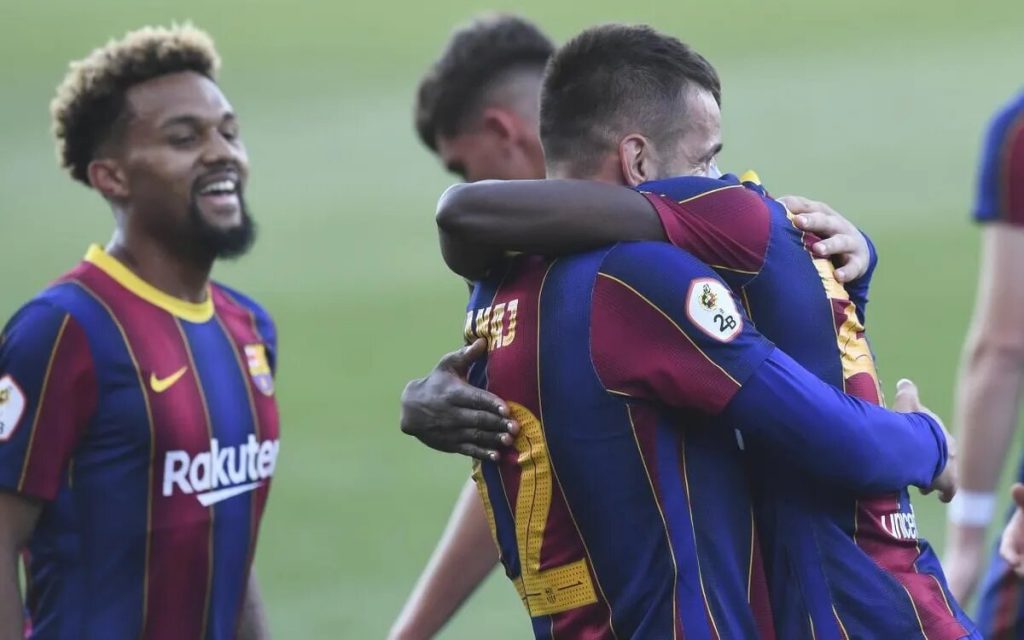 Barça B completely dominated a match that Alcoyano tried to get dirty when they ran out of football arguments. Nico González, Ilaix Moriba and Alex Collado owned the match imposing its quality, and the match was more unbalanced than the scoreboard reflected. The "B" is placed second of their group in the second phase.
Barça B played just as they know, and that was the best possible idea for García Pimienta's team. The subsidiary locked Alcoyano in their own half, had the ball, moved it patiently and wisely and found the most favorable situations for the team. In addition, they defended forward and deployed a great pressure after losing possession that made the away team so uncomfortable on the pitch.
The midfield formed by Nico acting as a pivot and Ilaix and Collado as interiors was key to disarm a defense that was positioned firmly. The criterion in Nico's distribution and trust managed to find balance in the Blaugrana game, and the magic of Ilaix and Collado, plus the ease of connecting with the wingers, caused havoc on the visiting defense.
As far as the 25th minute was over, the connections that "Pimi" designed took effect, and Collado was able to find Konrad in speed. He put a tense cross exactly where Rey Manaj was prepared after winning the position to send the ball to the bottom of the net. The Alcoyano plan was truncated with almost the entire encounter ahead, and defending was no longer a feasible option.
However, control of the match remained entirely Barça B's, while Alcoyano was unable to build dangerous plays. After halftime, with 1-0, the away team had to react, but Alex Collado made sure it didn't happen. The Sabadell genius raised his hand to indicate a set piece play, but instead of crossing the ball he shot a measured ball to Jose Juan's goal to put the 2-0 and sink the opponent.
With the unfavourable score, Alcoyano gave up football and began to toughen the match through harsh fouls. However, Barça stood perfectly and, in fact, visitors failed to create real danger until the 87th minute. A corner play ended with a header that Arnau Tenas saved greatly, but the second corner no longer found an answer. However, the B team recovered immediately and did not concede opportunities for the tie.
Deserved victory for Barça B that put them in second position, taking advantage of the tie between Nàstic and Vila-real B. There are 5 matches left in which García Pimienta's boys will have many options to enter the final Playoff and fight for the promotion to Second Division.