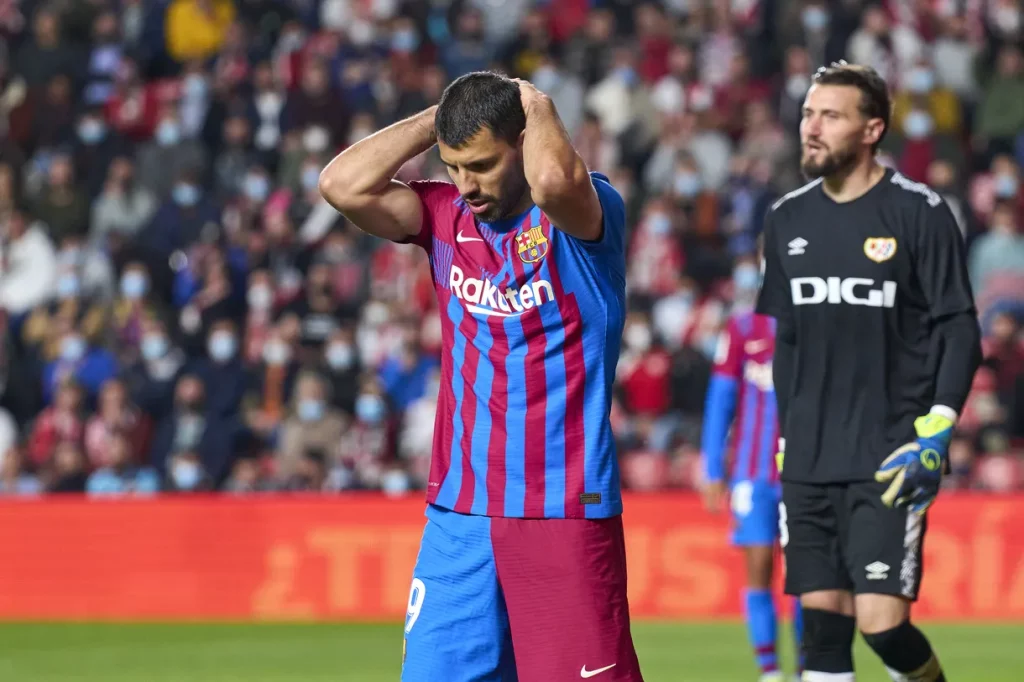 Barça lost 1-0 against Rayo Vallecano, making it four consecutive La Liga away games without a win. Ronald Koeman, Sergio Busquets and Philippe Coutinho spoke to the press.
Another disappointing away game for FC Barcelona. Newly promoted Rayo Vallecano managed to beat the Catalans 1-0 at the Estadio de Vallecas. 'El Tigre' Radamel Falcao scored the only goal of the game in the 30th minute. Barça missed its biggest chance of an equalizer, a Memphis Depay penalty. This means FC Barcelona has now played four away games in this season's La Liga, two of which were lost and two of which were drawn. After ten games in total, Barça finds itself in ninth place in the table for the moment. Head coach Ronald Koeman, captain Sergio Busquets and Phillipe Coutinho all gave interviews to the press after the game.
Ronald Koeman was the first to appear in front of the media.
About not being effective in front of goal:
"It's circumstantial. We normally have players who can score goals. I can't complain about the team. It was difficult for us to get into the game. Rayo put a lot of pressure on us. We were the superior team and considering the opportunities both teams had, the result isn't fair, although it's what happened and we can't change it."
About the reason the team isn't able to win:
"It's not a matter of attitude, neither of the way we play. It's a matter of not scoring goals and there's nothing else I can say."
About having a worse squad than other teams:
"I don't know their players, maybe they have more balanced squads. What we have shown is that we can compete with them. It could be bad luck, it could be injuries… These are excuses. The team has shown today and against Real Madrid that they're at a good level but that isn't enough. What counts is the result. Analyzing today's game, it's incredible that we lost."
About being in ninth place in La Liga:
"That means that we are not doing well, that the team's level has dropped, we have lost some very effective players. In recent years those at the top have strengthened and we haven't been able to do so. This also counts, but not in today's game. In spite of the casualties, we played a good game, but when we don't score… That's what we're missing."
About being title contenders:
"There are still a lot of games to play. I'm worried about our effectiveness, but not about the way we play. We have played at a good level, but I know that in Spain it's not just the 1-0 that counts."
About Nico González's performance:
"He played very well. He did a great job, despite the difficulties."
Sergio Busquets was next to answer some questions.
About his view on the game and his error that led to a goal:
"It's a bit like the dynamics of what is happening all season. We knew it was a difficult game, in which it was important to play from the back and win the second ball. Today I made a mistake for which I'd like to take all the consequences because that's where their goal came from. We tried our best and we were better in the second half. We had quite a few chances, a penalty and some crosses, but we're lacking a bit of everything. A bit of good luck, a bit of belief, the concentration of not making mistakes, many things. At a general level, we don't play bad games, but if you add all of them up, that makes it very difficult. When they get the first goal or we struggle to score goals, it costs twice as much effort."
Last of all, Philippe Coutinho also appeared in front of the cameras.
About the game against Rayo:
"We have given everything once again and we're leaving with a negative result. We want to change the situation and I think that we didn't deserve to lose. In the end, we didn't manage to score and we lost. We have to keep our heads high and work together."
"We knew that Rayo plays with very high intensity at home. After the first 15 minutes, we started to dominate the game, but the goal gave them confidence."
About where to go from here:
"We have the mentality of taking Barça where it deserves to be, which is competing for titles and giving joy to the fans."
Barça will have a chance to redeem itself on Saturday against Alavés. After that, another important Champions League tie against Dynamo Kyiv is waiting.