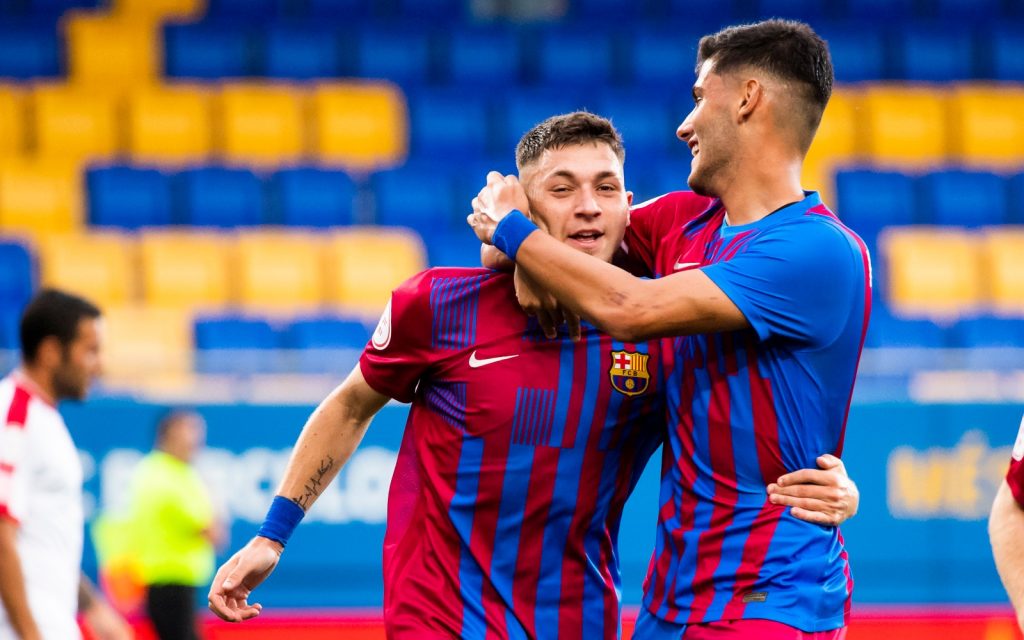 Following a disappointing end to the pre-season for Barça B, the trend seems to continue for Sergi Barjuan's side.
The official start to the Sergi Barjuan Barça B era got off to a quick one at the Estadi Johan Cruyff.
Nils Mortimer would get things going early in the 9′ as he capped off a beautiful run by Antonio Arnada down the left flank with a strike to put Barça B up.
Barça B would continue to threaten for a second. A quality build-up in the 30′ saw a misplaced final ball from Lucas de Vega, who came on just a minute earlier in place of the injured 'Peque' Fernandez. A chance that would almost certainly have put Barça B up 2-0 but instead kept things at 1-0 heading into the halftime break.
After a solid first 45′ to the season with some promising moments, it seemed as if those recent preseason woes had been laid to rest. Even more so when it seemed that Barça B had broken through for a second time with a Mortimer header, but that was quickly waved off for offsides.
Two minutes later Matheus Pereira had a shot from a tough angle go just wide. Barça B looked to be on the front foot and continuing to push for a second.
It would all go downhill from there.
A tough final 30′
Arnau Comas, who was having a superb match up until a long ball took a tricky bounce over his head which resulted in a tackle that led to his dismissal. Comas' being the last man and denying a clear goal-scoring opportunity was shown a straight red.
Soon after Algeciras found their equalizer in the form of an olympic goal from Tomas Sanchez.
An unfortunate goal to give up from Arnau Tenas who had looked unbeatable up until this point in the match.
Barça B now playing with 10 men, influenced their performance for the rest of the match. Mostly sitting on the defensive and relying on counter attacks to create any sort of chance.
A chance would indeed come late for Barça B to win the match but a poor strike from Alvaro Sanz off a great counterattack virtually sealed the draw.
A frustrating start to the Sergi Barjuan era. One in which may have fans already questioning if he was the right choice to fill Garcia Pimienta's shoes.