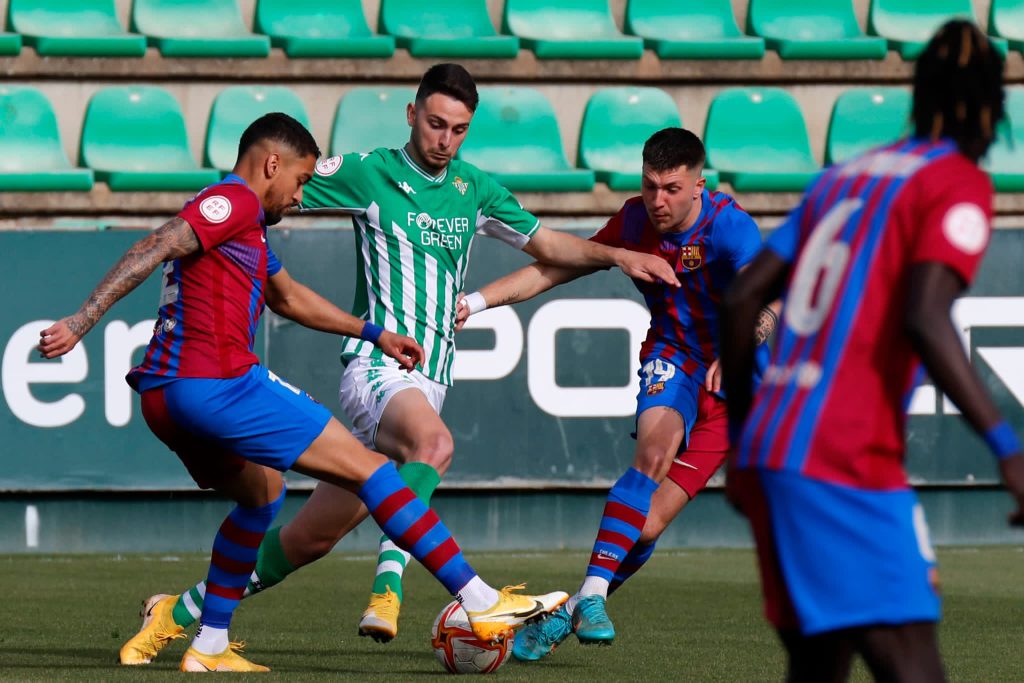 For the Second Game in a Row, Blanco Fires in the Game Winning Goal
Fabio Blanco joined the Blaugrana side over the winter transfer window and although it's taken some time, he is starting to find his footing. Beginning to leave his mark on the scoresheet, today was no different.
Lucas De Vega played a ball behind the defender and Blanco did a great job to put it on target. A shot that Betis Deportivo goalkeeper Marc Vidal couldn't keep out of his net. A goal that put Barça B back in front in a match that was certainly a must win. But it was also a goal that was against the run of play.
In fact, for the majority of the match Barça B found themselves on the back foot. They weren't completely dominated but it was evident that they weren't the better team. Betis Deportivo pressed and pressed; hoping to force Barça B into an error.
That pressing backfired a bit when Peque was able to get his head on a long ball and out Jutgla in behind a flat-footed defense. Jutgla guided the ball into the back of net and Barça B found themselves up early. A sequence that just felt fortunate rather than earned.
It wouldn't take long for Betis Deportivo to level things up. Funnily enough, the equalizer came from a chance that may have been their worst in the first half. A prayer of a cross somehow found the head of Moha Sanhaji who was there to haunt the Catalan side once again.
For long periods of the first half, it felt almost inevitable that Betis Deportivo would find the second before Barça B would, but Blanco took his chance right before the half as Barça B were lucky to find the score line in their favor.
A 45' to Forget
We've seen this team be down at the half and come out with a sense of urgency. We've also been accustomed to this team being up and proceeding to play too casually as if they've already won the game. Today we got the latter.
Fortunately for them Betis Deportivo didn't seem to want to want a result. A forgettable half for both sides. The most entertaining event of the second half was a controversial non-call on a potential penalty late into the second half.
No real danger created from either side. A lot of scuffed shots, shots nowhere near the target and sloppy play. Betis Deportivo were still the better team, but nothing came of it.
Ultimately, Barça B got returned the favor from their last meeting with a 2-1 win that helps them in their relegation battle.