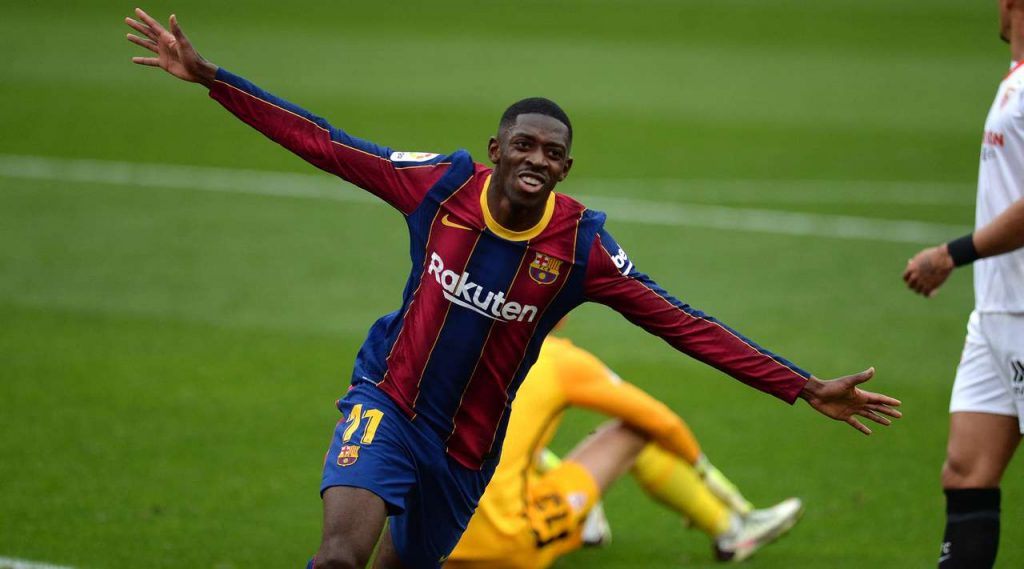 Ousmane Dembélé has spent nearly 4 years at Barça, and it's time to decide whether to renew his contract or to sell him, before his contract comes to an end.
One of the biggest issues the new board will have to deal with in terms of players to sell, renew or set for release is the situation of Ousmane Dembélé, as his contract expires in 2022 and he has been heavily linked to other clubs, particularly Manchester United, in the previous transfer windows. However, the Frenchman's case is surely the most complex one for the club for a good number of reasons.
For starters, Dembélé is still very young, 23, which means that getting rid of him, however lucrative it might be, may very well mean giving away almost a decade of one of the hottest prospects in Europe. Moreover, the fee Barça paid for him, as we all know, well over 100M, it's absolutely impossible to recover as the winger's overall performance levels over these years at the club are nowhere near deserving those figures, even less so in the current context, as the pandemic has crippled the economies of the wealthiest clubs.
However, the winger has been performing much better this year under Koeman's management. Dembélé happens to be one of the players that the club's head coach has achieved to recover for the cause, among which he might be the most important one and, certainly, is the one that has experienced the most remarkable improving. A key to that great recovery is certainly the great work carried out by the club's physios and fitness coaches, who have been working tirelessly with Dembélé's muscles for years, whether he was injured or fully fit. A hard work that suffered many setbacks over the past few years, but one that is now paying off.
The fact that Ousmane has been able to play regularly for the first time since his arrival has helped him perform at a whole new level; he's more consistent, more committed from a tactical perspective, less volatile, takes better decisions, he seems les anxious and with plenty more confidence, which is easy to tell each time he attempts to dribble an opponent or to take a shot.
If I had to say something negative about this new Ousmane Dembélé, probably only a couple of things would come to mind; one is that he's still not very consistent in his finishing, which costed the team dearly against PSG, and the other is that he seems more predictable, as if this year he's less likely to do unthinkable plays and slaloms, but, and it's the opposite side of the same coin, he is losing far less balls in dangerous areas. In short, it's like Dembélé's ceiling is a little lower than it seemed at first, but his rock bottom is now far higher than we have seen these past few years.
With all that in mind, the club has an important decision to make. The board could decide to sell the French winger this summer, and he'd be the biggest sell for sure, as it was speculated that the club could get around 60M for him, or they could negotiate a contract extension with the player, expecting him to be key in the foreseeable future for the team, and also hoping to get generous transfer fees for players such as Griezmann, Umtiti, Coutinho or Lenglet.
As things stand, both club and Ousmane seem willing to renew the contract, but that could also be a tactical move by the club to get a stronger position in that hypothetical negotiation with another club. Barcelona is in need for incomes, and the club seems decided to try to sign Haaland. Having said that, it would be a shame to see the French international leave the team, as it's quite obvious that the Norwegian wonderkid would benefit dearly from having a winger like Dembélé as a horse to ride along. Also, from what we are seeing this year, if Messi decided to stay, he would be way happier to do so with Ousmane in the team.