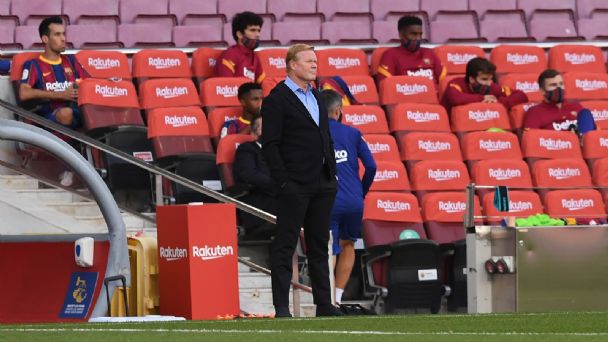 After another disappointing result in La Liga, this time a 2-2 draw against Valencia, Ronald Koeman, Ronald Araújo, and Óscar Mingueza reflected on the team's performance in their post-match comments.
Here is what Ronald Koeman had to say:
How do you feel after a draw?
We did the most difficult thing, which is to come back from the goal we conceded and score two goals, but then we lacked in concentration. We lost many balls in very large spaces. We did not control the game defensively in many phases of the game.
Disappointed with your team?
Valencia have defended well, with many people behind. It is true that we did not have many chances and that we played very irregularly. I am more concerned that my players have to know what the game needs at all times. Valencia were creating a lot of danger for us and we were playing one on one against their forwards.
Are you at least happy with Araújo's goal?
For a defender it is also very important to score. He has worked well and played well, but his goal has not served to take us all three points.
Would you consider this a step back?
In attitude surely not. We weren't good throughout the game and we lost control. I saw the team with doubts, yes.
Why did you put De Jong on if he had discomfort?
Frenkie had some discomfort in practice on Friday and it was a risk that he would play all ninety minutes. We put him at half-time for Busquets because we were looking for something different, but not because Busquets was wrong.
Why so much irregularity?
With the age of many players it is also normal that there is irregularity on the field. It takes time for the young to mature.
What happened in the goal conceded from a corner?
Valencia have very tall players to play from set pieces. It is clear that we cannot leave them alone, we have to at least be on top. We are smaller and we have problems in these types of plays.
In what things does the team have to improve?
There are moments when it is not so important to play well as to know how to take the game to the end.
Have you already said goodbye to LaLiga?
We have not said goodbye to La Liga yet. We are quite a few points away, but there are still many to be disputed. The classification can turn around in two months. We have to fight and try to recover the points.
Here is what Araújo had to say:
What feelings does the draw leave you with?
With a bitter taste because we wanted all three points. We were superior to Valencia. We have to keep working, I think we are on the right track.
The team keeps making a lot of mistakes…
Yes, we did make some mistakes at the back that shouldn't be conceded. A shame. We have also missed many chances.
Did you see the penalty on Griezmann?
I did not see it, it was very far.
How have you experienced your first goal at Barcelona?
Happy for my first goal at Barça, but I'm not happy. I do not like lose.
Was this your best goal?
I have another really good one, but I think this one is even better. I dedicate it to my wife and my parents.
Here is what Mingueza had to say:
What are your thoughts on the team's performance?
I'll take the team's work. We had a great game and we had a good attitude both with the ball and without it. We managed to get the rhythm of the ball and come back. But we are sad that we did not win. The whole team wanted to take a step forward, to face it, to try to win the game.
How do you feel about the number of opportunities you're getting to play?
It is always a pride to be with the best players. I want to take advantage of every opportunity and keep working.