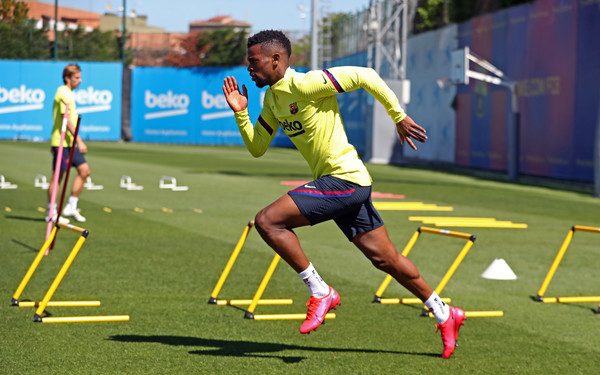 Even though the player still has a contract with the club until 2022, Nélson Semedo's future is still up for debate at Barcelona.
It seems that the transfer business in Catalonia is once again heating up and it's pretty much safe to say that the upcoming summer will be as hot as ever for the club.
And now, according to a new report by Mundo Deportivo, even though the 26-year-old right-back is one of the most valuable assets the Catalans have given his age and both tactical and physical predispositions, Semedo's future is still up for debate at Barcelona.
At this very moment, one thing is clear – he will either have to get a renewal pretty soon or he will be sold by the club. And since Mundo Deportivo claim the Portuguese has stopped the negotiations for a new contract, it's becoming quite clear that the latter option will ultimately be the case.
That can be done with Semedo entering one of the currently open deals that Barça have on the table or through a direct sale to another club in a separate transfer altogether. The most likely scenario right now, however, seems to be a move to Manchester City that would also see João Cancelo go the other way.
But even though the sporting side of that potential swap seems to suit both clubs, since Pep Guardiola reportedly likes Semedo's defensive solidity and Barça like Cancelo's attacking contributions, the issue might once again come in the form of – money.
Mundo Deportivo go on to state that Cancelo demands a higher salary bill, having already been a part of multiple big clubs in the past, and that means this swap would indeed burden Barcelona's wallet more than they would like it to.
For that reason, even though the sporting side of the deal seems good, the financial aspect of the swap is still generating quite a debate at the club. And this is without adding in the fact that Quique Setién seems to like Semedo because the player is committed, reliable and contributes to the team.
Moreover, let's not forget that Man City are not nearly the only ones showing interest in the Portuguese right-back. All of Juventus, Inter Milan, Bayern Munich and even Paris Saint-Germain seem to be aware of his situation at Barcelona.
Not to mention that Jorge Mendes is his agent and suddenly, the door could be open wide. Football in Spain will be returning soon but it still remains to be seen whether Semedo will end up competing there by the end of the summer.