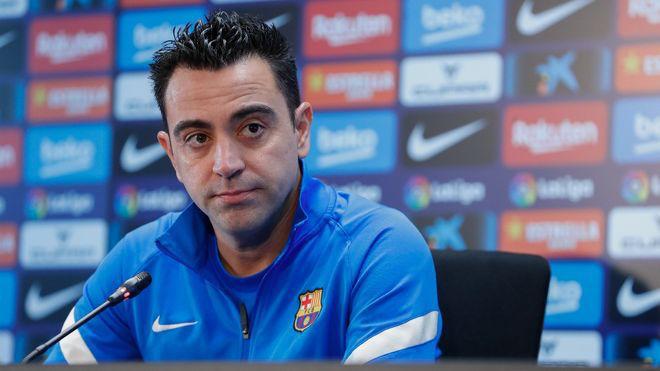 Ahead of Thursday's Copa del Rey game against Athletic Club, Xavi spoke to the press about Dembélé's contract situation, Araújo's renewal, tomorrow's striker and more.
Both FC Barcelona and Athletic Bilbao played their last game in the Spanish Super Copa tournament in Saudi Arabia. While Barça fell short to Real Madrid in an entertaining El Clásico (2-3), Athletic Club managed to beat La Liga title holders Atlético Madrid. Last Sunday, Bilbao lost 0-2 against Real Madrid in the final.
Tomorrow at 21:30 local time, Athletic will host FC Barcelona at the San Mamés. The winner of this fixture will advance to the quarter-final of the Copa del Rey. If it ends in a draw, there won't be a second fixture to be played. Instead, the game will go to extra time and possibly a penalty shootout. Xavi was available for questions during today's press conference.
About the game against Athletic Bilbao:
"Athletic is a very intense opponent with one of the best Spanish coaches. He (Unai Emery) demands a lot from the players in playing the ball out from the back and in winning the second ball. They can be very fast on the counter. This is one of the best generations Athletic has had in recent years. It will be hard, but it will be a very attractive game. The draw was not favourable for us, but we want to go far in this competition."
"Personally, I have great memories of the San Mamés. They have always treated me so good. I have a fantastic relationship with the club and I have admiration for them. The stadium is sensational. I'm delighted to return. I have a deep admiration for this club."
About Ousmane Dembélé's contract running out and his agent's words:
"With Ousmane, we're in a complex and difficult situation. The club has made the decision that if he doesn't renew his contract, another solution will have to be found. Mateu (Alemany) has been in talks with his representative for five months now. He has to either renew or another solution will have to be found. It's a complex situation. I have been very honest with him, this isn't a good situation for anyone."
"Either he renews or finds a way out. There are no other solutions. We're in a complicated situation. He wants to renew, but he doesn't make the decision and as a club, we now have to make one. It's a shame because football-wise he knows the project we have for him. He has played every possible minute and it's in his hands."
"He tells me that he wants to renew and continue at the club. Tomorrow we have a game that's very important for us. I have been very clear."
"We have problems with the salary limit. The player should think about what's best for the team."
"I also ask myself questions about his agent's words and his will to continue at the club, but that's a question for him. I don't want to disrespect anyone, but the message is clear. The solution is to renew or find a way out."
"No, I'm not disappointed with him at all."
"We'll decide tomorrow if he'll travel to Bilbao with us."
About Sergio Busquets'recent form:
"They also criticize me when the results are bad. In my opinion, Sergio is essential. Clearly, he made a mistake against Real Madrid and he knows it. He's an unquestionable player. He's a very important piece of the team. If the team is together, Busquets is the best in the world in his position."
"There are many injustices. We are at Barça and it's normal that there is criticism, we accept it. It's a performance issue. It's the pressure that we have to bear on a day-to-day basis. I remember a debate about whether Busquets should be part of the national team in 2010 and we ended up becoming world champions with him."
About Ansu Fati's best position:
"Ansu has practically spent his entire career as a striker, but he also adapts very well as a winger. We have to dose his playing time so we don't lose him again. He was very good in the Super Copa. He is a star. He's a spectacular player and for me, it is a luxury to have him."
About Spain returning to playing in Catalan stadiums:
"I think it's a good idea. 2004 was the last time it happened and it seems like a good thing to me. Today we discussed it with Busi."
About Ferran Torres being available tomorrow:
"He lacked competition rhythm and training. This week has been very positive for him and he's completely fit. Tomorrow, he has to be important."
"Memphis has a small injury which we'll decide about tomorrow. Ansu, Jutglà and Ferran Torres can all play up top."
About Ronald Araújo's renewal:
"It's a priority. He has a winning mentality and a positive character. It's important that we reach an agreement. I'm very happy with Ronald's performance. I'd like to thank him for his commitment and attitude."
About Martin Braithwaite returning from his injury:
"It's looking very good. We'll see if he makes the list for tomorrow. He has recovered quicker than expected. He's a player who can have minutes and help us a lot."