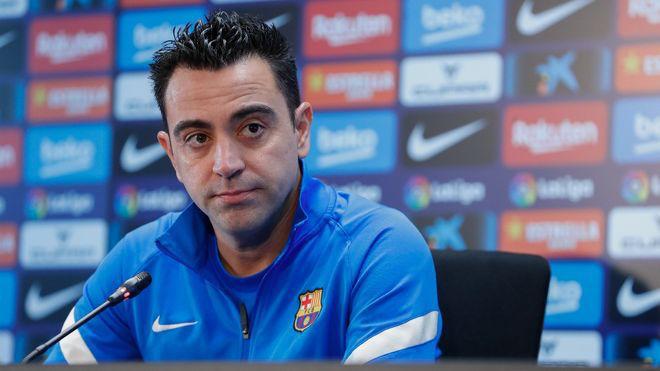 After playing out a draw against Napoli in the Europa League, FC Barcelona face Valencia in LaLiga on Sunday at the Mestalla stadium. Xavi spoke to the press before the match, where he talked about Ferran, Roberto's renewal, Bordalas and much more.
Here's what Barça coach Xavi had to say:
On the match against Valencia
"I think we have to impose a lot of rhythm, high circulation. It is true that Valencia imposes a lot of rhythm, intensity as well. It says a lot about the good work of Bordalàs, who with another style seems to be a great coach. We are going to a difficult stadium against a rocky rival and it will be a tough match."
On Araujo's fitness
"It will depend on the sensations he has now in training, but he wants to be there and we are optimistic. If there is nothing unusual, he will be able to be there".
On Sergi Roberto's renewal
"For me he is a player who has to continue at the club, but he, the club and his agent have to come to an agreement. For me I have already said that he is a player who has to be important to me and to the club."
On balancing lost game time
"Everyone plays with the circumstances and the rules that are in football today, that's why I said that a good solution would be to play in real time, in order to avoid unnecessary waste of time. In almost all sports there is effective time, but I wasn't referring to Valencia, I wasn't pointing the finger at anyone. Bordalás seems like a fantastic coach to me."
On Bordalas and his tactics
"The model of the game is different from ours, they play more direct, but I like the intensity, the rhythm, the well-understood aggressiveness, they win second balls. Different from what we work on, but I think he's a great coach, hence you see the results."
On playing Athletic Club next
"Each game is a final for us. We have to prepare in the best way possible and analyze Valencia in the best way. For us it is essential to win the three points tomorrow".
On Ferran Torres
"We talked to him and I have blind faith in him. He is going to make a difference for us, as he has already done in the national team, in City and he already did in Valencia when he was very young."
On Frenkie De Jong
"For me Frenkie is a great player, I think he has taken a step forward since we arrived. Now he looks dynamic, he has scored goals, he is a player to make a difference and to spend many years at Barça. There are many games and I rotate the midfield. He is very self-demanding, he always wants to improve and as a central defender it would be like a punctual solution, he is a midfielder."
On being effective in front of goal
"Against Napoli we needed to get things right, we played a great game, but tomorrow we still need to get things done. Tomorrow we have an important test, on a difficult ground and against an aggressive opponent."
On Ilaix Moriba
"Everyone decides the future they create. People can make mistakes leaving what I consider to be the best club in football. I think he's a complete player, now he has another chance, he's very young, it's a shame he left. Wish him the best."
On the team's change of attitude
"Yes, not in the results, but in the game, now we understand the game more, when it comes to attacking the spaces. It is evidence that the game is being positive, although we have to improve many aspects."
On Dembele
"He's one of the team and when we see fit we're going to use him. When he's played he's been involved. He's going to help us a lot."
On Memphis
"We are waiting for him. He had a relapse and is practically ready. If it's not tomorrow, it will be against Napoli or if not, against Athletic. He is a player who gives you goals, last passes. He will be an important player for us."
On Pedri
"Yes, we will try to take care of him so that he doesn't get injured and maintains this level. We have to take care of him like everyone else."
On the game being an early kickoff
"If it were up to me, we'd change it to 9 pm, it's not the best scenario after playing a very intense game. It's difficult to recover players due to fatigue, but the schedule is set up this way and we have to accept it, we don't complain."
On Luuk De Jong
"Confidence is a variable that changes everything. Luuk has scored five goals since we've been in charge and he's performing very well. The times we've needed him, he has performed. He's a guarantee because he has talent."