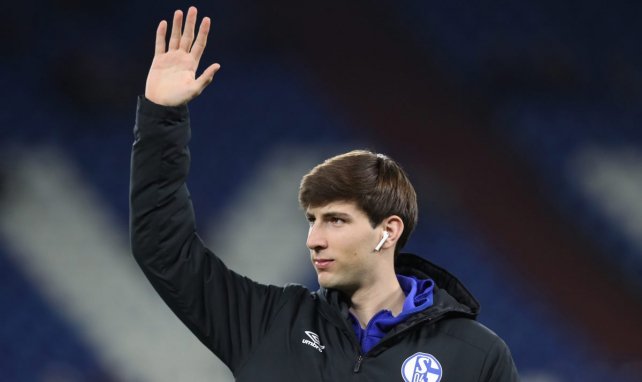 Having spent a year away, on loan at Schalke, Juan Miranda will return to Barcelona prematurely, with his future still in the air.
Juan Miranda was loaned out to Schalke, in search of more playing time, in the last summer transfer window. The player was not in the plans of the now former Barça manager, Ernesto Valverde. The left-back had several suitors, but ultimately opted for the German Blues.
The loan deal was originally set to end in the summer of 2021, but only under the prerequisite that the Olivares-born defender would get a sufficient amount of minutes on the pitch in his first year on loan. That has not been the case, and the player will, with only four Bundesliga appearances this season, return to Barcelona in the off-season, reports the Spanish news outlet, Mundo Deportivo.
Additionally, according to the same report, the player could see his immediate future in Barcelona, as he will take place in Quique Setién's first ever pre-season with Barça. Once pre-season is over, the Cantabrian manager, as well as his staff and the club, will make a decision on his immediate future.
According to the same report, it is not ruled out that he stays with the club's B team, if the youngsters get promoted to the second tier of Spanish football ahead of the new season, which currently has hit a standstill.
In fact, the Italian side Juventus has, per the same report, enquired about Juan Miranda this year, as part of the ongoing negotiations between the two clubs. This time, the answer from the Catalans was a 'no'. The club gave the same answer as last year, when the Italians enquired about the now 20-year-old full-back.
Juan Miranda's current contract with Barcelona runs out in 2021.