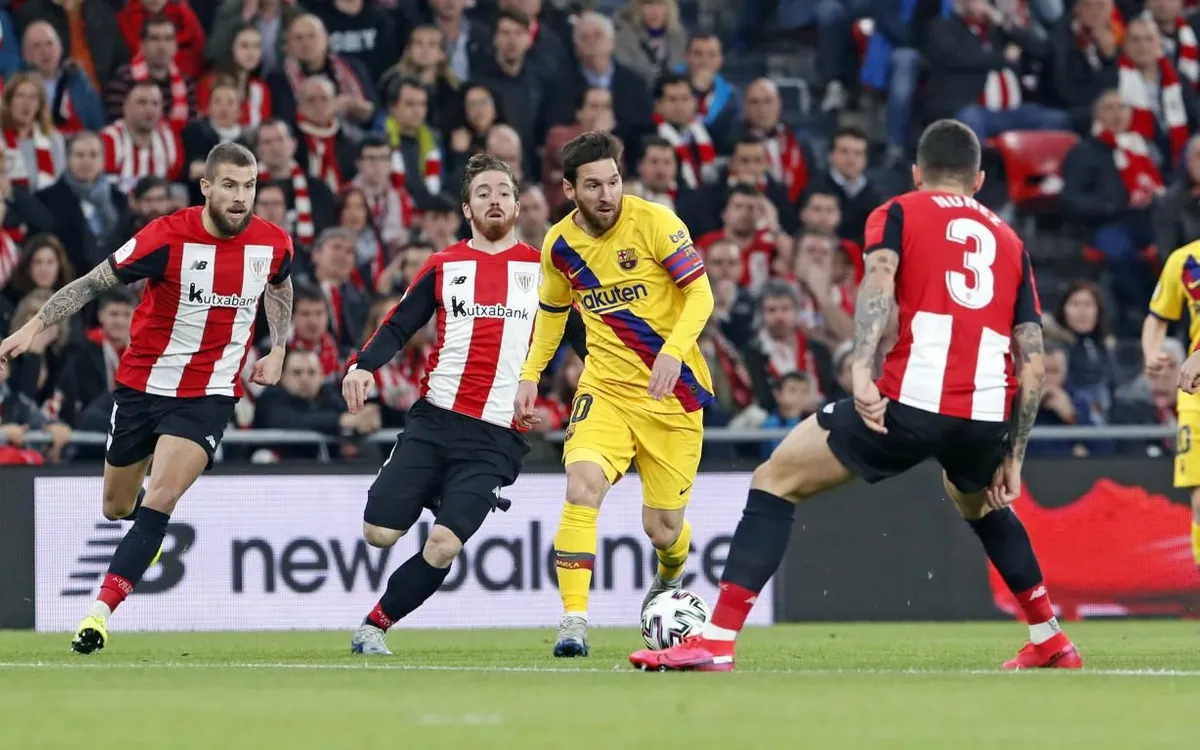 An important game for FC Barcelona, which can help them clinch their very first title of this season if they are capable enough to beat an adamant Athletic Bilbao at in the Copa Del Rey final tonight.
Koeman has announced a 26 man squad for the fixture which also includes the likes of Ansu Fati & Netó who have travelled to Sevilla despite injuries. Piqué who was on his road to recovery lately has been given a green signal by the dutch manager himself & might as well start the game for Blaugrana tonight. The rest of the starting XI pretty much remains the same with gratefully more options at the back this time.
A four-man defence is very likely considering the options at the back which makes 4-3-3 a highly probable lineup. At defence, Lenglet & Alba have reserved their places as starters on the left lately. But, I would be really interested to see who starts on the right tonight. With Pique 100% fit, I still find his lack of pace adversity for us while defending Athletic's counters consisting of Iñaki & García. Araújo, despite his lack of awareness against Madrid last week sounds more reliable because of his strength & pace. He's rock-solid as a centre back & deserves to start for FC Barcelona tonight. Dest or Mingueza remains another confusion for who starts as a right-back including the possibility of Sergi Roberto as well. Personally, I feel Dest should start alongside Araújo for his ability to dribble & use his pace to move down the flanks & securing the team with an early goal or an assist.
De Jong, Sergio Busquets & Pedri indeed remain the likely starters for a three-man midfield with Moriba & Puig as backups. Upfront, with Messi at the centre in a false 9 role, it will be Dembélé dominating the right-wing alongside Griezmann on the left. Though the two French men have not delivered much to their potential, I do feel that dropping them out for tonight's fixture would be a huge mistake for their performance in the Copa Del Rey has been up to the mark, if not remarkable.
Athletic Bilbao however, has had some tragic ups & downs this season. Though they secured a win against Barça in the Spanish Super Cup their trajectory of winning games in the home league has gone down. Adding to it, they also lost last year's Copa finale against Real Sociedad (which took place last month due to covid) which faltered their performance with more ties in La Liga this season. Having said that, Marcelino's men have already defeated Barcelona once in this same competition a few weeks back. And with the likes of Iñaki Williams alongside Raúl García & Muniain, they are here, in the final, at de La Cartuja with seemingly more hunger to regain their composure back.
It's going to be an intensive fixture & the team which's more hungry & focused throughout the game should win in my opinion. Barça hasn't kept up with their form ever since the international break but winning this trophy might help them big to gain the confidence back to strive in the La Liga title race ahead.