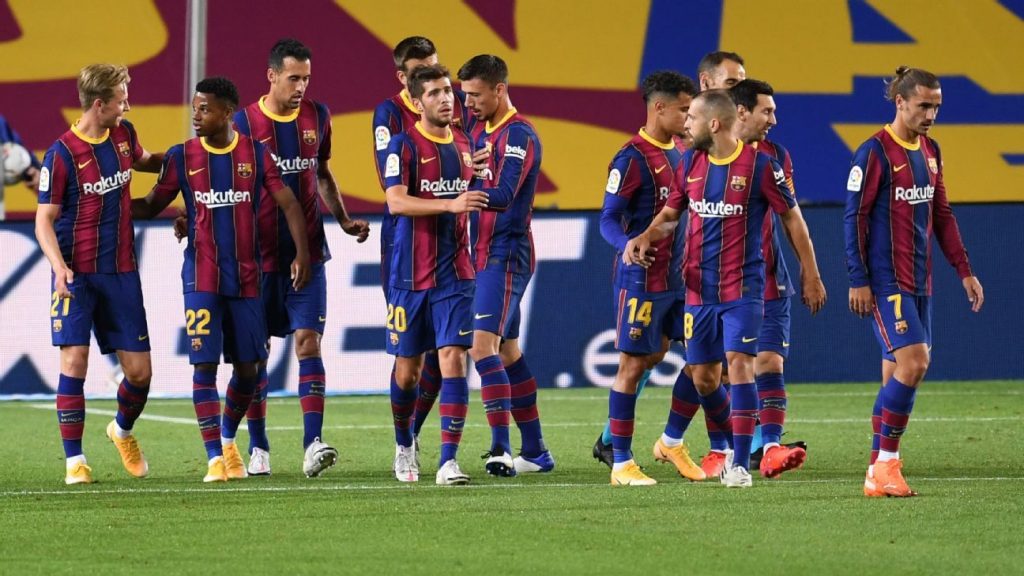 FC Barcelona play Villarreal away at the Estadio de la Cerámica on a Sunday afternoon today. An important fixture which can help Barça take a leap of three points ahead of the whites if they manage to secure wins in both their next two games.
Having said that, the road to victory isn't going to be that easy considering that Barça has to win all their upcoming 7 fixtures with Atlético Madrid & Villarreal clearly the important ones. 
Koeman has announced a 22 man squad with Dembélé back from his pelvis injury which had kept him absent in an astounding win against Getafe FC last week. I'm very certain that Koeman will go ahead with a 3-5-2 or a 3-4-3 formation today. A three man defence at the back with Lenglet, Piqué & Mingueza/Araújo has worked remarkably well over the last two games & has helped Koeman in using his two wing backs Alba & Roberto, both la Masia graduates, at their highest potential lately. Dest remains a great backup to bring some pace in the second half. 
A midfield with Pedri, Busquets & De Jong are indeed likely starters despite the youngsters playing almost every game since the start of the season. If you're to ask me, I can see Pedri's form faltering lately for he looks overworked throughout the season, but dropping him for Moriba or Puig before getting an early goal surely sounds risky at the same time. But the young lad clearly needs rest.
Messi has been absolutely phenomenal this season, with 33 goals & 12 assists already. His involvement in the buildup is always significant & I expect him to help us get an early goal today. With the availability of Dembélé for tonight's fixture, I personally would prefer a 3-4-3 if both Griezmann & Dembélé start. Works perfectly in sync with Leo playing as a false 9. Getting an early goal is important. 
Villarreal, widely recognised as 'the yellow submarine' are tough opponents & honestly, have a decent midfield & good forwards to dominate at the front. The likes of Alcácer, Parejo & Gerard Moreno are threatening enough to cause Barça problems at the back. Currently ranked 7th in the La Liga points table, Unai Emery has done a fairly susceptible job of portraying good football from his team which is now also into the semifinals of the Europa League, facing Arsenal in the coming week. 
It's a tough away fixture & I do have mixed feelings about the result. But yeah, with the way Koeman's team is currently dominating La Liga over the last few months or to be frank, specifically the last two matches it should be a confident win for the Blaugrana to secure those three golden points.